Today I'm excited to share a fun guest post tutorial by Matthew Lyons from the blog HomeDaddys.com.  Thanks, Matthew, for sharing this great project!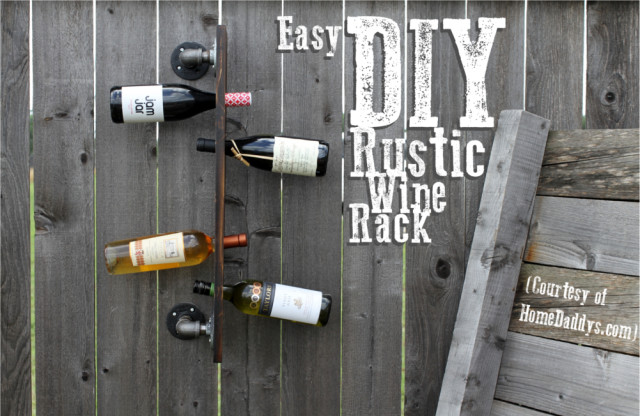 Say what you want about IKEA but the Swedes know how to make some killer wine racks. The VURM (where do they come up with these names?) that my wife and I purchased in 2009 has stuck with us through a cross country move, multiple redecorations and the birth of our son, proudly displaying the moderately priced bottles of wine that we never drink. Never once has it ripped a hole in our drywall or allowed a bottle of Two Buck Chuck to slip through its sheet metal grasp. That's pretty remarkable for something that cost ten bucks.
But alas, nothing good lasts forever. Last year we started redecorating our home with an industrial rustic aesthetic and it quickly became clear to the whole family that there was just no place for the VURM's sleek wormy curves in our lives anymore. It was time for it to go to the garage sale with the rest of our trendy and affordable particle board furniture. And that's how this nifty rustic wine rack was born.
I figured if I couldn't save my beloved VURM then I could at least honor its memory by replacing it with something cool and homemade. After looking at a few different projects, I came up with a vertical hanging design that bolts into the wall using industrial floor flanges. It was an ambitious project, especially considering that I'd never tried boring something with a hand drill before. But despite a couple of mistakes on my end, the finished product came out looking super cool. It goes perfectly with our rustic décor and it gives me something to brag about at cocktail parties. That said, here's how you can build your own.
What You'll Need
A 1″ x 6″ x 28″ Plank of Wood
4x Industrial Pipe Floor Flanges
2x 3″ Pipe Segments
2x Pipe Close Connectors
2x 90° Pipe Elbows
8x #8 1/2″ Screws and Washers
160-Grit Sandpaper
220-Grit Sandpaper
Minwax Dark Walnut Wood Stain
A Power Drill with a 1.25″ Boring Drill Bit
I wanted my wine rack to have a weathered industrial look so I went with 3/4" black metal pipes from Home Depot. They were cheaper there than the other hardware stores in the area. Of course, you can use whatever kind of pipes you want. I recommend sticking to 3/4″ thickness, though, because they're better at distributing the weight of the wine bottles than half-inch pipes.
Instructions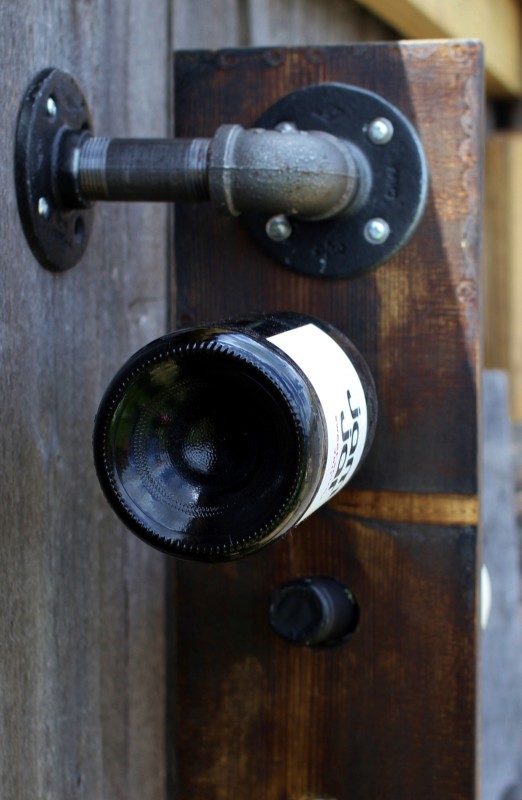 ProTip: You should do your sanding and staining after you drill your holes. My wood was already stained before I started and it created all sorts of problems for me.
You should start this project by plotting out where you're going to drill your holes. If you're working with a 28" piece of wood, you can use this layout as a reference. Just pencil in the holes at the appropriate locations and you should be good to go.

When all your stuff is de-ickified, you should start your build by cutting off a section of wood. The section should be long enough that you've got a 1″ margin from the top and bottom of your floor flange. Don't worry too much about making the cut neat or super straight. We're going for a rustic look here, remember.
Now, grab your drill. Stick in your fancy-pants boring bit and adjust your settings so that you're moving on low speed and medium-high torque. If you're using a cordless drill, make sure your battery is fully charged. Otherwise you will most definitely run out of juice before you're halfway finished. The boring bit, as it turns out, devours batteries.
Your drill is going to deliver a terrifying amount of torque as it bores through the wood, so it is highly advisable to secure your plank beforehand. I didn't have a work bench or table saws handy so I just clamped mine to two bar stools. It ended up working pretty well.
Push the drill through each hole slowly. The differential should stop the drill from moving downward just before it breaks through the bottom of the wood. If you're smart, at this point you should stop drilling and flip the wood over to finish the hole off with a coping saw or something like that.
I was not smart. I made the mistake of drilling straight through my plank. As a result, it shredded the finish around the holes, sometimes even tearing away huge chunks. This kind of sucked. I wanted to start over from scratch but since I didn't have any other wood around I figured I would just try to sand it away and make do.
Surprisingly, once the shredded edges were sanded down they didn't look all that bad. They made the board seem weathered and worn, which thankfully works with the aesthetic I was shooting for here.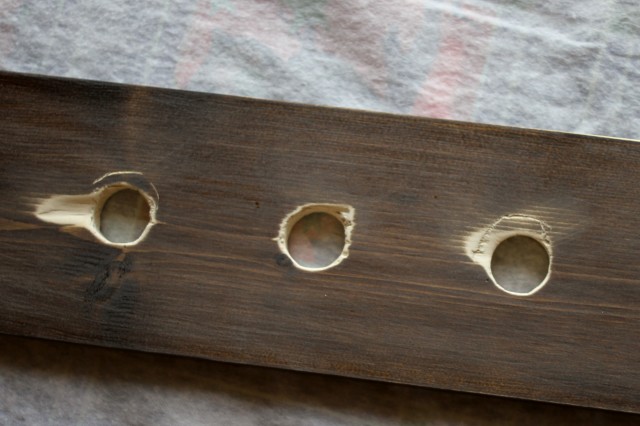 Assuming that you're smarter than I am, you should finish drilling without any serious incident. At this point you should sand your wood down with 220-Grit sandpaper and then stain it. Make sure to smooth out the interior walls of your new bottleneck holes or else they won't hold the stain. After the stain is dry you may want to finish the wood off with a polyurethane coating, but this isn't necessary.
Since I had some of the same stain leftover, I just stained over the edges after I touched them up. It ended up looking pretty decent.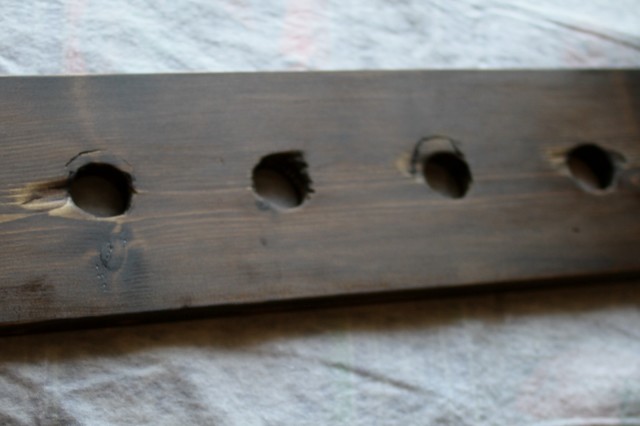 When your wood is totally dry, it's time to put this thing together. Center two floor flanges on opposing faces of the wood. There should be a 1" margin around each edge of the flange. Secure the flanges by driving in screws with attached washers.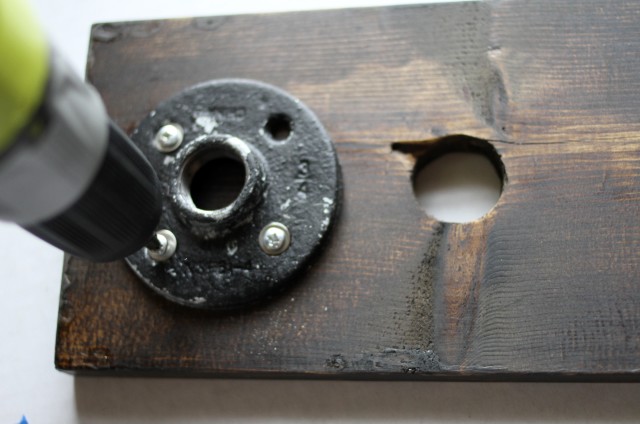 Attach close connectors to each flange.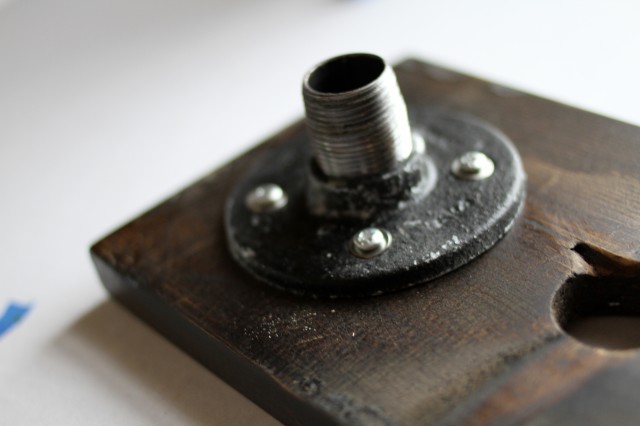 Then attach your pipe elbows.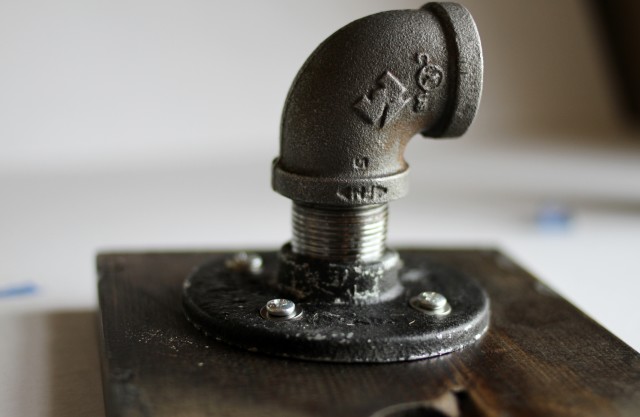 Then attach your 3" segments.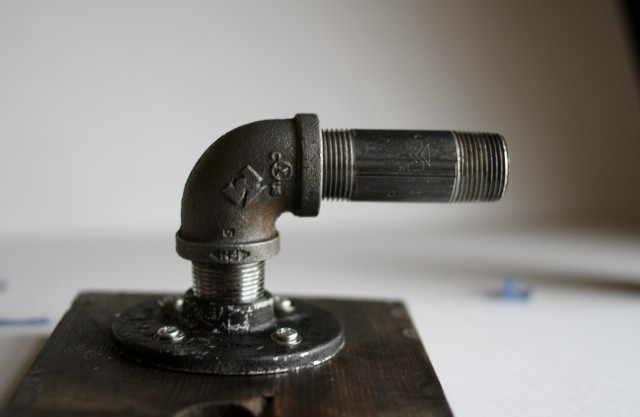 Finally, screw on your final two flanges.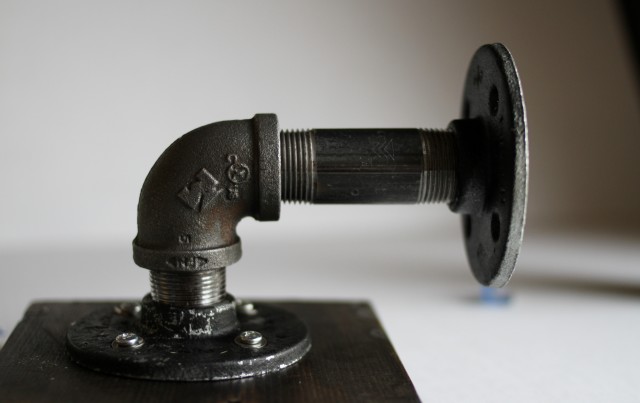 And that's it! You have now turned a useless and unloved piece of lumber into a functional and spiffy new rustic wine rack. If you can overlook the terrifying drilling, this is a super fun and simple project that would look great in any apartment or rented home. And even if you can't overlook the terrifying drilling, it isn't so terrifying that it should dissuade you from building a wine rack for your place. I mean seriously, this thing is so much cooler than the VURM that I hardly even miss it.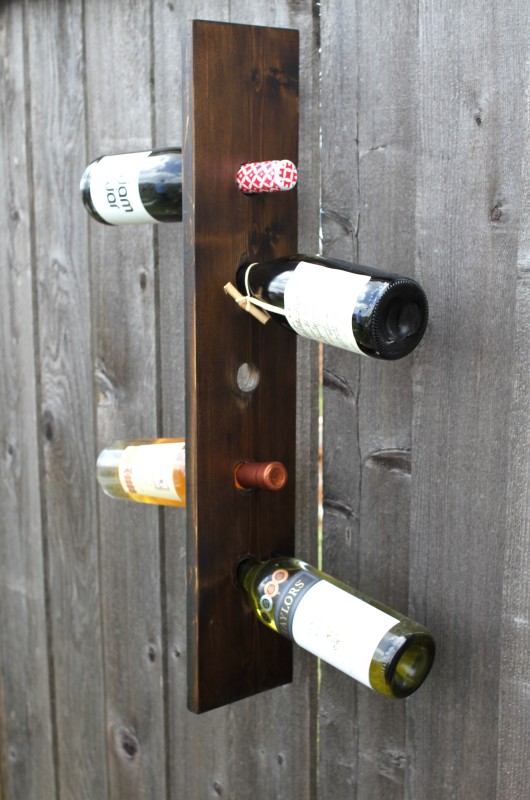 I'd like to thank Jane for being super-awesome and letting me share this project with you guys. If you want to see more cool stuff you can do for your apartment or house then check out some of her own projects that she's posted here on The Borrowed Abode. And if you aren't totally annoyed by me yet, swing by HomeDaddys and take a gander at some of the other stuff that I've built.
Good Luck!
Matthew Lyons is a self-proclaimed handyman and blogger for HomeDaddys.com. An Oregon native, he now lives in Eastern Texas with his wife and son. He will never fully recover from the trauma of improperly using a boring drill bit.