Blog photos often convey a much cleaner version of real life.  I know this for a fact now, because our white living room sofa looks so much better in blog photos than in real life.  It's become embarrassing to have guests see it in person.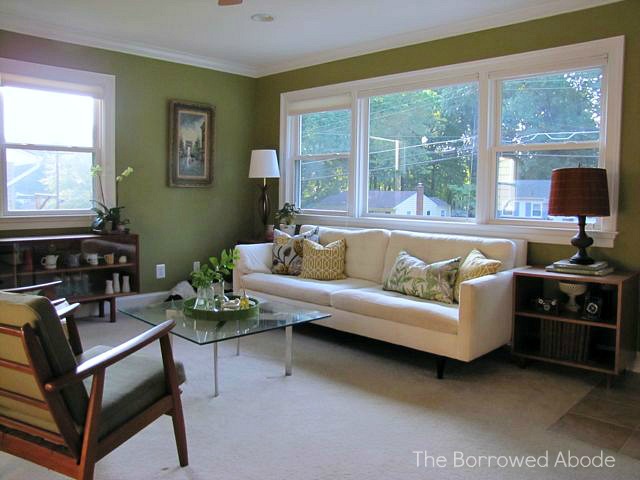 We've gotten 4.5 good years out of the Petrie Sofa since I bought it on Craigslist for $350, and I am very glad that I didn't pay full price to get it new at Crate and Barrel.  Many of the buttons in the seat cushions have tears around where they're attached, and some of the folds in the seat upholstery have torn apart.  The fabric stains easily and wears poorly, too.
Want to see some proof?
It's finally time:  Ryan and I have saved up to have the sofa reupholstered in top-grain leather*.  In the context of home decorating, this is an intimidating decision because of the cost and the longevity we're going for – 10+ years or more.
When it came to leather, I knew exactly what I wanted.  A few years ago I saw a distressed leather sofa in medium brown at Crate and Barrel. It immediately brought to mind a Ralph Lauren catalog – I have no idea why – but I pictured it in an awesome lodge with a roaring fire.  And maybe a Ralph Lauren male model sitting on the arm of the sofa.  😉
Ryan and I agreed we should go with medium brown distressed leather. Distressed, because it would be already soft and worn and pre-scratched, and future scratches would only add to its loved, comfy look.  The square modern lines of the sofa will keep the distressed leather looking elegant.
With this image firmly implanted in my mind, I thought it would be easy to pick the leather we'd use on the couch.  Boy was I wrong.  There are so many different colors in the swatch books.
Here are the colors we're trying to choose from: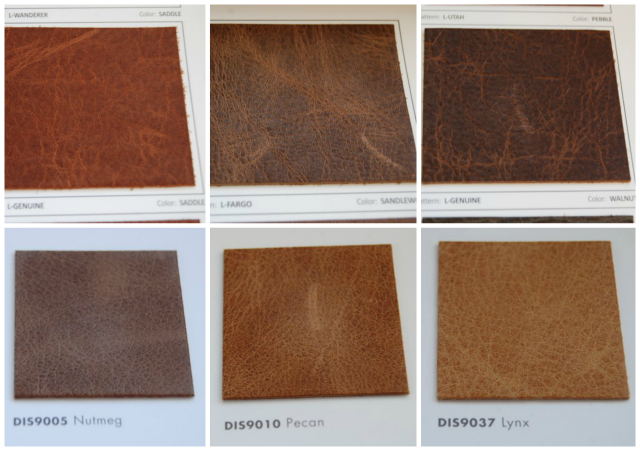 Considering Undertones
Ryan leans towards the bottom left, Nutmeg – while I lean towards the bottom middle, Pecan.  I just worry that the Nutmeg leather is a little too dark.  I was hoping to have a lighter feel. We need to come to a compromise somehow.
I think the Lynx is too light and yellowish even though I like it.  We need to be careful about the leather's tone. Just like paint colors, there are undertones to leather.  Because we rent, it is so important to keep our sofa neutral – something that will adapt to many different spaces and possible wall colors over the years.
Some brown leathers have red undertones, and some have yellow ones.  Beware of both!  I held our two favorites up to the mid-century credenza because we have several pieces of wood furniture in that stain color: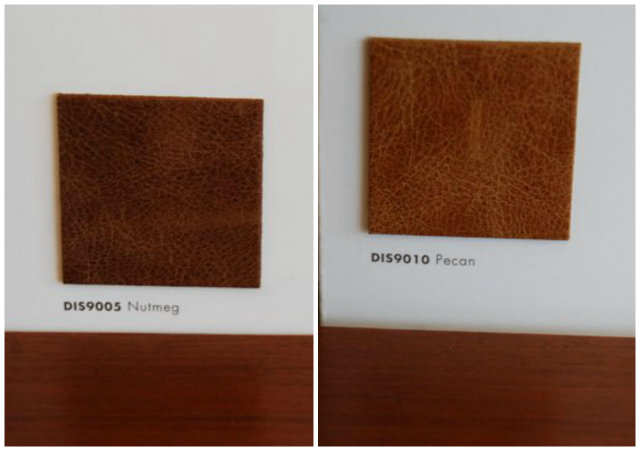 I think we want the leather to match, or at least not clash with, the furniture stain colors.  What do you think?  Advice on how to choose the color is very welcome.
*I know the choice of using real leather may be controversial, and I plan to share our reasons for choosing leather in a different post.
PS:  Jeannine at Small Chic Home went through a similar process to choose her new leather sofa.  She had even more choices since she had to choose nail-head trim and leg stain colors.  Thank goodness I'm only choosing leather!