Today's guest post is sponsored by Moshells.
Curtains do a lot more than just blocking light and providing privacy—they can be a great way to personalize a space, especially if you're renting an apartment and can't make any major changes to the existing wallpaper or paint. The right curtains can completely transform a room, making it appear larger, cozier, or brighter, depending on what you're looking for.
Interested in updating your apartment with new curtains? Read on for some helpful tips and tricks from Moshells.
Maximize your windows. A lot of apartments are a little limited when it comes to window space, but the good news is that you can use curtains to give the illusion that your windows are bigger than they actually are. Hang drapes around a small window or even a blank wall to add interest to any room. This is also a great solution if you're not crazy about your apartment's wall color—just make sure to choose curtains that complement rather than clash with the walls behind them.
Take the room to new heights. Instantly make any room appear larger and more luxurious by hanging curtains close to the ceiling. This will create the dramatic impression that there's more space between the ceiling and the floor. Do avoid having curtains that are too long, though—more than three or four inches extending onto the floor may look sloppy.
Break with the floor. The rule of thumb with modern curtains is to have them break right at the floor level. Having "highwater" curtains can give the room an awkward look, so don't shorten the curtains unless there's something like a radiator or a ledge in the way.
Get the accent right. Is there a room in your apartment that already has a hint of color that you really like? Maybe it's the trim on the walls or even one of the colors used on a tiled floor. Pick out solid curtains in the same shade for that room in order to bring that color to the forefront.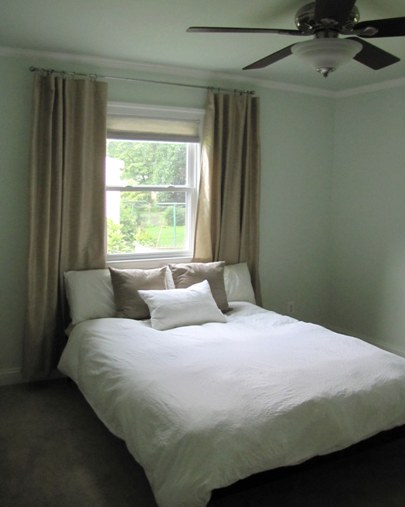 Be transparent. If you have a room in your apartment that has great natural light, take advantage of that. As long as privacy isn't a huge concern for you in that room, try transparent curtains that will continue to let light in and even brighten the room. Keep in mind that transparent curtains or lightweight drapes without a lining will filter light—red curtains, for example, would create a rosy light—so make sure you're comfortable with the color.
Work with layers. If you like the idea of transparent drapes, but also want the option for privacy, consider pairing lightweight, transparent curtains with heavier curtains in a darker hue of complementary color. When you want to let more light in, use a curtain tie to pull the heavier drapes out of the way, and when you want to block out light or create a private space, just close the heavier drapes.
Add a trim. Sometimes it's hard to decide whether to go with solid or patterned curtains. Sometimes solid curtains just feel too blasé, but patterned curtains may feel too busy, especially if there are competing patterns elsewhere in the room. Try the best of both worlds by picking out curtains that have a trim either at the top or bottom. If you're decorating a room with a neutral color palette, you might also consider curtains with wide horizontal stripes.
Go two-toned. For a truly modern look, try curtain panels in two different solid colors. You might try darker outer panels with a lighter inner panel, for example. To really tie two-toned curtains into the room, look for little items like throw pillows or lampshades in the same colors.
Curtains are an excellent way to truly make a rented space your own and give visitors a sense of your personal style. Ultimately, you should opt for any curtains that make you feel great about your living space.
Juliana Weiss-Roessler writes about modern decor and curtain decoration. Follow her on Twitter, Google+, and Facebook.