For a while I've been wanting to share some easy recipes here on the blog, and maybe get your recommendations on other quick and easy homemade dinner ideas.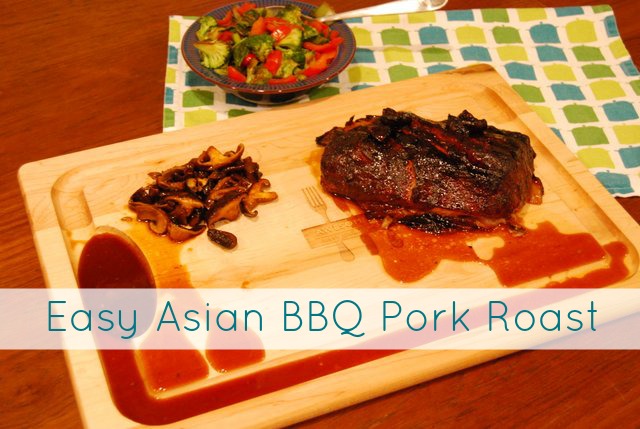 Easy is the key word, because I've been trying to streamline a lot of my cooking.  I've always loved to cook from scratch, and Ryan boasts that  I can open the fridge when there's almost nothing in it, and still come out creating an amazing dinner.
The only problem?  I'll tell Ryan "Dinner will be ready in 20 minutes."
An hour later we sit down to eat. That's fine once in a while, but it's not an efficient model for every night of the week.
To keep costs down while adhering to my free-range meat requirements, we've been eating a lot of roasts.  They're one of the more inexpensive cuts of meat, and it turns out they're also pretty low maintenance, because you basically set them in the oven and forget about them.
EASY ASIAN BBQ PORK ROAST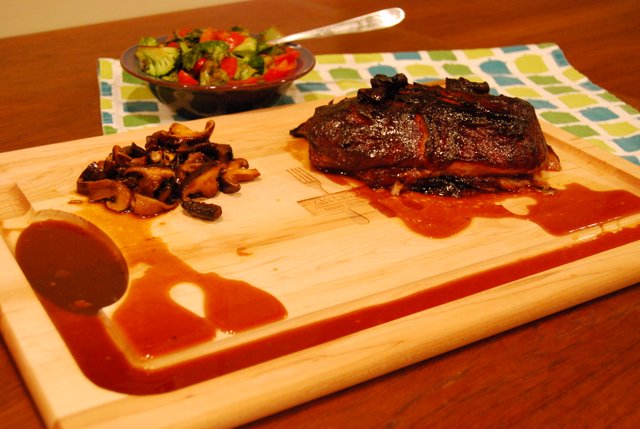 Why this recipe is awesome:
Easy!
Makes leftovers!
Gluten Free if you use GF soy sauce
Low Carb
Can totally be modified for vegetarians
Ingredients:
Pork Roast  or Pork Loin
San-J Gluten Free BBQ Sauce
Chopped Garlic
Soy Sauce
Any mushrooms
Random stir fry veggies ( I like Bok Choy, Mushrooms, broccoli, spinach, red peppers)
Rice noodles
Cook It Up:
I slather the roast in the Asian BBQ Sauce and some chopped garlic.  If I can do it ahead of time, great – if not, it still works out well.
I pop the roast in a pan with some mushroom caps and cover it with foil.
Bake at 300 for 25 minutes per pound.  Use a meat thermometer to know when it's cooked.  It should be 145 degrees in the middle.
You can roast it longer, the meat will just start to fall apart like it did when I made this recipe for the blog.
To "finish" off the roast and get a flavorful and crispy BBQ style crust, uncover the roast once it's cooked.  Brush or drizzle on more Asian BBQ sauce at the end, and then put it under the broiler for just a few minutes.  Watch it to grab it before it really burns.
Once the roast is out of the oven, cover it with a few dish towels and let it rest.
In one pan, stir fry some veggies with just a little soy sauce.
In a separate pan, saute some mushrooms in some sauce from the roast.
To make the rice noodles, boil some water, remove from heat, and submerge the noodles for a minute or until tender.  Drain them and then throw them in the pan with the mushrooms and mix until coated.
Serve the roast with some mushrooms and sauce poured over, and a side of veggies and noodles.  Skip the noodles if you're eating low carb.
Time Saving Tip:
A good sized roast is good for several meals, so chop up a ton of veggies on the day you make it.  Then, only stir fry the amount you need for that day's meal.  Save the rest for the days when you heat the leftovers.  Chopped leftover roast is great if you want to throw it in a pan with the veggies and just stir fry with a little sauce until everything is heated.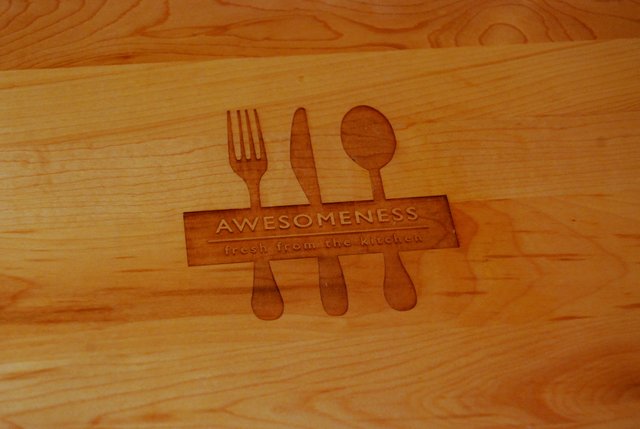 Do you notice the Awesomeness cutting board in these photos?  The first few times I made a roast or a brisket, I realized I had no meat carving board (you know, the kind with a moat for the juices) to slice it on.  It was perfect timing when Red Envelope offered to send me a complimentary personalized cutting board from their Wedding Gifts Line.
Most people choose to engrave the cutting board with their last name, but I figured that Ryan and I both know our last name.  Instead I chose one word that describes what I create in the kitchen.
When the cutting board arrived, Ryan loved it because it said Awesomeness. A few nights later he voluntarily made dinner, putting together a spread of cheeses, breads, and condiments on the massive cutting board, and serving it with a side of chowder.
So a huge thank you to Red Envelope for inspiring my husband to voluntarily make dinner!
Disclaimer: This is not a sponsored post.  I was not paid to write it.  Red Envelope sent me a free cutting board with no requirement to blog about it, but since I loved the product I decided to share the info with you.