In the last month, the feeding and medicating of our dog Charlie has become one of the most time-consuming and draining parts of our day.  She's on several medications to counteract the chemo side effects, and on the food side . . . well, it's become intense.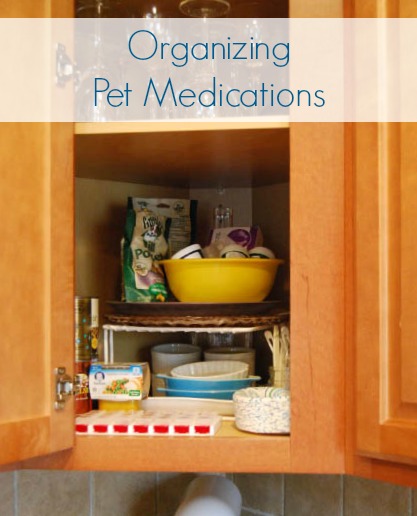 Thanks to the chemo and the cancer, we never know what Charlie's going to be in the mood to eat.  We just pray that she'll eat something.  And make sure it's not in a metal bowl, because apparently the metallic taste can be exacerbated by chemo.
The rest of the house has also become more disorganized, too, but this weekend I decided I had to tackle the Charlie Station.  Her food, medicine, and other supplies were taking over our kitchen island.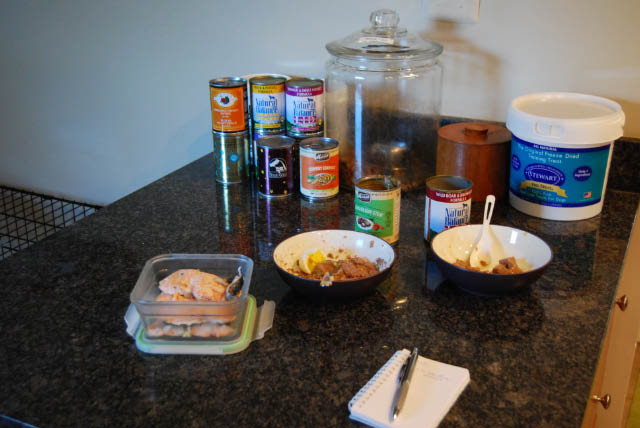 I wanted to hide it away, so the bottom shelf of the corner cabinet became the Charlie Shelf.  We have spare room in our cabinets, so I was able to move some items around to clear out the space for her.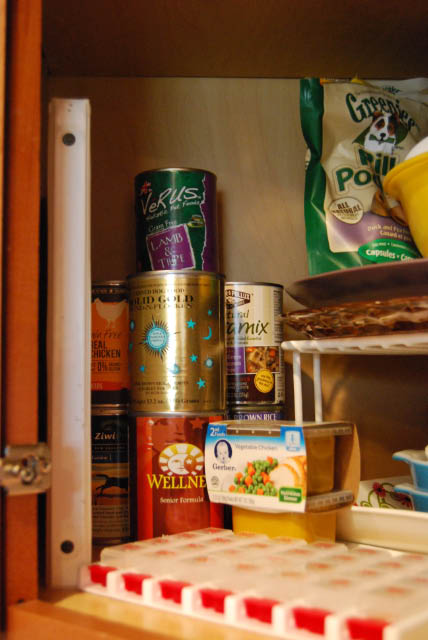 On the left side we have cans of dog food, baby food, beef jerky, and a binder* that holds all her paperwork.   The papers include her medication dosages and medical records, so if we have a question about a pill we're giving we can check it easily.
The week's pill regimen is organized into a caddy, and the extras are stored in a big mixing bowl.  We use Greenies Pill Pockets
even when she won't eat them, because you can mold them around the pills to make them easier to shove down her throat.  That sounds really violent.  It's not violent when I do it, I swear!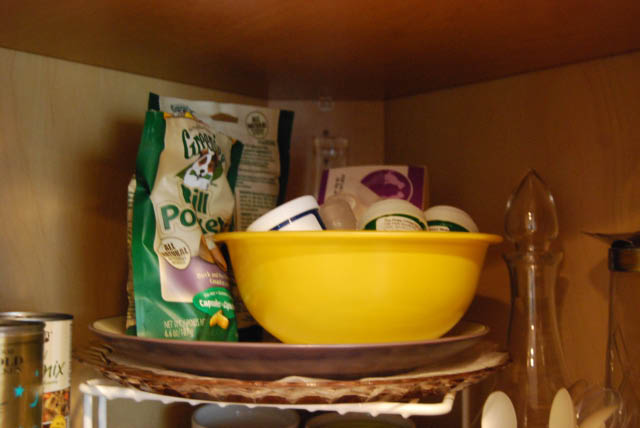 On the right side we have paper plates and plastic spoons, because we were running out of both dishes and spoons when we used our real ones for her.  Apparently metal dishes can give off a strong metallic taste when you're on chemo, too.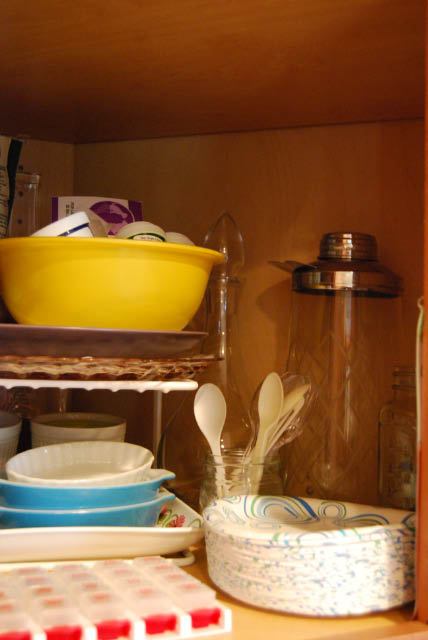 Sometimes she only wants to eat when spoon fed, and sometimes she'll eat off a plate. I don't like the waste of disposables, but we had a huge stash of plastic utensils and also . . . sometimes you just have to take the easy way.
I'm not oblivious to the psychological implications of this project.  I definitely tackled it with vigor, as if controlling the clutter and implementing a rigid system would somehow control her cancer.  If only it were that simple!
Still, it feels really good to have a system in place, and to have the island clear again, so my brain can focus on offering her approximately 2,304 meal options every hour every day.
Charlie Update:  Charlie has been showing more energy and more appetite the last few days, so our fingers are crossed that the first chemo is working its magic!
PS: Here is another pet food & medication storage idea that I implemented back when life was simple.