Disguising ugly ceiling fans in a rental apartment is something I've wanted to write about for a while, because several of my pre-blogging rentals had really ugly ceiling fans in them.
While I don't currently have any ugly fans in this house, I was able to find other fabulously creative bloggers who have dealt with the situation in many different ways.  You may rely on ceiling fans for air circulation and cooling in the warmer months.  Therefore, some ideas include leaving the blades intact, while others tackle removal of the blades to remove the problem.
1.  Disguise Ugly Blades
Some old ceiling fans have the most atrocious wicker or fake wood blades.  Others are off white with patterns painted on them.  I have had all of these designs, and more, in past apartments.  If only I'd thought to cover them with contact paper!  It comes in pretty patterns, sticks on well, and peels off clean when it's time to move out.
I love how Amy at Home Happy Home painted bold stripes on the blades below.   But you could easily replicate this look by wrapping the blades in white contact paper, then adding stripes with a colored duct or masking tape of your choice.  The fan ties in with the rest of the room, and has even become a decorative accent!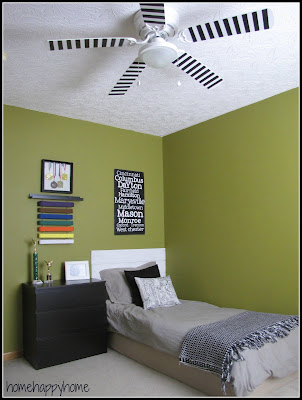 Via Home Happy Home
2.  Paint the Metal Body
Have a fan with an ugly brassy metal body that needs more help than fresh new blades?  Consider painting the metal body of the ceiling fan, but it's probably best to get permission from the landlord before doing so.
***When you make the case for painting the fan, keep it simple with either white or a modern metallic.  Oil Rubbed Bronze (ORB) would be a great way to modernize even the oldest fan.  Find some photos to show how good it would look, and agree to follow the best painting process (i.e. draping the surrounding spaces to protect them, using good primer made for metal, then several thin coats of paint, then a sealant) in order to ensure the best results.
Please note:  Paint without landlord permission at your own risk.  My old landlord wouldn't have noticed if I'd painted the brassy ceiling fan a different metallic color, but not every landlord is that clueless.  I don't want to advocate any behavior that will result in your losing a security deposit.  Use your judgement.
Jennifer from Dimples and Tangles did an awesome job transforming her ceiling fan with some paint and fabric.  This might be my most favorite ceiling fan of all time: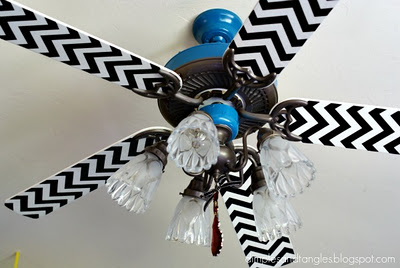 3.  Add a Lamp Shade
If painting the metal body of the fan isn't an option, try improving it by adding a fun drum lampshade to the bottom of it.  If the drum lampshade coordinates with your room, the fan fixture immediately becomes more a part of the style.
How pretty is this shade added by Ashley at Domestic Imperfection?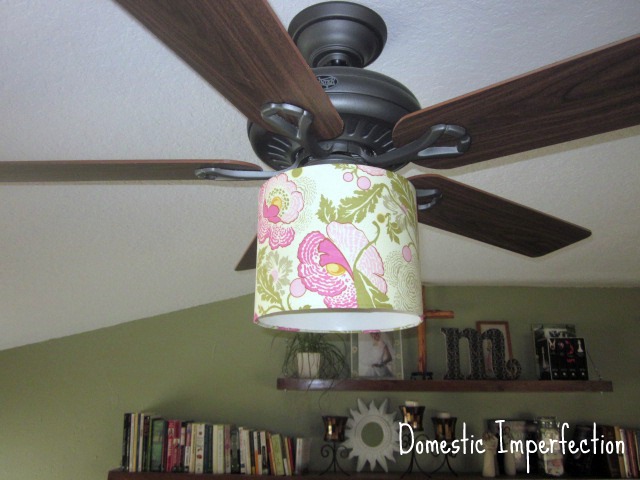 4.  Add a Lamp Shade & Remove the Blades
Maybe you can't risk painting the metal fan body, your blades are hideous, and you don't need a fan?  In that case, consider removing the blades and popping on a decorative shade instead?  Just save the hardware and blades and storing them for move-out day.  That's exactly what Linda at Restyled Home did, and talk about a great, simple solution!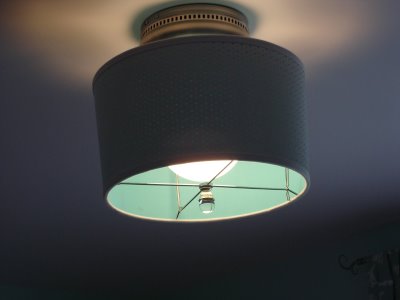 Via Restyled Home
If you've got an ugly, outdated ceiling fan in your rental, hopefully one of these ideas can help you!  And if you have a different rental decorating issue, maybe you can find a solution here.
Have a rental design dilemma?  Share in the comments and maybe yours will be selected for discussion in a later post!