Recently, I had a reader email me with a question about making a rental feel more homey by painting accent walls rather than entire rooms.  I think that's a great idea because it doesn't take long to do, and it's less to paint over if your landlord makes you do that at the end of your lease!
Here is her question:
"I currently own but will be renting (complete opposite side of town) with my boyfriend. The walls are sooo white! The house is small and I was just thinking of doing an accent wall here and there instead of painting. Mostly because I hate painting and also if I have to paint it back white upon move out it won't be too much hassle.  So my question to you and to anyone else here is do you feel that just accent walls (neutral color) will be enough to make an otherwise cold house feel warm and cozy? Also, what are the best rules to use when choosing WHICH wall will be accent?"
When I read her question I thought it was such a good one.  So good, in fact, that I decided I should answer in a post for all of you, just in case she wasn't the only one with that question.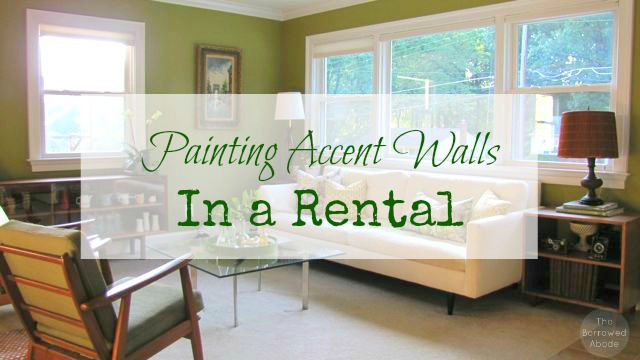 So to help her out, and offer a few tips to all of you, I pulled together some examples from around the web and jotted down some of my tips for making an accent wall work in your space.
Living Room Accent Walls:
It's tough to choose just one accent wall in the living room because every space is so different.  If you live in an older apartment or old Colonial or foursquare house, you may have a tightly defined room with four walls, one of which has a fireplace on it. I'd be inclined to make the fireplace wall an accent wall, especially if the seating is focused around it.
If there's no fireplace but you have your sofa on relatively plain wall with art over it, then I'd add the color to the sofa wall – being careful, of course, to choose a neutral enough color so it didn't detract from the painting.
In our rental house living room we chose to do two walls because we couldn't figure out which of them should be the accent wall.  I'm really glad we did both, because they are the two walls that really have the living room furniture on them, and it helps to make the open space feel more cozy and defined.
I like how this accent wall gives some balance and center to the room when there isn't a wall on one side:
With this next example I'm a bit torn. I love the colorful accent wall, but wish it were centered around the fireplace because that also draws my eye:
This is a really cool and unexpected accent wall, right?  I love how it adds some visual interest to what appears to be a rather bulky wall. Because that wall juts out into the living area, the accent color serves to break up the sea of beige/white really well: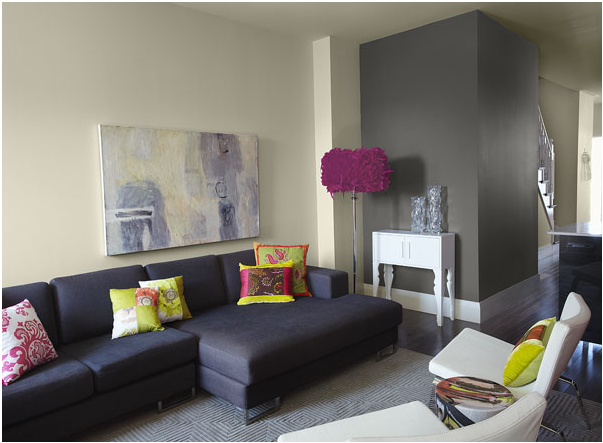 Design by Benjamin Moore. Source: http://goo.gl/aPKOEl
In the Bedroom
Visually speaking, the wall behind the bed is usually best for an accent wall.  Just keep in mind that you won't see it when you're actually lying in bed!

I really like this room, and think it's a great example of how a neutral brown accent wall and some colorful accessories can really dress a space up!
Then there's this bedroom, which I love, love, love.  It's got a bit of an unexpected element in it, in addition to some glam furnishings and a pop of coral:
 A Few More Tips:
Choosing a neutral paint?  Be sure to pay close attention to your undertones. For example – In my old apartment I first used a "beige" that turned out to look fleshy.  How embarrassing.
Also pay attention to undertones in your flooring, ceiling, white walls, molding, etc, like I had to do in my sewing room.  This is the set of different undertones I was dealing with, so it was easiest to just paint the room white: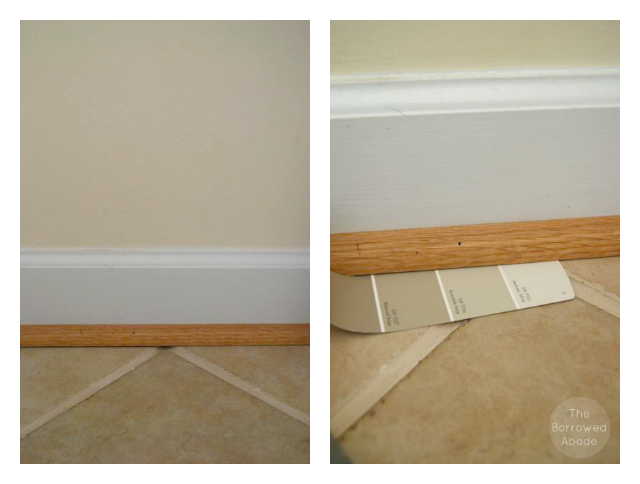 What are your thoughts on using an accent wall in a rental?  You know I'm not a trained interior decorator, so these are just my opinions.