Ahh, Tuscany – If Italy didn't steal my heart with the tiny coastal town of Levanto, then Tuscany sealed the deal. I told Ryan that there's a good chance I'll want to run away to Tuscany someday to rent a house for a month in the summer.  From the second we entered the Official Tuscan Countryside, I was in love.
Have you ever seen an area depicted in a film, only to visit and be disappointed that only a small portion of the area is as beautiful as it was in the film?  This will not happen in Tuscany.  Every part of it looks as gorgeous as its movie self, if not better.
But first, the route:
On Saturday morning Ryan and I rode the train south along the coast from Levanto to Pisa.  Once there, we rented a car and Ryan began the intrepid adventure of navigating roads in a country where people drive recklessly and we don't know the language.
We drove south along the highway to Grosseto, then headed northeast along a smaller road into the hills of Tuscany. We stopped in the little town of Paganico to refill our espresso and pastry meter ;), and that was a delightful adventure. Since we didn't have
any internet to look up cafes, we simply drove towards the center of town until we found a cafe.
It was classic: A bunch of old Italian men sitting around outside, smoking and playing cards and shooting the breeze. The games and the talk came to a halt as we walked up and into the shop, clearly out of place in this sleepy, non-touristy town.  But the pastries and espresso were delicious – and cheap! And we got to practice our halting Italian.
From there we headed deeper into the heart of Tuscany, the roads got twisty, and the stress level went up, despite the beauty. It was hard to find safe places to pull over and take photos, becuase of all the crazy drivers that would come speeding up behind us.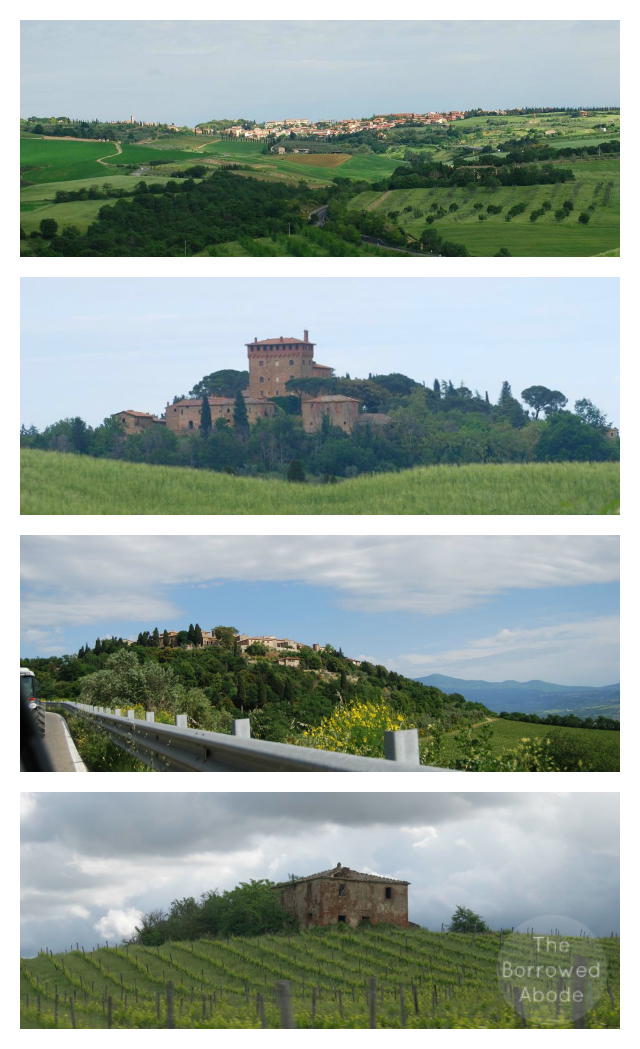 I wanted to stop in the ancient wine town of Montalcino, which produces some of the most serious red wine – Brunello di Montalicino – but we missed the turnoff for the town, and all the ancient hill towns have crazy parking and driving rules that can get you ticketed, so we didn't turn back for it.
Despite the stress, I remained in a state of amazement during our entire drive, becuase around every bend were more picturesque rolling hills topped by classic Tuscan estates and/or ancient walled towns.
In late afternoon we finally arrived in Montepulciano, our home for the next two nights.  It was also an ancient walled town, and we had a very difficult time finding the right road into it as well as finding our hotel.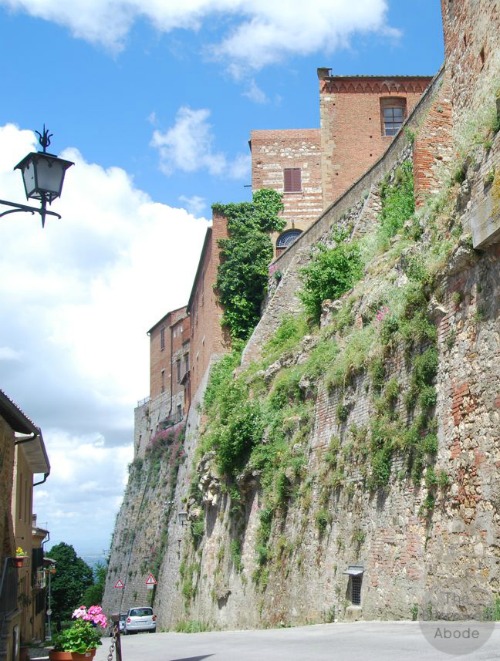 Short story: Driving into the tiny old Tuscan hill towns is a pain in the ass. We don't recommend it, but if you do so, make sure you get really good directions from your hotel beforehand. We spent about an hour trying to find the hotel.
We chose our hotel, Camere Bellavista, after seeing it on Jenn's blog, and it was perfect. The room was cozy and quaint, and then the owner of the hotel flung open the window shutters and revealed a ridiculously awesome, panoramic view.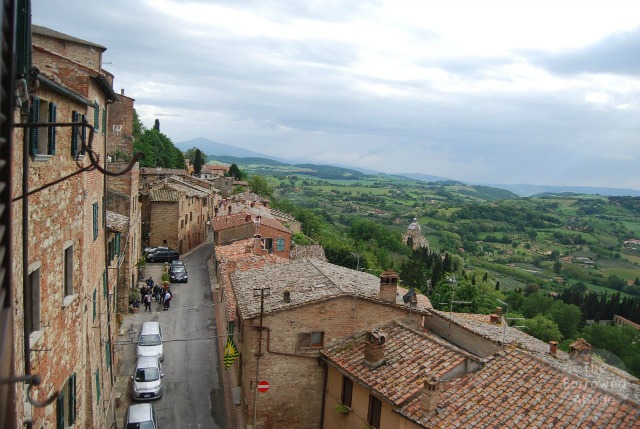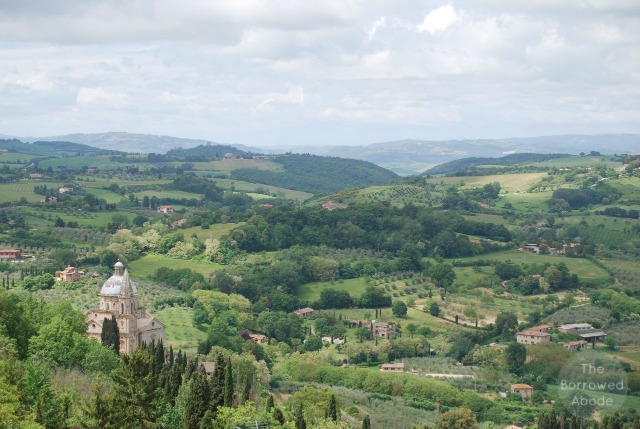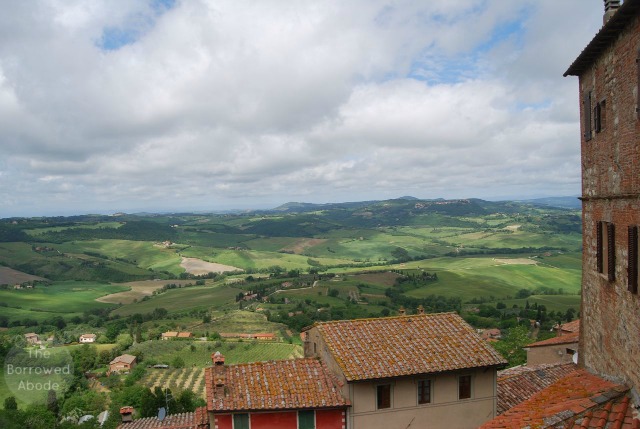 For dinner that evening we grabbed a huge block of Pecorino Toscano cheese, bread, some Acacia Honey, dried sausage and a tiny bottle of Montepulciano D'Abruzzo wine and then strolled around the town looking for a picnic spot where we could enjoy the view of the Tuscan countryside.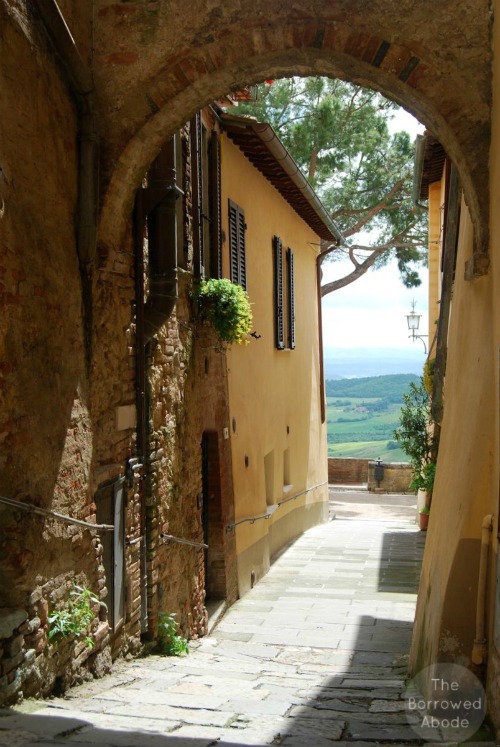 Except there weren't any places. It seemed the walled design of the old town had most of the view closed off by actual homes and building built onto the wall.  But we eventually found some old benches in a parking lot in the top end of town and dove into the food.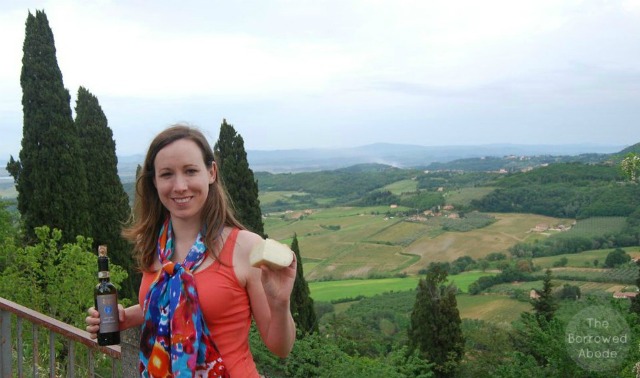 I was really excited to be drinking Montepulciano in Montepulciano.   It's been one of my favorite red wines for years!
But let's talk about that cheese and honey.  Oh my gosh, we were blown away by the simple yet amazing combination of the Pecorino Toscano and the Acacia honey.  We usually go for "fancier" cheese, like triple cremes or blues or really peculiar ones – but we fell madly in love with the Pecorino.  And the honey. (Unfortunately we can't seem to find either back at home.)
Sunday:
Sunday morning I awoke and explored the town a little  on my own.  Early mornings are some of the best times to get photos of towns, because there's fewer people on the streets and the morning light can be better than the harsh midday sun.  By going out on my own early, I can also get the photo bug out of my systme, so that when I'm with Ryan later in the day, I'm not behind the lens as much.
This Sunday morning in Tuscany was overcast and many of my photos were unremarkable, but I still enjoyed my solo adventure.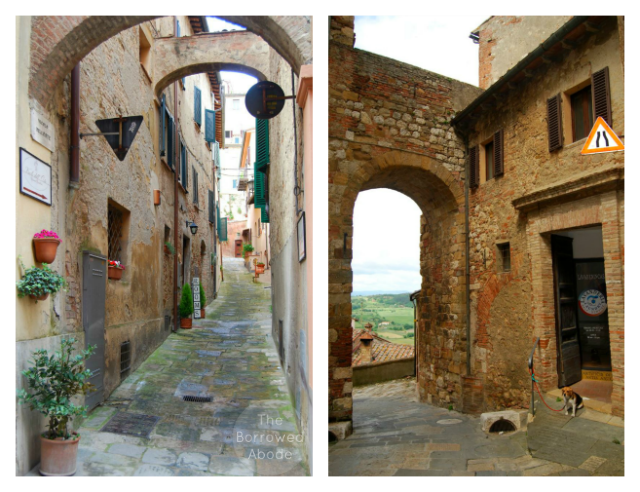 The shoemaker had a funky display outside his shop: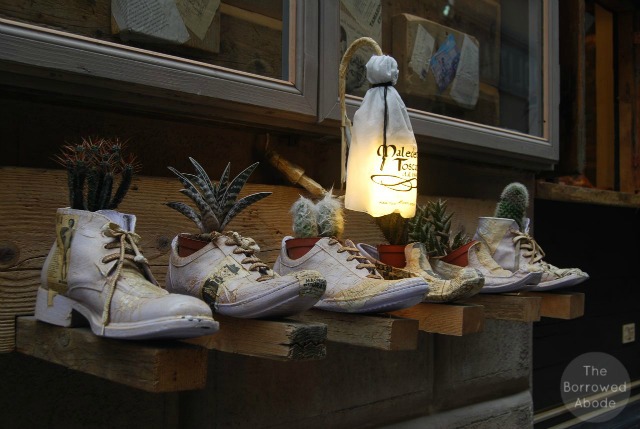 That day Ryan and I had lunch at a wonderful little place off the beaten path, because of course the places on the main stretch were more touristy and expensive.  We spotted a sign pointing down an alley with a good Trip Advisor rating, and sure enough – a fabulous lunch greeted us.
I absolutely love this photo of Ryan at lunch. It's both a smile but also an "I'm tolerating my wife taking lots of photos" face. 🙂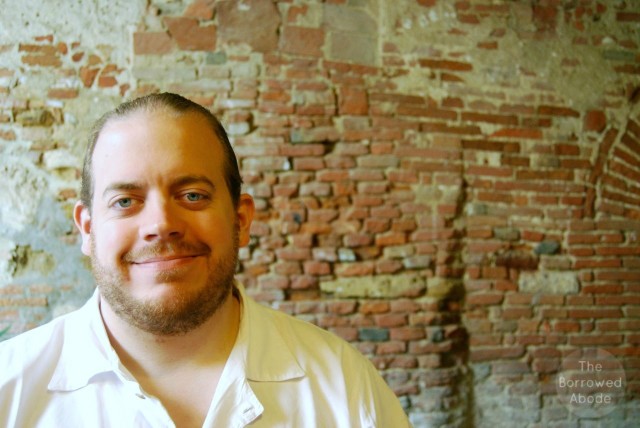 Oh my gosh, lunch.  I don't even remember my main course, because I didn't take a photo, but everything was delicious.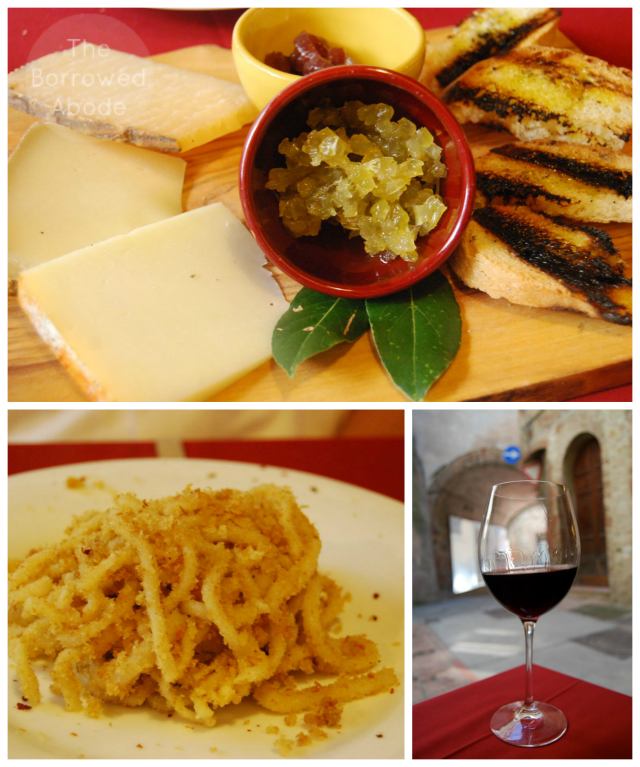 We started with a cheese board which had a super tasty onion relish with it.  At this point I realized that I was crazy about Tuscan cheeses.  We each had pasta, and I photographed Ryan's because it was so simple.  Freshly made noodles coated in red pepper and breadcrumbs. It was called Pici, and we got a great lesson in local dialect from our waiter when we questioned the pronunciation of it.  Apparently the Tuscans feel they speak the "true" Italian 🙂
I had a phenomenal glass of Montepulciano, and was so busy enjoying myself that I forgot to write down the name of it. It was a splurge but was one of the best wines I've had in my life.
Next adventure:  Exploring a few wine cellars in town.  The original plan had been to drive into the Tuscan countryside and visit some olive farms and vineyards, but after the nerve-wracking drive on Saturday – coupled with the limited parking in town –  I didn't want to ask Ryan to get back behind the wheel for a "leisurely" drive.
We explored Cantina Del Redi, an ancient – and I really mean ancient – wine cellar right up the street from our hotel. We descended several flights of old brick steps to get into the cellars, which were partially built into caves in the ground.
So. Cool.  That's all I have to say about it.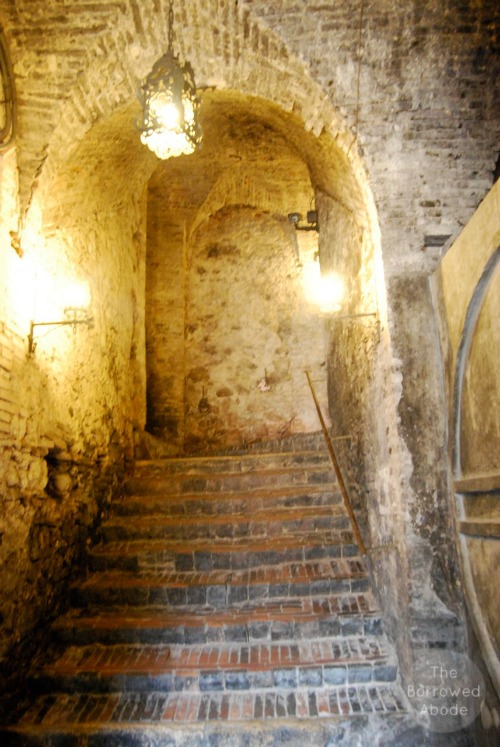 The cellars themselves were massive, as were some of the barrels of wine.  Others were tiny, holding very small vintages.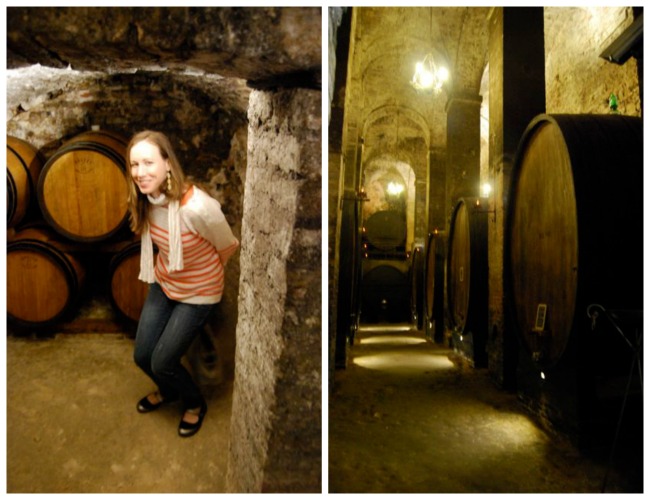 Above on left:  The towering cellars, complete with wine barrels that were at least 10 feet tall.  Ten feet!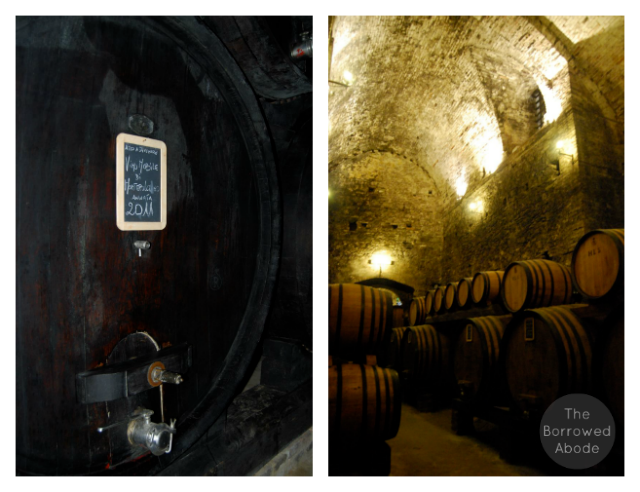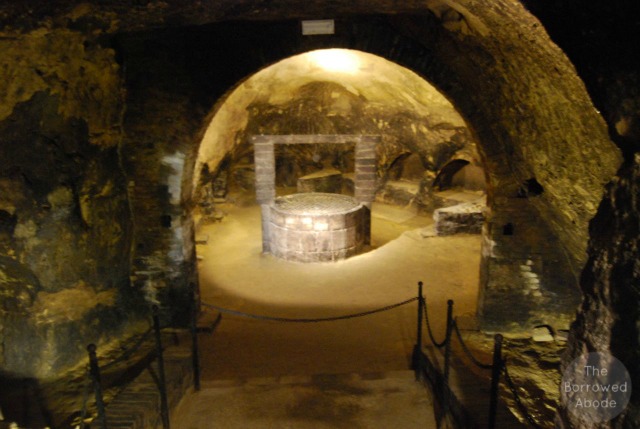 Above: This was one of the original old caves.
After exploring the cellars, we shipped a case of wine home (of course) and then split up for the afternoon.
Ryan and I do this on vacation, and I think it's a really important key to a happy trip.  We love to fit a little "alone time" into any of our trips.  I found a cute outdoor cafe, ordered some dessert and (another) glass of Montepulciano, and wrote in my journal for a few hours.  Delightful!!
Dinner Sunday night was wonderful, despite the chilly weather at our outdoor table.  We chose Osteria Del Conte at the edge Montepulciano, right inside the wall on the higher, quiet end of town.  I had the most amazing* wide noodle pasta with local mushrooms, and I couldn't get over how simple yet delicious the noodles and sauce were.
*I know I keep saying things tasted so amazing, but seriously? The food in Italy is ridiculous.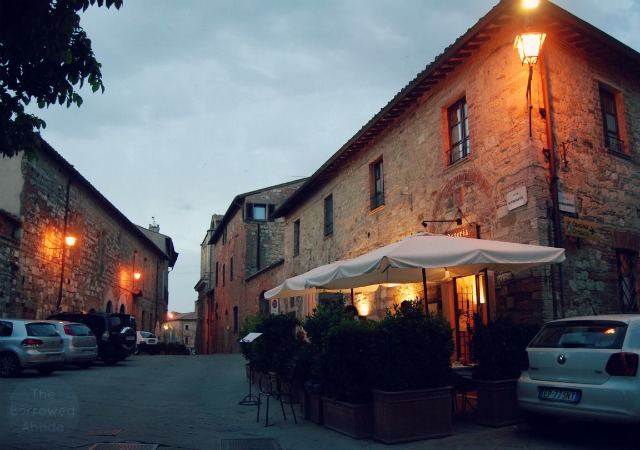 Monday:
Monday morning we packed up and hit the road to Florence.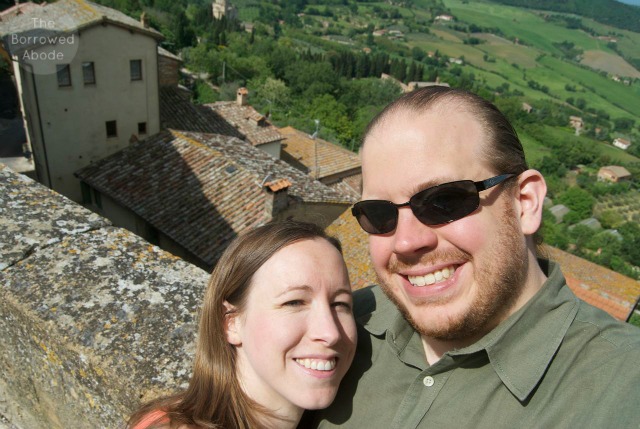 But first, we had to navigate out of the ancient little hill town.  I snapped photos as Ryan drove, because we actually had to drive down streets that did not seem like streets.  At times we had to go through tunnels under people's homes.  It was unnerving.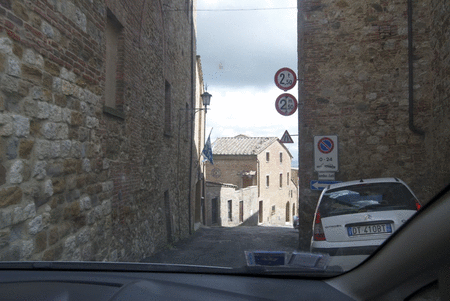 After we escaped Montepulciano without running over any pedestrians, we wound through the countryside and I was so sad to leave Tuscany behind.  Next up was Florence, a huge change from the first half of our trip.