On a recent business trip, a coworker and I were comparing notes on our attempted low-carb diets.  I try to eat low-carb when possible, simply because it is the easiest way to keep my weight down while not denying myself the joy of eating.
The biggest problem, however, is breakfast.  If breakfast isn't already made, I'm likely to hop to the coffee shop for  a big old bagel rather than frying up some eggs.  Melissa had a great suggestion for fixing eggs ahead of time:  Omelet Muffins.
As soon as I got home I tried them, and they were so easy that I was hooked.  They're basically like omelets, in the shape of muffins.  Now I make two batches of these each week and we always have breakfast ready to go!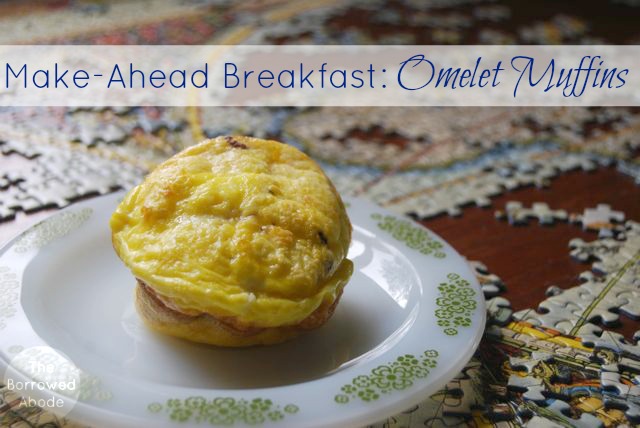 The "HOW" is simple:
Scramble a dozen eggs in a bowl.
Chop whatever you want to add – I like ham, cheese, fresh spinach, or any veggies left in the fridge.
Grease an oversized muffin tin.
Put some of the meats/veggies in the bottom of each muffin cup.
Pour eggs over, distributing evenly.
Bake at 350 for about 20-25 min, until they're done but not overdone.
Wrap and refrigerate.  Keeps for a good 4 days, longer if frozen.
Ready to eat them? 
Just pop one in the microwave for 45 seconds and breakfast is done!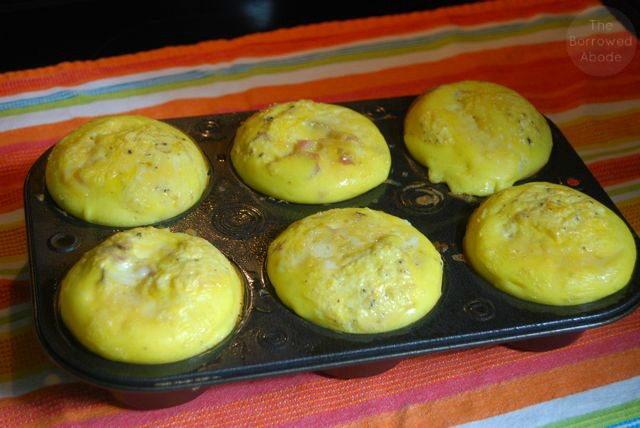 While you can definitely make these guys with no fillings added, I love having surprise flavor on the inside.