When I heard that Scott Stratten was speaking at Blissdom for a second time, I knew the conference would be worth it, no matter what else happened.
Scott is a social media marketing guru (@UnMarketing) who shares his thoughts boldly and without apology.  Companies who suck at social media & marketing should fear him.
After he spoke, I got my copy of his new book signed inside and out, and my adventurous sidekick snuck into the photo.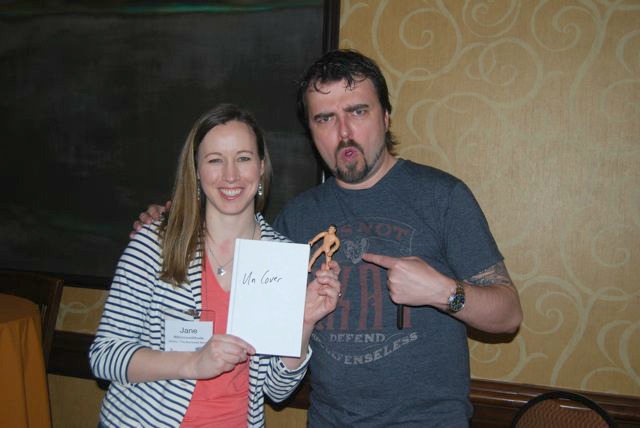 Scott spoke for at least an hour, and everything he says is a nugget of gold.  I'm going to try and share his comments in tidbit form.
On Blogging:

Only blog when you have something awesome to say.  Don't blog just to fill a schedule.  No one shares a post because "oh, the content was mediocre, but it's Monday!"
For your blog, you want to write content not for your subscribers, but for your audience.  Now you need to give them a reason to share it so you reach wider circles.   The way you do that? You blog the awesome.
On Logos & Hiring Designers
Let the designer do their job, and you do your job running your business.  That's why you hired them!  The more you tell a designer to tweak something in a logo, a unicorn dies. Stop it!
What Is Marketing?

When people think of marketing, they may think of a logo, but that means nothing.
No one ever says about Ritz: the bed was too hard, the room was too cold, but did you see the logo? It was EXQUISITE!
(I wish I had a video clip of Scott saying the above.  He speaks with so much inflection and humor and nuance, it's better than listening to any stand-up comedian.)
A logo is something to tweak your brain to think "What do I know about that company?"  The Ritz-Carlton is not a lion logo to Scott, the Ritz is Joshie.
THAT is marketing. And marketing is not a task, it's a verb.
Your brand is not your logo, your brand is your action.
Marketing Case Study:  Ritz-Carlton
In short: Family stays at Ritz. Family leaves kid's beloved stuffed giraffe "Joshie" behind when they leave.  Kid is distraught; family tells kid Joshie is on vacation, family calls Ritz and begs "please find the giraffe!"
That's all pretty standard, right?
What isn't standard is how the Ritz reacted.  They returned Joshie with a binder full of photos of Joshie's "extended vacation."  Joshie at the pool, at the spa, working in the security room looking at the cameras. Joshie even got a badge as a member of the loss prevention team.
They didn't know the dad was a writer for the Huffington Post, who would go on to write about this extraordinary customer service experience.  Read it.
Think about that Ritz customer service vs. the Ritz logo.  A marketing team spent hours on the logo, but no one remembers the details of the logo.  What people can remember is how they handled Joshie the Giraffe.
Marketing Fail:  Companies that spend more time on a design for a blog and less time answering the people's comments or emails.  Improve how you connect with people on the front lines.
Knowledge plus passion = profit.
People are not overhead. People are your brand. If you're bringing on a virtual assistant or other employee, that person is an extension of you.  Even your affiliates are an extension of you.
On QR Codes:
QR Codes.  In theory, you get an app on your phone, in theory you scan the code, and in theory it takes you to a webpage where you get info.
Key words?  "In theory."
In practice, so much goes wrong with QR codes that it's funny.
We just started using them, but we're horrible at them. Scott has seen them on billboards. On trucks.  On doors that open and smack you in the face as you're scanning the code.
On QR Code FAILS:
QR codes in airline magazines:  When do you read them? When you're taking off or landing.  Because they won't let you use your phone.
Scott has seen QR codes on websites and has scanned them.  Do you know where they take you? BACK TO THE WEBSITE!  STOP IT!
QR Codes in email signatures:  Stop it.  Use a link.
A Chiquita banana had a QR code, saying "scan for a smoothie recipe."  It took him to a website that said "sorry, this site does not work on a mobile device."   What?  Who's going to take their PC to the store just to scan the banana?
The whole point of a QR code is that you are supposed to scan it with your mobile phone in order to access a website with your mobile phone, yet Scott has seen many examples of QR codes linking to sites that are not mobile-enabled. That is a QR Code Fail.
Don't use technology just because you can.  Use technology because:
It helps your customer
It helps your customer connect with you
It helps them give you money
Only 3.6% of cell phone users are successful with QR codes the first time and feel they would "use them again."
Before you invest in technology, ask yourself: "Does it make sense for my business? Does it make sense for my marketplace?"
On Social Media:
Social media success doesn't exist. It doesn't fix anything. If your blog or service stinks, it just stinks more in social media.
The secret to a successful business: work hard.
The secret to being social? Be SOCIAL. Talk with people, not at them.
On Geeks & "Social Media"
Old school geeks remember ICQ.  (Yes!!)  That was social media, but we called it "talking."  Geeks have been hanging for a long time, eating cheetos and talking on the message boards.  You're late to the party.
There are two groups you don't want to tick off in this world: geeks and moms.  And if they're a geek mom, run.  It will be epic. Nothing is more scary than a group of organized, tech-savvy moms.
On Pinterest:
"I love Pinterest.  It is 98% women, and me.  Kind of like today.  It's got amazing shoes. Amazing recipes that I can't make too well.  And Ryan Gosling with no shirt on."
Pinterest has gotten popular because of passion, not profit.
Key Points to Social Media:
Be sincere, and quick to apologize.
Have fun.  He said "I've just seen the tweets about outfits [for Blissdom], and you look so stressed! You know when you look the best? When you're yourself.  Just be you."
(Sidenote from Jane:  Thank you, Scott!  I couldn't understand the outfit hype surrounding the event. When did a blog conference turn into a stressful fashion event??)
Card Connect, Not Collect.
A conference is not about how many cards you can exchange. Collect cards of people you connect with, so you can further the connection.
"DO NOT add people to your newsletter who give you their card, because I WILL FIND YOU."
Amen.
Find my recap of his first Blissdom keynote here.