Friends, if you're a blogger who hosts giveaways and/or works with brands and/or does contract writing, you need to be familiar with the laws and your rights surrounding those activities.
I certainly am not the authority on the issues, but I did sit through a very helpful session at Blissdom,  "Legal Bliss for Online Influencers & Professionals," led by Sara Hawkins of Saving For Someday.  Sara is a lawyer, and did a great job sharing important legal info for bloggers.
I am not a lawyer, and this post does NOT constitute legal advice.  I simply want to share the notes I took.  Remember, if you have questions about a promotion you're doing or a contract you're going to sign, check with a lawyer!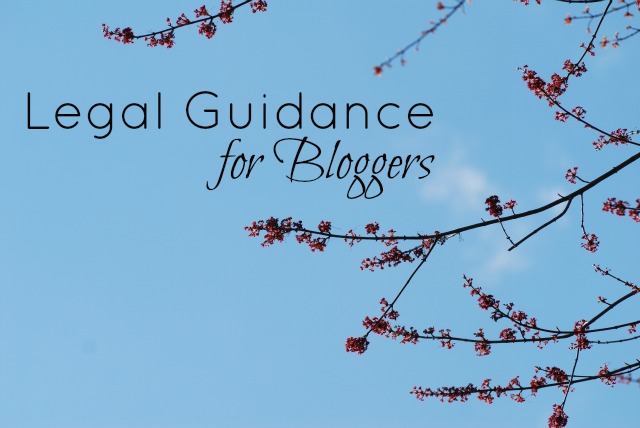 Contracts
First, it should go without saying that, when you decide to work with a brand or anyone who is paying you, you should have a written contract outlining what is expected.   But there's a finer detail that many people don't know about:  if you are required to physically invoice the company/person before being paid, make sure that is stipulated in the contract.
"Work For Hire" – Who owns your work?
If those three words are in your agreement, you've been hired to work for someone else, and that means they will own your work.  You need to understand what rights you're giving up to ensure you're being compensated fairly for your work.
Know exactly what they will own and how they will use it.  You may not be able to republish it.  Hire a lawyer to clarify, or at least tweet at a lawyer asking for help with clarifying.
FTC Disclosure Rules
The week before the conference, the FTC released new 2013 Dot Com Disclosures.   Listen up!
If you're writing a sponsored post, or writing about an advertiser, your disclosure must be at the top of the post so your readers know as soon as they begin to read that this is a compensated relationship.  This must be the same size and font as the rest of the post.
Use of affiliate links must also be disclosed prior to use of the link.  Hover text or pop-ups don't count.   Also, you can't link out and say "see disclosure policy".
How to deal?  A simple opening paragraph/sentence to let readers know that the following post is either a sponsored post or contains affiliate links.
Sponsored Tweets / Advertiser Tweets
If it's a sponsored tweet or marketing type tweet, you must put this AD: – no hashtag – at the front of the tweet.  Let's say I paid for another blogger to tweet about my awesome business.  The tweet would read  "AD: Janery has the best dog crate beds ever!"
Giveaways, Promotions, Sweepstakes, Contests
All of these have legal definitions.
Most bloggers doing giveaways are really engaging in sweepstakes.  Whether they know it or not, these are regulated by the state and the federal government.
Sara said that as professionals we need to raise the bar on this issue.  We work with brands who spend tons of money on lawyers for national sweepstakes, but then they send us a product and offer a second for giveaway.  But what about guidelines or rules?  They don't provide them.  Some will tell you "please make sure your readers know you got one of our products for free" – but that's not strong guidance!
Your brand partner is not the sponsor of your giveaway.  They are providing the prize, as prize fulfillment.  All the liability falls on you, for example, if a reader asks who won.  You do have to disclose who won.
No Purchase Necessary is important.  Make the first entry something that anyone can do.
**All entries must be of equal value!  Stop the different weights for different entries, where one type of entry is worth 1 point and another is worth 5.  That's not legal.
If you can't search a platform and see if someone follows you, then you can't make "must follow me" a criteria for entry.
"Freebies" and Prizes in Blogland
Free trips are not free.  Free cars are not free.  You have to pay taxes on them.
If you're sent cake pops and they're worth $150, you have just consumed $150 of product.  If you're gluten free and you give them away, you've still received $150 of product and you either donated or sold/provided it.  You have to pay taxes on it.
Somewhere you need to get the cash to pay Uncle Sam for the tax on the free swag, so think before you take it.  You have to pay taxes on the prizes you win.
Giveaways over $600.
If you're hosting a giveaway where the prize is worth more than $600, by law, you must provide the winner with a 1099 form.
The bottom line is, if you want to be treated like a business, ACT like a business!
For more details on the FTC's 2013 Dot Com Disclosure guidance, please read Sara's post on it.