Hey friends! Have you missed me this week? 😉
In case you missed it, last Friday I shared an awesome small business Q&A and a giveaway from my friend Steffanie of Old Town Suds.  Steffanie makes what I consider to be the most awesome laundry detergent of all time, and has offered up not one, but two prizes for this giveaway – so be sure to hop over and enter!!
Now where was I . . . oh right, I went to Vegas for work, stayed through the weekend for some fun adventures with one of my bffs, and came home just in time to get laundry done, re-pack, work a few days, and head to Dallas for Blissdom tomorrow.
That's why I've been quiet.
But a reader reminded me last week that I was supposed to share the status update on my roadside dining chairs, so I snapped a few not-so-crisp photos just so I could keep you in the loop.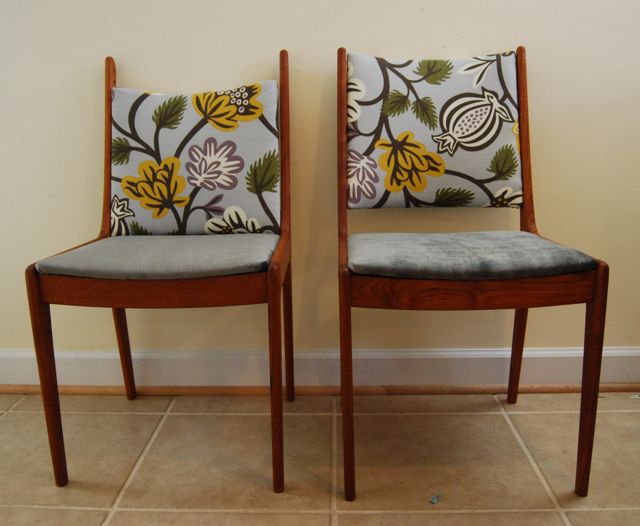 I did manage to get the chairs refinished, re-built (where they needed it) and the seats and backs reupholstered before leaving for Vegas.  However, when I went to attach the backs to the chair frames, I realized I didn't have the right size screws, and it was too late to go to the store.  So that's all I have left, and then I can sit in those babies and really blog the heck out of my refinishing process.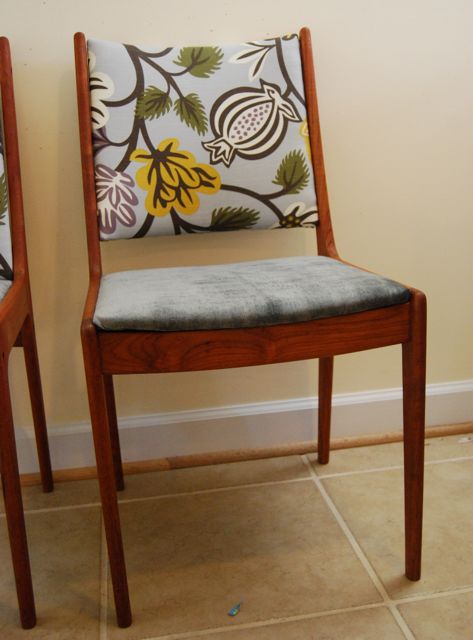 I chose to use the last of my Robert Allen Freja Floral fabric for the backs of the chairs, and because it's out of print, i used a coordinating silver velvet on the seats.  I love the two-tone look, although I fear I may spend too much time trying to brush the nap of the velvet in the "right" direction. 🙂
The wood, by the way, turned out beautifully.  All it needed was a good sanding and a few rubs of Teak Oil.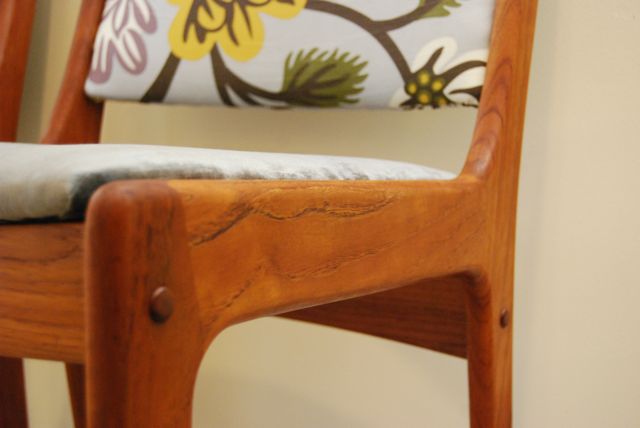 So it looks like I have a few key projects to finish when I come home from Blissdom:  these two chairs, my office desk (which I had to partially take apart and re-do because something bugged me) and the original pair of roadside Knoll chairs.  I guess those will be my March-to-April goals.
In the mean time, if you're going to be at Blissdom, give me a shout!