How do you feel about decorating for fall?  Do you love pulling out the cold season decorations, and adding pumpkins or leaves or gourds to little nooks around your home?    I used to love it, and I always love tweaking my mom's fall decor. 
When I first started blogging I went crazy with fall decor posts and projects.  Some of my attempts were ok, but some some of my projects like my  DIY fall wreath didn't last well over the years, and they also failed to represent my style correctly.  (I would say "our" style, but it would be a lie because fall decor makes Ryan say What the Hell?!)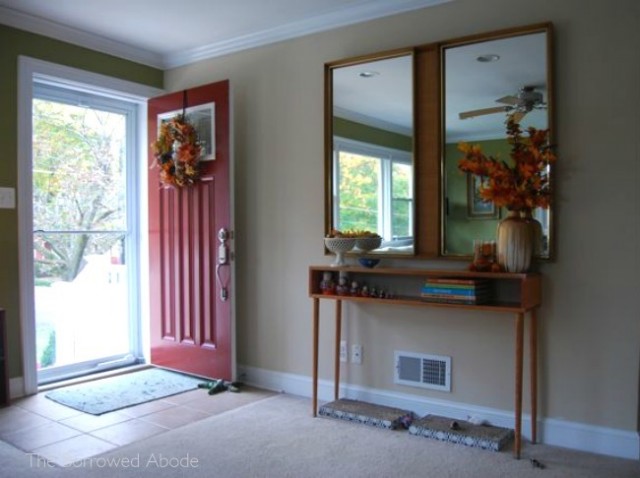 This September I purged most of the fall décor bits that I'd accumulated, sending the usable parts to Goodwill.   I saved my burlap leaf pillow covers, because I do like them and may use them again – I just didn't feel like putting maroon and orange in our living room this year. 
That's when I started asking myself:  Do I really need to decorate for fall?  I realized that I was automatically setting out to do it just because "that's what you do" at this time of year. And this year I wasn't feeling the urge. I'm working on preparing Janery for the holidays and trying to finish so many house projects that have lagged for months. 
I did give the entryway a fall spruce-up, however. Inspired by Kim's Gold-Dipped Vase project at Yellow Brick Home, I played around with some Liquid Gold Leaf.  I had dreams of doing the gold-dipped look on a huge thrifted white vase.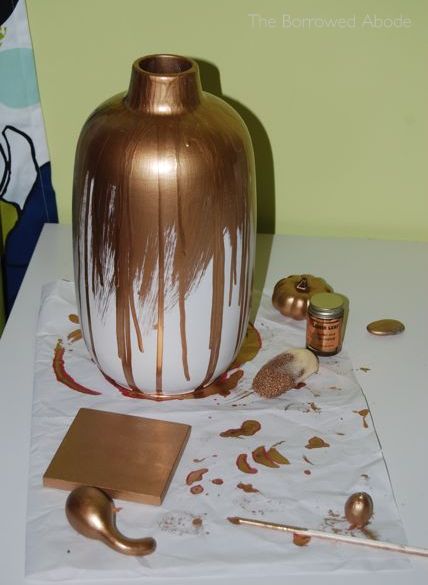 I used a sponge brush to try and squeeze rivulets of gold onto the vase.  The results were awful, so then I tried brushing some of the rivulets.  The result was even worse. So I added more gold drips. 
It looks like an awful 1970's or 1980's vase, but that didn't stop me from using it in our home. 
I set the gold-dipped-ish vase on the entryway console table.  I stuck some fall branches in it to distract from the awfulness of the gold.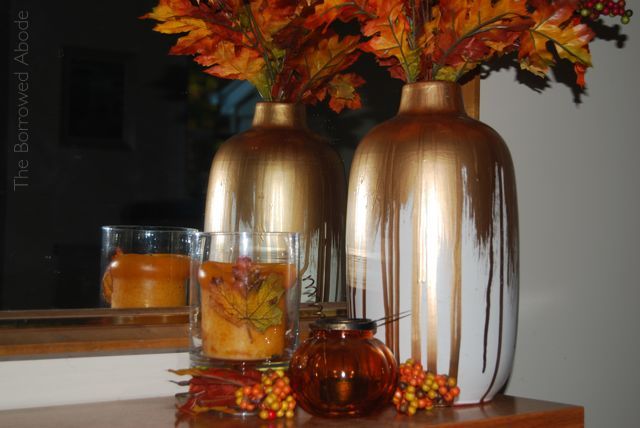 I did decide to keep my eye out for fall decor that "spoke" to me.   It's now November, and I still haven't found anything that I liked enough to spend money on.  I have loved some mercury glass pumpkins, but not enough to splurge on them.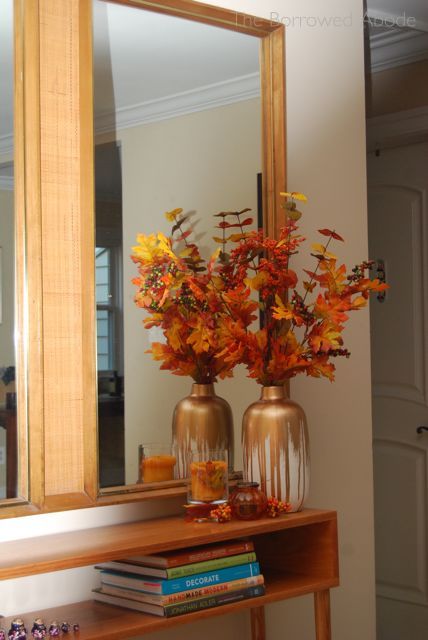 Also, this year I've come to realize that we don't have a ton of "display space" in our home.  Do you know we don't even have a single bookcase anywhere in the house yet? And we've lived here 3 years now!   
What's your take on fall decorating? And have you ever played around with Liquid Gold Leaf? I want to try it again, but need to do some research first.