It's time for a much overdue bathroom decor update.  Come on in, there's plenty of room . . .
I haven't shared a lot about decor or organization for our main bathroom.  There's not a lot to decorate in this space.  Many of my old apartment bathrooms were cold, ugly, awkward . . . giving me more of a decorating and storage challenge.  Unlike those apartment bathrooms, this one was renovated completely prior to our move-in, so I haven't had to try hard to make it look nice.
When you last saw the forgotten bathroom,  I had just hung clear teardrop vases from CB2 on the one blank wall large enough to decorate: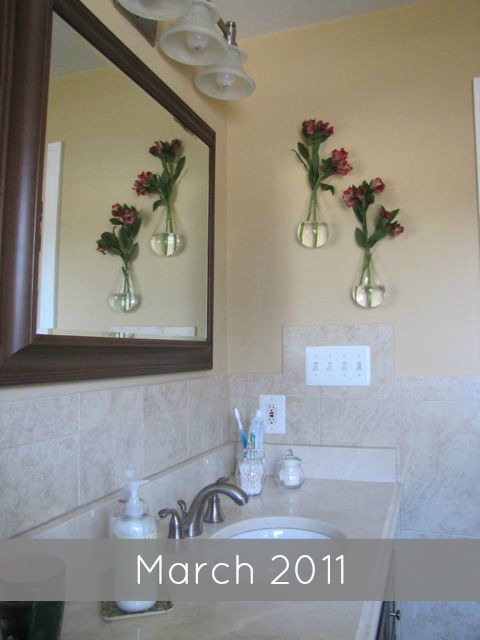 I loved the look of the wall-mounted vases, but they didn't work out for me in the long run.
First, they were quick to display dust, a problem that was solved by running them through the dishwasher occasionally.
Second, when I hung fresh flowers in them the flowers would leave marks against the walls as they wilted and got older, and one time a sad flower blossom stuck to the wall and left a big smear in its wake. Granted, if I were Martha Stewart and changed out my fresh flowers every three days, wilted flowers leaving marks on walls wouldn't have been an issue.
Giving up on the fresh florals, I tried using some fake flower stems in the vases for a lower-maintenance look.  This didn't work out well at all – I couldn't add water to the vases with fake flower stems in them, and so there was no counter-balance weight to hold them in place.  If I didn't place the floral stems just right, the vases would tilt and spin on their wall hooks.  I was worried they could fall off the wall, so down they came.
I didn't give a hoot that the vases didn't work out, because Ryan and I found the perfect replacement!
This awesome Hoot Owl Giclee Print is from my friend Rachel's shop, Funnelcloud Studio.   It was the perfect piece of art to add some much-needed color to that wall.  I love the blues and greens as a starting point to add more color to the bathroom with new towels and a rug, for example.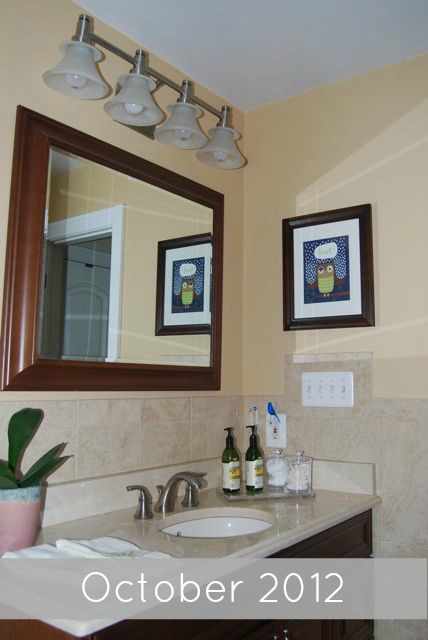 I framed the print in a super cheap frame and photo mat from Michael's – I was glad I could find a frame that matched the mirror and cabinetry so closely in color and style.
I also added some smaller organization and decor touches that I'll share too, since we're already talking bathrooms.
We have to keep our soap and lotion on top of a tray so they don't scar the marble counter more, so we included the glass tray and the small glass canisters from Crate & Barrel in our wedding registry. We also store our electric toothbrush and toothpaste on the tray . . . not sure where it got off to in this photo.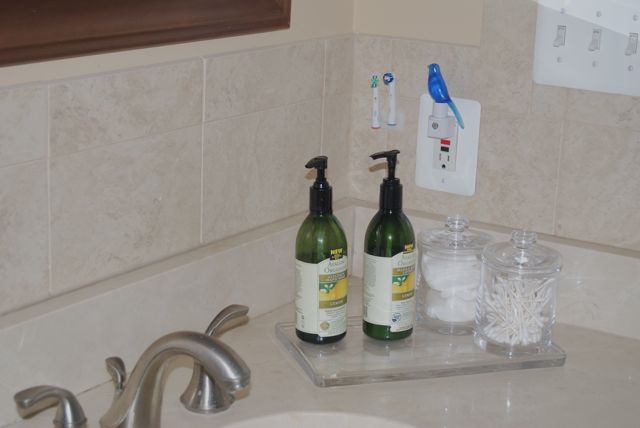 Do you see the little electric toothbrush heads stuck to the wall next to our "Blue Canary In The Outlet By The Light Switch
"?  We couldn't find a good way to store them, so I was excited to find this stick-on toothbrush holder
on Amazon. If we had a cabinet above the sink, we'd have installed it inside the cabinet door. But since we don't, we just used the back corner of the wall.  They're out of the way but easy to grab.
On the other side of the bathroom I've added a few things.  My painting from Italy needs a custom frame and I need to just get that done . . . I just forget.  But once I get it framed I think it will be too large for that wall, so I need to find another space in the house.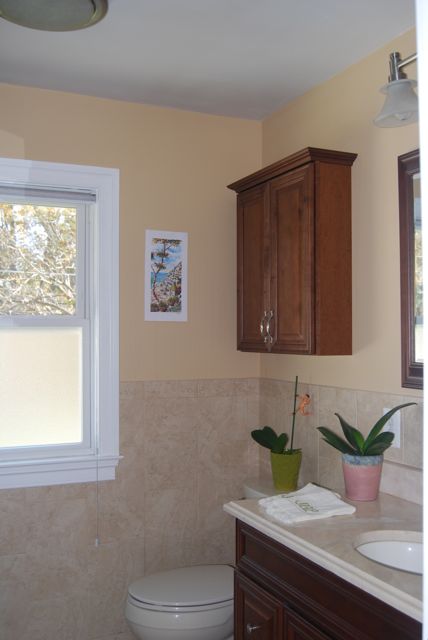 We've got a ton of orchid plants leftover from our wedding, and I've jokingly referred to the bathroom as the "Orchid Hospital."  Orchids that were close to death have come gloriously back to life in the bathroom, probably because it gets so humid from the shower.  So now I'm rotating a few of our dozen orchids through the bathroom each month.
Second, the monogrammed cross stitch hand towels were a sweet wedding gift from a college friend.  They come out when company is visiting . . . or apparently when I'm taking photos for the blog. 🙂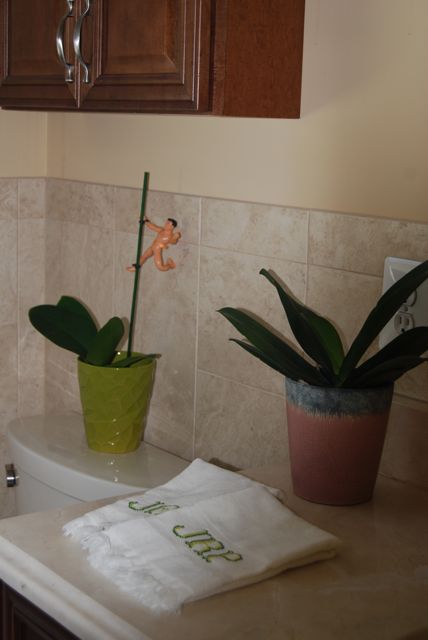 Oh wait. . . you want to know about the naked man?
Are you telling me you don't have a naked man swinging from a pole in your bathroom?  The Naked Man was found on the floor of my friend's mom's car as I rode to the wedding ceremony.  I stuck him inside my purse and he came along for the ride.  He's hung out in different scenarios at the Borrowed Abode ever since . . . and this last stop in the bathroom was Ryan's doing. I'll have to share The Full Adventures of the Naked Man at another time.
Disclaimer: I have not been compensated in any way for the product commentary included here. I purchased both the art and the vases – and all opinions are my own.