Do you have a specific part of your home that you avoid sharing on your blog? 
I know I do . . . and it's the outer limits of our backyard, between our two sheds.   Only our closest friends, who come over in the nice weather for backyard bonfires, have been privy to the view – and that's because the embarrassment helps fuel our fires.  Literally.
You can't see the mess here, because this was taken before it got bad, but this is our backyard.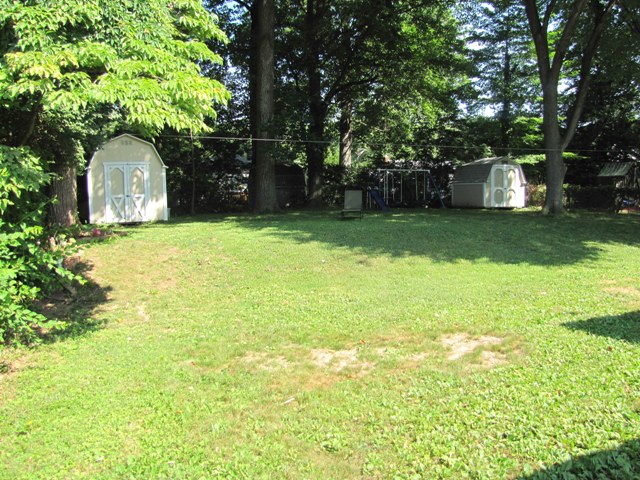 Since we rented this house 2.5 years ago we've had a slew of crazy storms that regularly bring down massive branches from the towering trees in our backyard.  It always makes me sad, because I love the yard, with its thick, multi-layered canopy of leaves. Even though the yard is small, encircled by a ratty chain link fence, I can sit out back, and truly feel like I am escaping from the hustle and bustle of the mega suburbs around me.
Whenever I had a really bad day (few and far between, thankfully) I would come home and go straight out to the backyard with my journal.  I'd set up Ryan's portable hammock or my lounge chair, lay back, and start to write, but without fail I'd end up setting the pages aside and just staring up at the trees.  I recently stared at the trees a lot as I was pondering what to do about my shop.
So when Ryan and I found ourselves with several Crate and Barrel gift cards after our wedding, we knew just what to do with them:  buy a large, 2-person hammock to hang in the backyard.
The only problem?  Our massive pile of downed branches stood exactly between the only two trees that could hold the hammock.
Frankly, the brush pile was out of control.  It looked more like a beaver dam:
What choice did we have other than to clean up the back of the yard?  I never thought I'd say this, but I set about organizing our downed tree branches.
After breaking down all the good, strong branches into piles by thickness (kindling and then small, medium, and large firewood) I realized that we had more "firewood" than we'd ever use.  I hauled 3 10×10 tarp-loads to the curb for the city to pick up.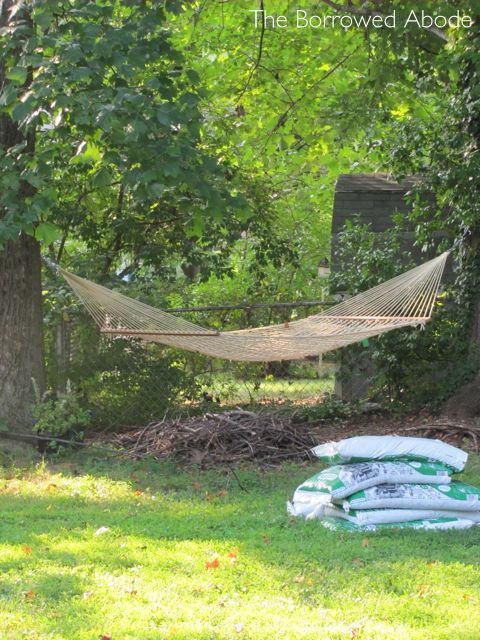 That left us with a smaller pile of debris that I burned in the fire pit every night after work for about 2 weeks.  It went slower than expected, but at least the ground under the hammock is clean.
And I've had an excuse to play with fire. A lot.  🙂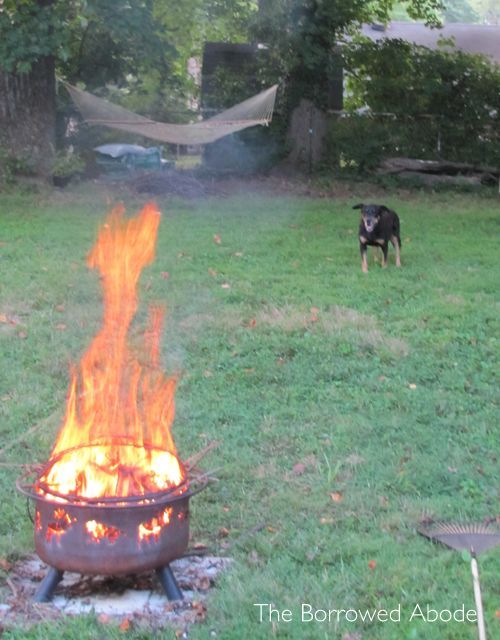 As you can see above and below, the whole endeavor has been supervised by my four-footed family.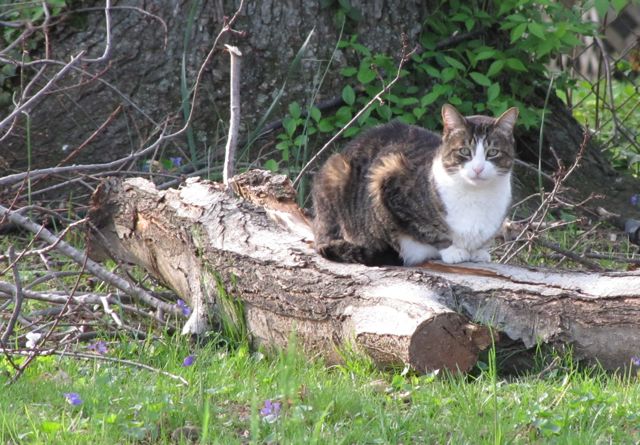 The brush is finally cleared out, and now we're laying a bed of mulch and turning the whole space into a little backyard oasis.
There's still a lot of work to do, but that's not stopping me from enjoying the hammock.
PS:  IF you're new, check out how we cleaned up the "front" of our back yard, aka our porch, last summer.