I recently received a reader question that really resonated with me.  She's renting, and is struggling with the no-paint situation.  Boy, can I empathize. While I've been lucky that my last two landlords have let me paint, I experienced dab white walls so many times!
Reader Question:
Hi Jane,

I have a simple question and I am gathering various opinions to help make up my mind on the answer.  I am renting an apartment, I can't paint my walls and they are a cream color with a bit of a yellow undertone (they're pretty light and we have a lot of natural light which makes them look even lighter) and I would like to paint some of my furniture white and use some very true white decorations. One of my friends who is an artist things that white against/with the cream colored walls won't look right. What do you think? Is it okay to decorate a cream colored room with white decor and furniture? Thanks for any advice!

-A reader
My rambling before my answer:
This question couldn't be better timed – I'm struggling with a white-on-kinda-white situation in our guest bedroom.
After I installed the bold teal Tempaper accent wall and set up the white bed frames against it, I realized that my plan to paint the other three walls white (to match the white flowers  in the Tempaper) – then my white bed frames would totally blend in.  And after all the time I spent to lovingly refinish them, I really want their curvy lines to stand out in the space.
In this photo of my Guest Room (in progress):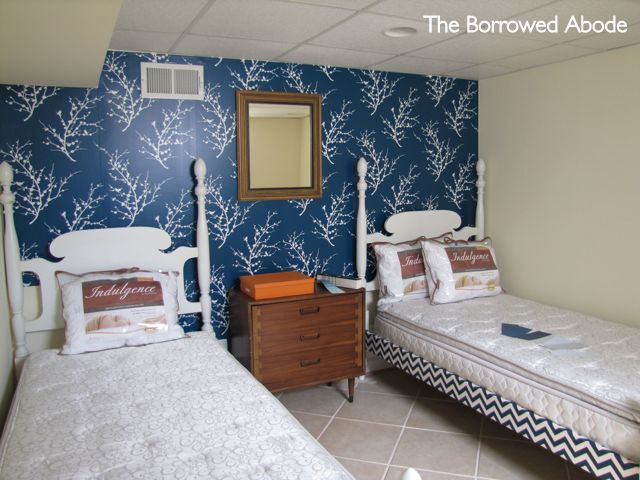 So I've spent the last few months pondering it and frustrating myself and doing some Very Serious Design Research on Pinterest.
My Answer:
I would paint a test piece – a large photo frame or heck, even a plain board – and set it against the wall for a few days to see how it looks.  Look at it in morning, day, and night to see how it looks with all the different levels of light that come into the apartment.
1.  If the off-white walls are different enough to contrast with true white: 
She mentions that her walls are creamy with yellow tones.  If there's enough color in the undertones, the pure white decor may pop nicely, in a modern neutral way, against the walls. I would just want to add some color with fun accessories and art!
I'm guessing this is not the case, however, based on the comment that the natural light makes her walls look even lighter.
2.  If the walls are light enough to blend and look modern with the white painted furniture:
If everything is going to blend together you can rock the monochrome / modern look, if that's your thing. Just note that, with this all-white look, the lines of your furniture will not be the focal point.  Use some knockout accessories, paintings, or photographs to add some style to the space.  This is a great excuse to paint some curvy thrift store lamps a bright, fun color and pop a wildly patterned shade on them.
In the example below, notice how the white table and chairs and cabinetry don't stand out – but the accessories do.  This can be a very calming and Scandinavian look.  I like it!
3.  If the walls appear to clash with "true white":
If the test piece clashes, or makes the walls look dingy and dirty, it's probably not a good idea to paint all the furniture white.
To avoid the clashy/dingy wall look, save the white paint for only the pieces of furniture that weren't going to be placed against the walls.  For example – if you're going to have a chair and a coffee table grouped with your sofa, you could paint the chair and coffee table white  since they won't be placed right against the walls.
In the end, you have to do what works for you.  These are just my thoughts on this apartment decorating dilemma – I hope they help!
As for our guest room – I've decided to bite the bullet and slap some warm yellow paint on the three remaining walls.  The white bed frames will surely pop against the gold wall and teal Tempaper color combo, and the yellow paint should add some much-needed brightness to the basement guest room.  Bonus:  Ryan is loving the idea, so I can probably get him to roll up his sleeves and help paint!
PS: Want to see your space featured on the blog? If you've got a rental or small space decorating dilemma that you'd like to see answered on the blog, just shoot me an email (borrowedabode – gmail.com) with some photos and your questions!