This post is a belated one written primarily because of my mother, who ever since we got home from our honeymoon/vintage-furniture-registry-pickup has been eagerly stalking the blog to see photos of our new (long-awaited) dining table.
The reason I didn't post photos of our finally-somewhat-furnished dining "room" sooner is because I'm not satisfied with it.  But maybe you guys will have some good ideas? Sometimes an outsider's perspective can be totally different.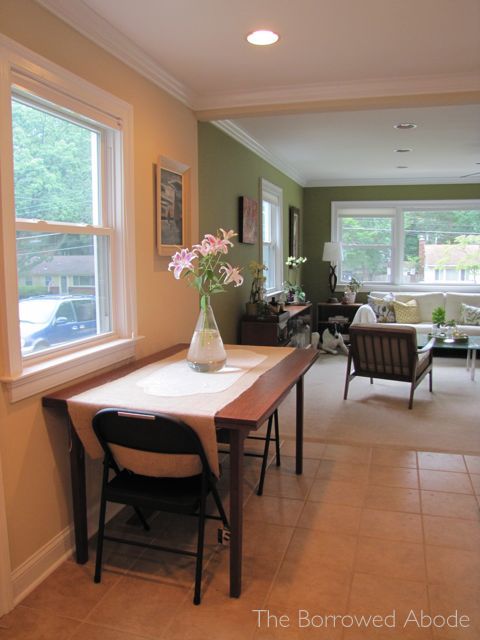 Please disregard the black metal folding chair in the photo.  As soon as I get a chance to refinish the vintage dining chairs I found in the trash, they'll replace the folding chairs at the table.
Before I whine about our ongoing space layout dilemma, here's a few more shots of the awesome extendable table.  Remember how we almost caved and bought a brand new table because so many mid-century dining tables were too short for Tall Ryan to sit at comfortably? This one worked perfectly, as we discovered on our honeymoon visit to Just L.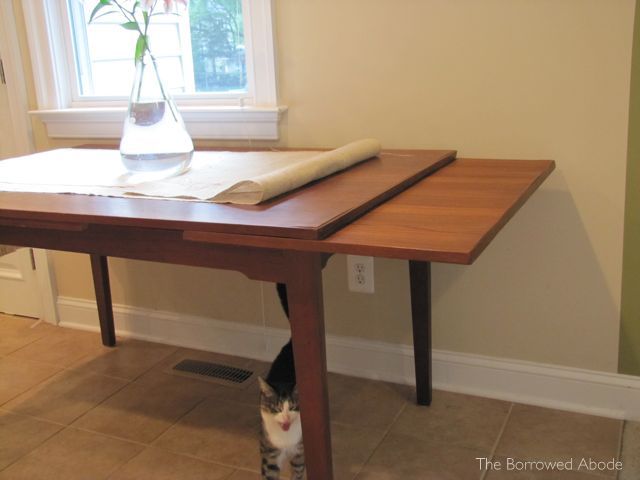 Instead of having a split down the middle of the table top where you insert table leaves, the leaves slide out from below the table on either end, and the middle top drops into place.  It's so cool how it works.  Maybe I should make a demo video for you.
Here it is with only one side's leaf extended.  With both leaves extended we could definitely seat 10 for a dinner party.  Or Thanksgiving feast.  Hurrah!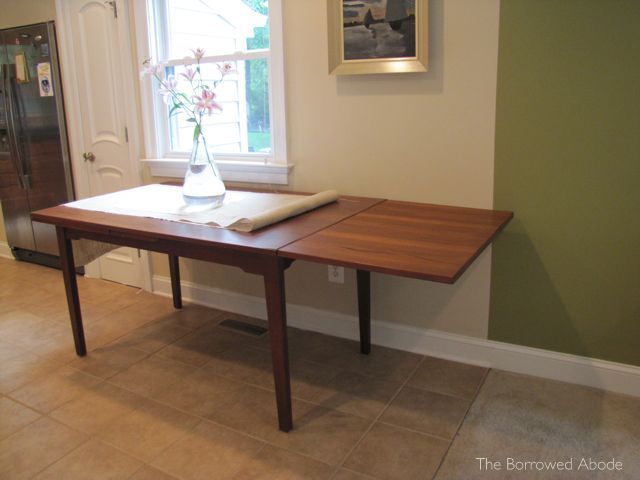 As you can see above, even with one leaf extended the length won't fit in just the dining area.  We'll definitely have some living room dining creep going on when we host larger gatherings.
Now on to our First World Problems:  We have tried three possible dining room layouts, none of which leave me loving the look of the space.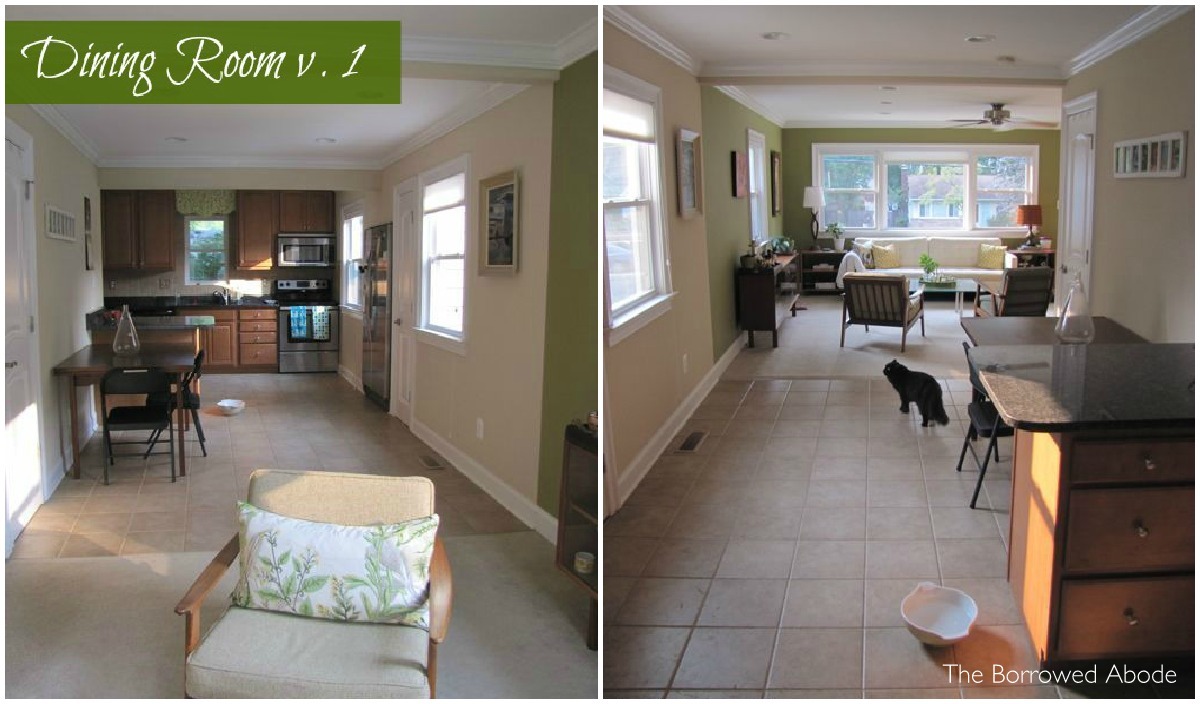 We tried this first layout, with the table pushed against the same wall as the large island with overhanging counter.  We weren't a fan of it, though, because it left the rest of the space just so weirdly open.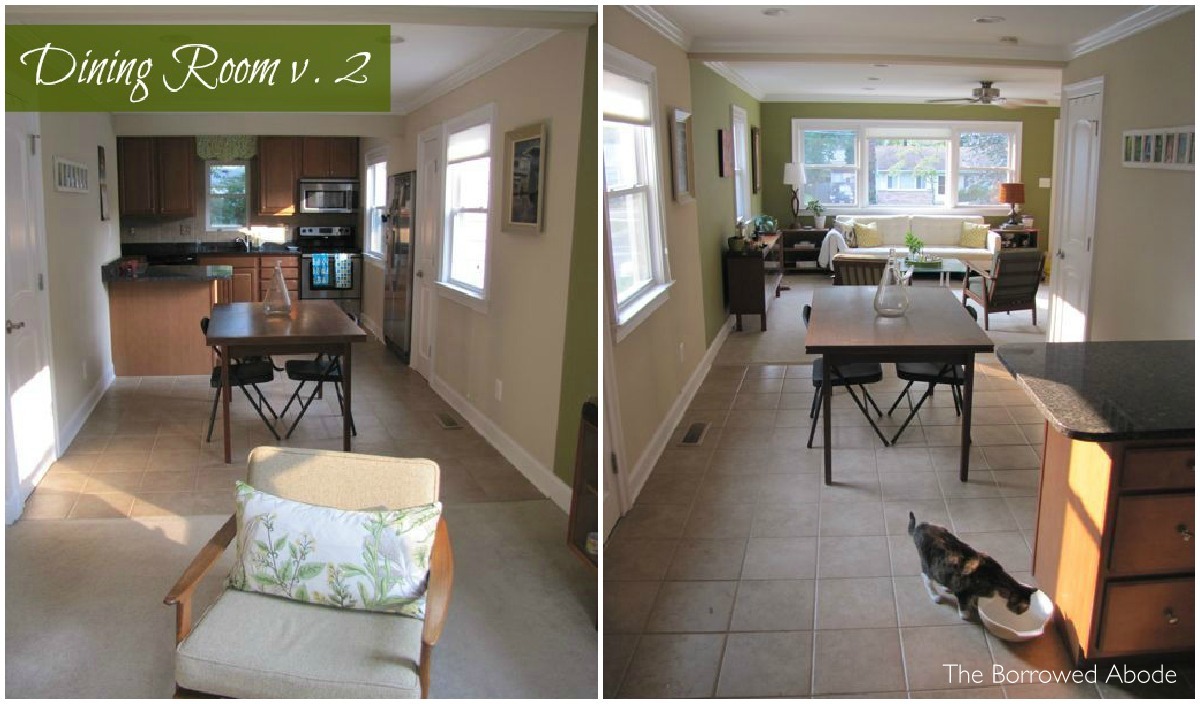 This layout is most aesthetically pleasing to me, but it still annoys me because the overhang of the counter really messes up the symmetry of the space.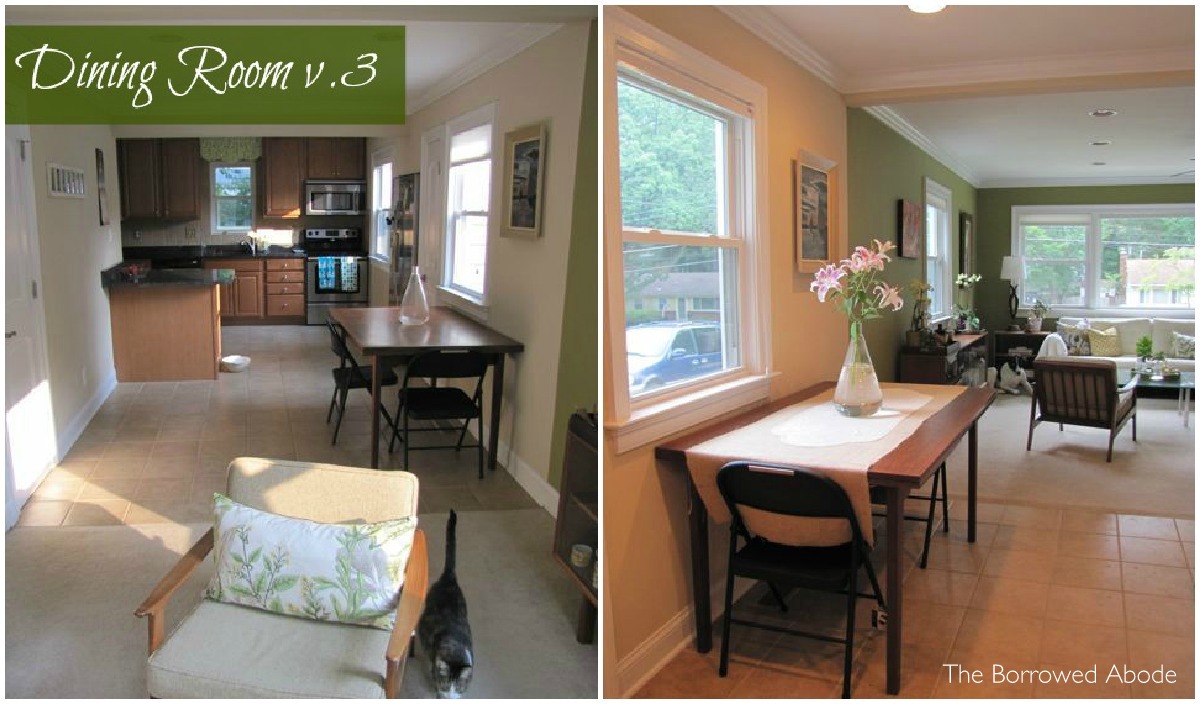 This is the layout we decided to go with for day-to-day life at the abode. It keeps the path from the living room to the kitchen nicely open, but it's not as ugly as version 1.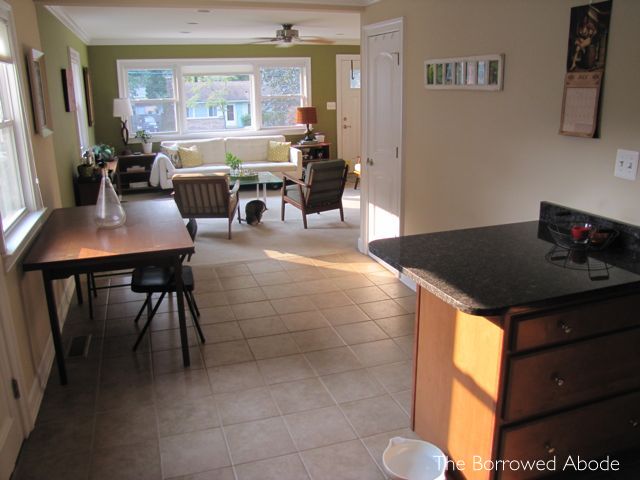 This is definitely the most spatially-challenging area in our entire house.  But like I said, first world problems.
Maybe the space would look better with a rug? 
Which version do you like the best?
 PS: Notice the cats in all the photos? They seem to have a sense for "oh, mom's taking photos for the blog! Let me get myself in all the photos!"