A week ago my office / dressing room grew up a little bit.  It transformed from from cutesy colorful to a more mature, classy colorful – all thanks to the addition of some curtains, and the removal of my pink and green floral cork board and some other random clutter.
It's amazing how a pair of well-chosen curtains can really dress up a room.
I haven't shown you this room in a long time, primarily because when I moved my sewing studio out of it to the basement last January, my office was put on the back burner. It was painted and somewhat decorated, and was certainly functional the way it was.
Until I spotted these curtains at Ikea: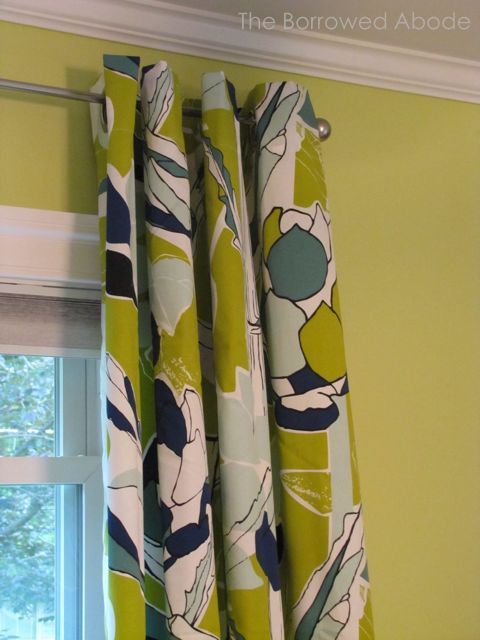 That's when I knew it was time for a change.  They were so fresh! So classy! So colorful! I loved the floral pattern in navy blue, chartreuse, a muted teal, and the palest seafoam green.  And at $25 a pair, I had room in my budget for the impulse purchase.
"Ooh, a quick and easy way to freshen up my office!" I thought to myself.
Until I got home and realized I'd have to rearrange all the furniture in my office to make them work.
Before the Curtains
This is how my office and dressing room looked for the last few months, before I hung the new curtains.
But before you peek – It's funny how just one look at photos of a space can open your eyes to a myriad of design problems.  Things that I've stopped noticing in real life pop out from the photos, screaming "fix me, fix me!"
Case in point:  There's so much clutter and lack of coordination. Yellow laundry basket, random foot stool, etc. Alas.
Things that make me cringe from this angle:  The random hanging lamp that once hung over my sewing table, the cork board which really just serves as a cute clutter-collector, the general clutter surrounding my secretary desk.
But back to the main point:  I couldn't hang my curtains because the secretary was too close to one of the windows.
From this angle you can really see how the secretary left no room whatsoever for the curtains to hang on this window. I remember how excited I was when I first found the secretary; it literally fit between the window sill and the wall with less than an inch to spare.
(Not pictured is my closet.)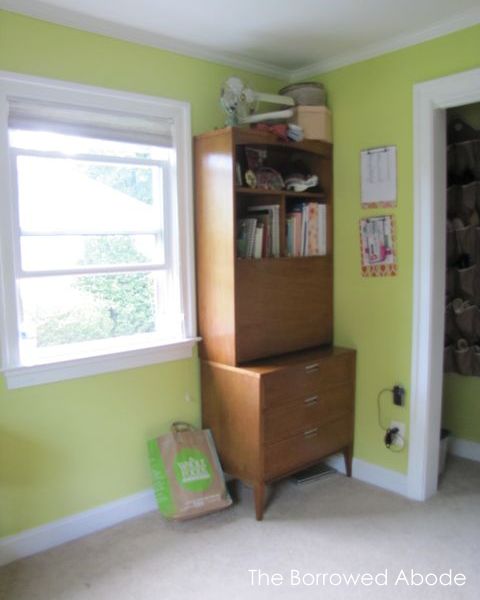 Once I realized that I had to move some furniture around to make the curtains work, I enlisted Ryan's help, and a lot of this happened: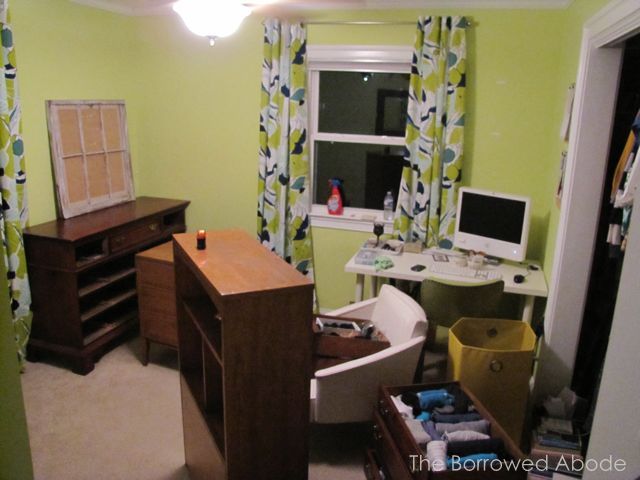 I tried one furniture layout after another, so thoroughly that each piece of furniture was on each wall at some point during the night.
After the Curtains 
I came to the conclusion that, with my large, wide dresser and my tall mid-century secretary, there really was only one layout that worked.
My desk is now at the other window, tucked against the spot where the secretary sat.  I don't love that it has to butt up against the curtains.  What do you think?  How bad a design move is it to have a desk against curtains?
(Psst: If you're curious, you can learn about my window frame jewelry display here. )
I could move the secretary to the guest room and put the desk back where it sat before the curtains came.
The changes aren't over, however.  My office still has some growing up to do, mainly in the form of graduating to a classy wood desk and ditching the white laminate Ikea one.   I'm envisioning a rustic, farmhouse-style table / desk that I'll build from scratch . . . which means it's probably time to pull out my doweling jig kit again!
Even without a fancy wooden desk, however, I'm thrilled by how much the curtains change the look of the space.  *Insert excited squeal here! *