Note from Jane:  Welcome back to Julia, who's going to be blogging here at The Borrowed Abode more regularly!  Take it away . . .
Kitchens are a blight to many a renter.   Scroll past the first picture for lots of useful eye candy.
Behold.
Before you look,  1) Have mercy for this is an old photo and I had a young infant (clearly) with me. That is also not  my light fixture. I put it up there to be silly and see how it would look. But the cabinets are orangey-pink, my table was too big (we have a new one now) and the baby stuff has for the moment been removed. Oh and the mess has been picked up.  2) Please don't pin this. That would be…embarrassing.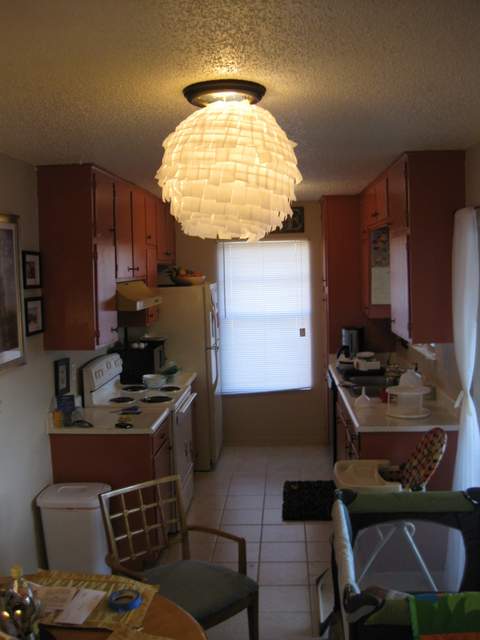 Now that I've stated and shown the obvious reasons rental kitchens can suck, let me go over a few more  reasons why they frequently do:
Too small
Not enough storage OR
Lots of cabinet storage that isn't useful/makes no sense
Dead wall space
Narrow walking space (oven and fridge can't be open at the same time, etc.)
Feel free to add more gripes and solutions in the comments.
That being said, I'd love to point out the number one way to fix a rental kitchen: just learn to live with it. While we may dream of granite counter tops and non-linoleum flooring I always find it best to focus on what I can do.
#1 I can COOK in my kitchen despite the fact that ___________. (Fill in the blank with your preferred reason)
The most amazing example I can think of regarding utility in small kitchens is Deb @ Smitten Kitchen. She is my go to for delicious recipes and gorgeous photography. Her kitchen happens to be just 42 sq. ft. (if you can believe it once you check out her site.) She has a great post with small kitchen maximizing tips that's worth a read.
#2 I can maximize storage in my wee kitchen.
The nice thing about ugly old kitchens is that they are often already jacked up enough for me to continue the tradition of jacking them up. Behold, great kitchen ideas:
Use cabinet fronts for additional storage
New uses of space and items: Tension rods as cabinet dividers, cake stands as counter storage, and tiny shelves wherever there's room for them
When in doubt, go vertical and use up your wall space – I add this point out of love. Between a huge window and a galley kitchen with cabinets in every inch of it, I have no room to go vertical.
Yeah, that last kitchen is pretty and the microwave is unrealistically small. And it has marble. But it has vertical storage that is likely affordable, so we can forgive the pretty I hope.
So, any amazing kitchen ideas that ya'll have implemented in your rentals and homes? My kitchen needs help for sure (as we have witnessed), but with so much web inspiration out there I'm sure I can figure something out.