Why does every one of my construction projects seem to turn into an adventure??
Sunday morning found me revisiting a favorite old hobby:  waking up early to quietly rearrange and redecorate a room, just like I used to do when I was a little kid.  In this instance, it was my basement sewing studio that fell victim to my early-morning inspirations.  Fortunately I'm all grown up now, so there were no parents around to wake up and grumble "go back to bed!"
You're probably wondering why I was, yet again, rearranging the studio. The answer is simple:  It wasn't finished.
After moving the sewing studio from my office to the basement in January, the basement makeover project stood by as I got settled in the space.  I set my existing tables and supplies in the form I thought best suited the space, with no attention to aesthetics, so I could quickly get back to sewing and filling orders.  I'd just added my first custom dog beds to the shop, and the many orders were keeping me busy.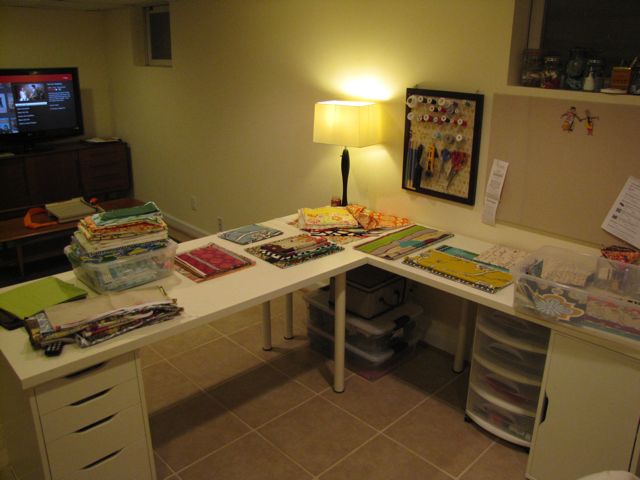 It's good to work or live in a space before making any big design decisions.  After using my new sewing studio space for 3 months, I came up with two functional issues that had to change.
First:   The L-shaped tables had to go. 
I can't have a table directly to my right when I'm sitting at the long table sewing.  It keeps me too far from the wall where I like to have my supplies hanging.  That way I can grab the scissors or thread that I need, use them, then put them back straight away.  And trust me – if I can't quickly and easily put things away, then a mess results.
Second:  A much wider single sewing & cutting table was needed.
For smaller sewing projects, my 36″ x 24″ cutting mat was fine.  But as I started making more XL dog beds which were 44″ wide, I was frustrated by the lack of workspace.  I was using the ironing board to help me roll out and drape yards and yards of fabric.
When I realized that my inefficient workspace had me dreading dog bed orders, it was time to super-size the work space.
This brings us to Sunday morning.  I'd finally figured out how to build a simple, enormous table.  I just had to move everything out of the way, measure out the space, and head to Home Depot.
I didn't count on Home Depot having a broken plywood-sheet-cutting saw, but you should know by now that I'd never let something like that stop me from sticking to my plan.
"Ok," I thought.  "I'll just buy the whole damn board.  It's only 8 feet by 4 feet; surely it will fit in my wagon.  Everything always fits in my wagon, and then we can cut it at home."
*insert error buzzer sound here*
The plywood did not actually fit in my wagon.  That's a first.  So I tied it to the roof of the car and drove home at approximately 5 miles an hour, one arm out the window gripping the board for dear life.
Ryan . . . well, after Ryan recovered from the shock of seeing what I'd brought home, he helped me  cut it down to size and all that jazz.    That board was a beast, unweildy and heavy, and much grouchiness ensued.  I had to run to Home Depot a second time for better screws, but then I got the legs attached.  Time to add the trim, and sand the baby down for staining.
But I realized I needed a third trip to Home Depot.  Nope, not gonna happen.   I put down the tools, stepped away from the saw, and realized that it was 5 o'clock somewhere.
This didn't end up being a one-day project after all.  Although right now it's just a massive red-oak-veneered plywood board with six legs, I can already tell it's going to be utterly heavenly – and so worth the work involved.
I can already envision the fun crafting parties that this will enable – like sitting around the table with friends, all sewing or scrapbooking.  I mean, it is a 4 ft by 7 ft table, after all.
Of course, it was really worth it just to see the horrified "What is she doing now" expression on Ryan's house when he walked into the front yard just in time to see me rolling down the street.   As it turns out, he couldn't see the clear twine that tied it to the car, and he actually thought I was JUST HOLDING THE BOARD ON TOP OF THE CAR.
What does he think I am – completely nuts? 😉