Remember that sneak peek I gave you of a mid-century modern style table I was building?  It was our solution for our entry way, which was still struggling to find its perfect style after one and a half years.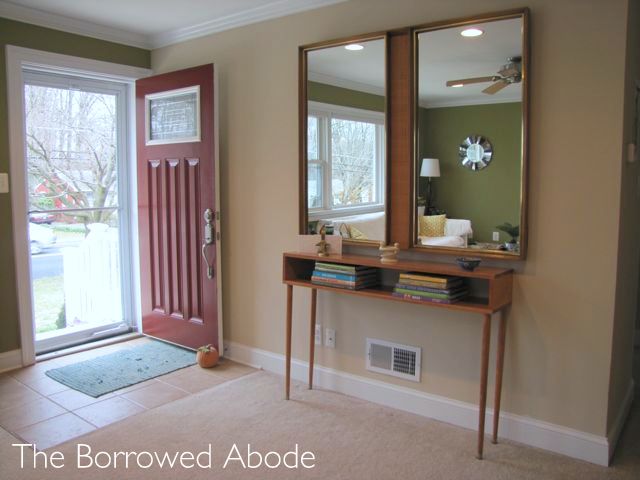 We designed the table to blend with our existing mid-century style furnishings, as well as to fit the space just so.  The bottom area needed to be open to allow maximum air flow, since the heating comes out of the vent in the wall.  Also, we wanted it to be scaled large enough to help anchor the wall.  Scale is super important, as I learned with previous, low-budget attempts at decorating that wall.
Let's take a look back in time:
The first attempt, which consisted of a home-built book shelf, was unsuccessful because I didn't tape it out on the wall and build it to proper scale.  Also, the blocky bookshelf design just didn't mesh with the rest of the space.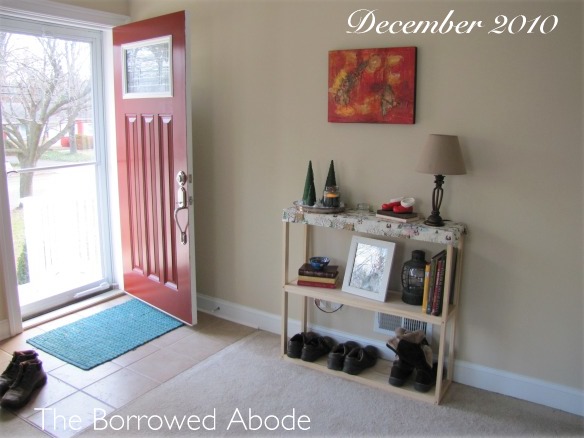 My second attempt was an improvement over the first – and it was free, because I used things I had on hand. It didn't make a lot of sense for the space because it held my scrapbooking supplies.  It also blocked the heating vent.  No bueno!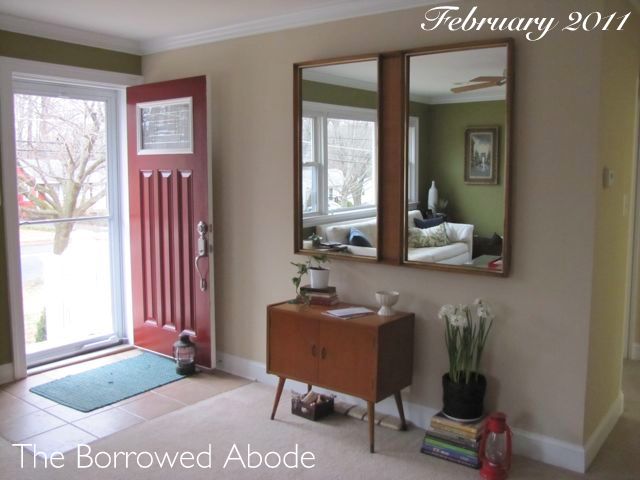 So sometime last summer I started looking for a tall and wide sofa table that I could buy.  I found some great ones, but they were all so freakin' espensive.  And that's when the little rusty gears in my head started turning. 🙂
I designed the table in the fall, I think. . . and then procrastinated on actually buying the wood and building it.  I was worried it would be difficult.  This is a common theme in my DIY projects, actually – and one I hope to kick to the curb this year.  Finally I got the supplies at Christmas.  And it was so easy to build that I found myself wondering – Why didn't I tackle this sooner?!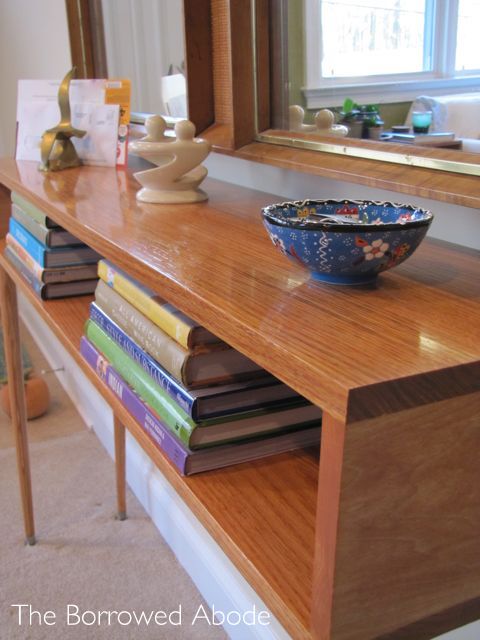 The red oak boards that I splurged on turned out beautifully.  I will most likely never build with cheap pine again, unless I'm painting the end result.  Also, I didn't use any screws, so I didn't have to fill any holes at the end. So exciting.  I can't wait to tell you all about the trick for that later.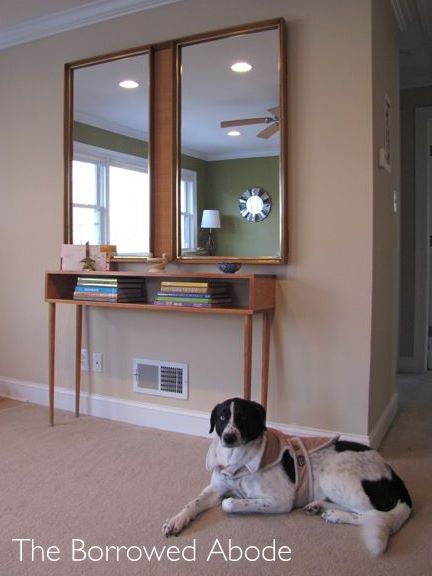 I'll be back later this week with a detailed tutorial so that you, too can build something like this if you want to.  Trust me, it really was easy.