Yesterday, I got an awesome comment from Meghan, letting me know that Nate Berkus featured "my" Tempaper on his show.  Not only did her comment crack me up, it reminded me that I owed you guys an official review of this temporary wallpaper that I applied to my guest room wall.
Tempaper is a temporary, removable wallpaper that is made in the USA – yeehaw!  It's potentially a great temporary wallcover option for renters, or people who just don't want to go to the effort of stenciling a wall (or two) for dramatic effect.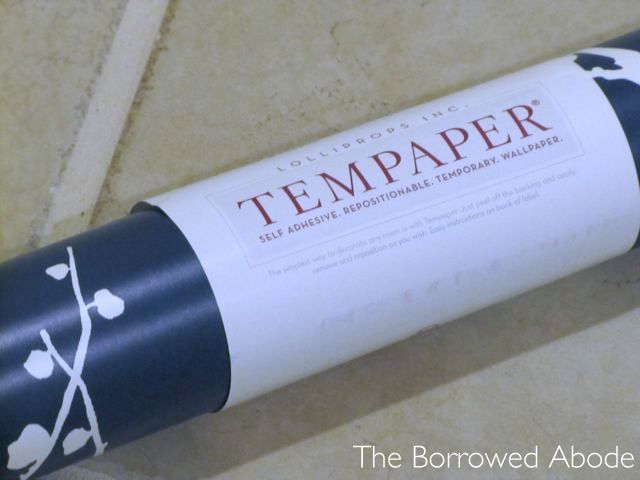 When I opened the roll, I was pleased by the rich color and sheen of the design. 
However, either I received a defective roll, or the Tempaper material scratches easily, because shortly after rolling the first part out flat to cut, I noticed this long white scratch on it.  That was disappointing, because it damaged about 3 feet of the paper.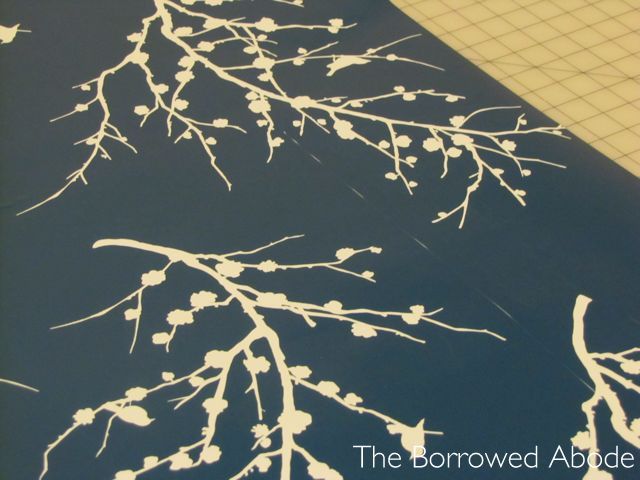 As for installing or applying the wallpaper all by myself – I found the process to be much easier than I expected – and the paper peeled back off the wall when I needed it to.   The only tricky part was getting each strip installed in a perfectly straight vertical line, but that would have been made easier if I had a helper. It's not Tempaper's fault.
One month after installation, the wallpaper is still willing to peel easily and cleanly off the wall.  I
If you want to create an accent wall but can only spring for one roll,  choose your pattern carefully.   I loved the Marrakesh pattern below, but the bold geometric design meant that I'd have to line my seams up perfectly – meaning I'd waste a few inches here and there in the process of lining each piece up with the last.
However, at $85 bucks a roll, Tempaper doesn't come cheap.  My initial impression was that it smelled, felt, and adhered just like the much cheaper shelf contact paper I got at Home Depot and used on the walls of my coat closet.   But most contact paper in the stores is neither modern nor attractive, unlike the many awesome geometrics and florals Tempaper comes in. Additionally, contact paper comes in rather skinny widths, meaning more seams when you apply it to a wall.
Curious to know just what makes Tempaper so pricey, I read that Tempaper printing process  "incorporates the traditional technique of gravure or intaglio copper plate engraving with state of the art materials to bring a classic look and feel."  That could explain the difference in price between Tempaper and standard contact paper.
Even with the rather hefty price tag, if you're a renter who is stuck in a dingy apartment with bad walls or ugly kitchen cabinets, I think this solution could be totally worth splurging on.
And now, a pros & cons lists for those of us who love lists:
Why Tempaper Rocks:
Easy to apply, much easier and cleaner than traditional wallpaper.
Easy to remove.
Made in the USA
Can be used in bathrooms
Comes in a ton of modern, colorful designs
Can be hung by one person
Tempaper's potential areas of improvement:

Cost, especially for more than one wall
Colorful surface seems to scratch easily
A little tricky to line up in a perfect vertical if you're working solo
If you want to line up the patterns perfectly you may have to "waste" parts of the paper
I don't think I've left anything out, but if you have questions – please ask!