Remember those modern wooden nightstands that Ryan and I built 1.5 years ago?  Well, they've been gone since October, when I sold them in a yard sale.
After living with them for a year, I realized that we had no need for large nightstands, and they were just another piece of furniture that we had to dust and keep clutter-free.  Oh, and having the open bottoms?  The pet hair that collected was ridiculous.   I don't know what on earth most people use enormous nightstands for, unless they are living in a small apartment and need to maximize space.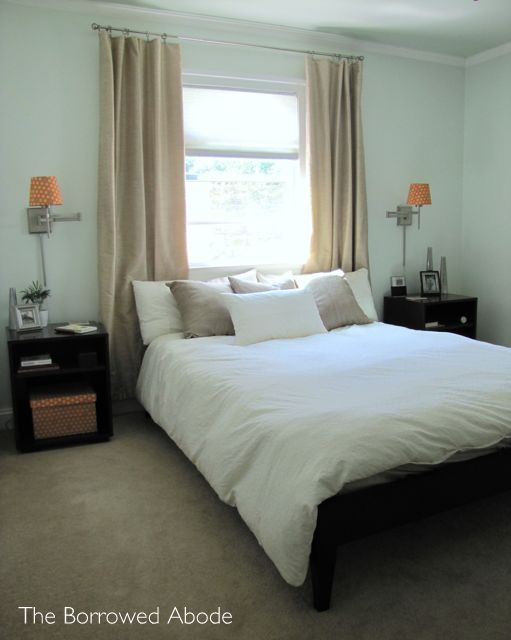 So out went the nightstands, and for the last 3 months we lived with an unfinished look in the bedroom.  We used my DIY  fabric-covered storage boxes as a stand-in, until I got around to implementing a small-scale bedside storage solution that I'd had in mind for ages:  a hanging wine crate nightstand.
I think that a hanging wine crate would make a great side table, bedside table, or storage solution for any small apartment.  Or if you're me, and want to keep things simple, it also works in a larger place, like a house 🙂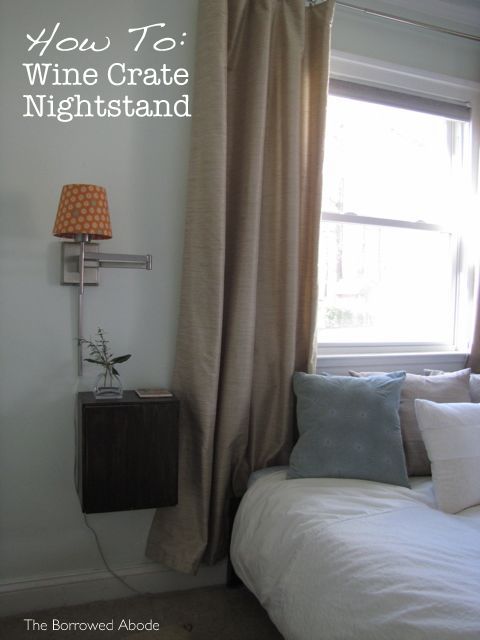 Here's how I did it:
 1. Select a crate & stabilize it
I had several wooden wine crates in our storage room, so I selected the one with a hinged lid on it.  I knew it would make a good "door".
Some of the corner joints looked a little unstable to me, and I worried that it may not stay together well with use, so I glued the seams and clamped them tight for 24 hours.  When I removed the clamps, the box was definitely much more stable.  Wood glue is seriously strong stuff.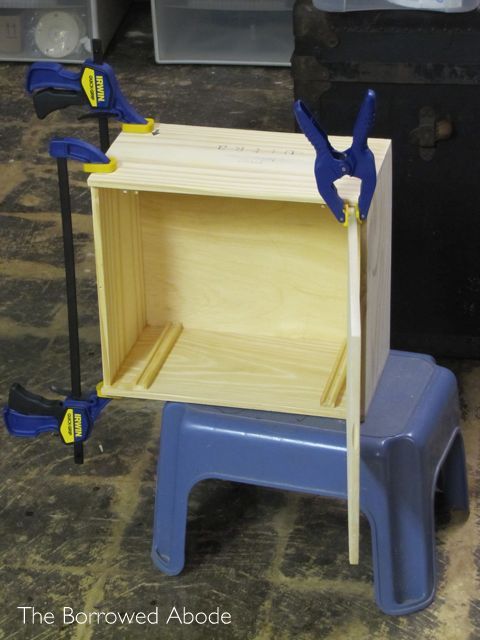 2.  Stain or paint
There are many ways you could treat the unfinished wood of the crate.  A clear poly sealant if you love the brand name and wood grain, or paint or stain of any type.  I chose to do a rustic painted finish on the crate that would tie into our bedroom colors.
First I gave it a once-over with my electric sander, then I grabbed a small sample can of brown paint left over from the first nightstand-building project.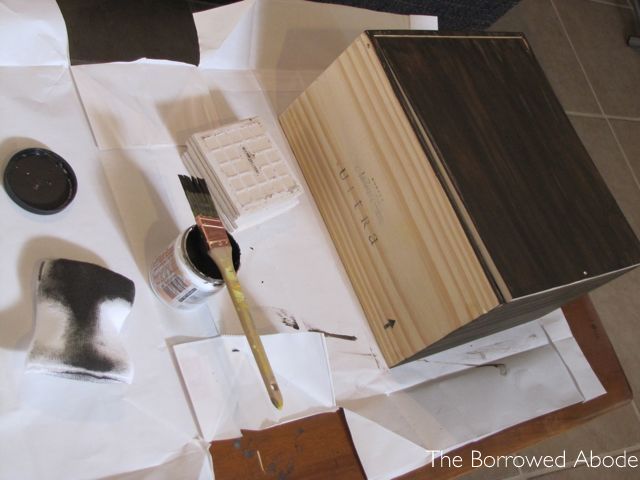 To paint the wood but let the grain show through, I first brushed some paint onto a section, then used a cloth sponge to wipe it off.  This process, which I made up on the fly, seemed to work perfectly for getting some color into the wood but not glossing over the grain.
The end result was exactly what I was going for: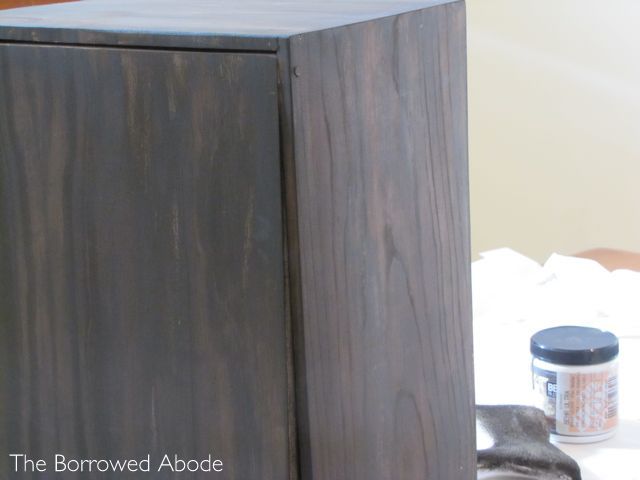 3.  Seal and protect
I gave the paint about 24 hours to dry, then applied two coats of Polyurethane sealant to seal and protect the wood.  This step is necessary no matter what, because I've found that unsealed wood is impossible to dust, but great at grabbing dust.
4.  Hang it up!
We used plastic anchors and standard screws to hang this on the wall, because we don't intend to put a lot of weight on it.
The side of the crate that was going flush against the wall was formerly the crate bottom, and was made of very thin plywood.  I decided to strengthen and stabilize it for hanging by bracing a thin strip of wood flush against the back, and right below some interior brackets.  This way, the screws go through the stabilizer strip as well as the back of the crate.  And by doing this, the crate is not hanging on the strength of the back alone, it's also hanging on the strength of the side brackets.  See photo below: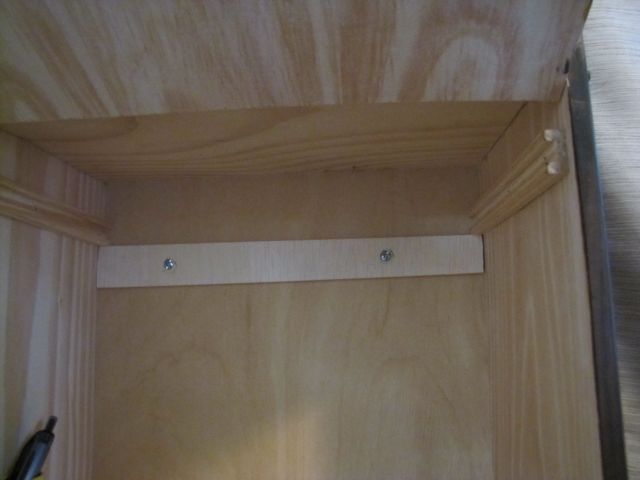 I am very happy with the finished product.  It's just big enough for me to set a mug of tea on, and my books, chap stick, and journal are tucked neatly inside. Oh, and I hot-glued a little tin container to the side to hold my pen.
It's simple, but it's the perfect size for me.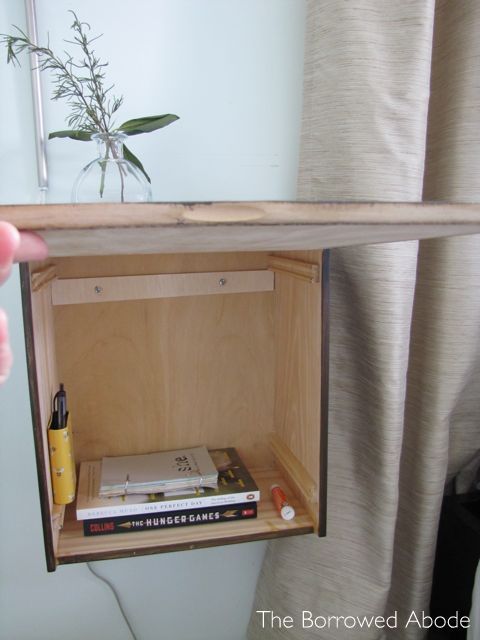 Another benefit of the wall-hung nightstand:  It means there's one less thing in the way come vacuuming time, and less surface area to cover with hair and dust.  And when you live in a house full of pets – these are very important factors.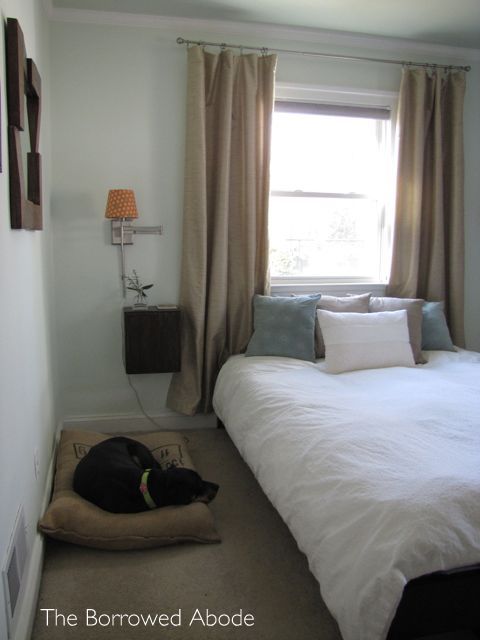 Shoot, now I see that i really need to hide those lamp cords.  Guess I'll add that to the list!
There's only one problem – Ryan was strongly opposed to having a wine crate nightstand installed on his side.  So things are a bit asymmetrical, and I'm getting the feeling they won't be changing anytime soon.
I miss the pretty and symmetrical look of the large nightstands, but I don't miss trying to keep them dusted.
Have you ever made furniture with wine crates?
Shared at Tutorial Tuesday with Newlyweds on a Budget and Power of Paint with Domestically Speaking.