I shared my how-to for making Fresh Pomegranate-Infused Vodka, and now I'm back to help you whip up a drink (or three) with it!
You've got a few options – a delightful, bubbly cocktail made with Champagne or Sparkling Wine, a PomTini, or a Pomegranate Lime Soda.  And many variations in between.  In this post I'll share my options for the first of the three.
Sparkling Pomegranate-Rosemary Cocktail
Ingredients:
Fresh Pomegranate Vodka
Champagne (chilled)
Rosemary Water (see below)
Pomegranate Seeds
Let's Make a Drink!

Grab your cocktail mixer, and pour just a splash of simple syrup in the bottom.
Add 1 shot Pomegranate Vodka, 2 Tsp (or a splash) of Rosemary Water.
Add some ice and shake that thing!
Grab 2 champagne flutes and put a few Pomegranate seeds in the bottom of each.
Pour the glasses 1/2 full of Champagne or Prosecco (Champagne's Italian cousin).
Top off each of the glasses with the mixture in the cocktail shaker.
That's it!  If it looks to you like too many steps, don't be discouraged.  After you follow the instructions once, you'll find that it's super easy to throw together for a group.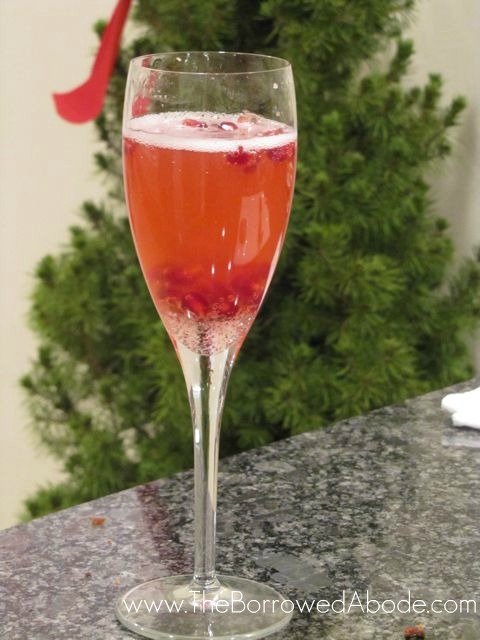 Are you surprised to see Rosemary mixed in with Champagne and Pomegranate?  Me too, but it's really good, in a subtle way!  Just don't get all fancy and add a sprig of Rosemary for garnish.  It's too much herb flavor.  Trust me. 🙂
Rosemary Water Recipe:
Many cocktail recipes tell you to make herb-infused simple syrup. But for this event I wanted to have plain syrup on hand for sweetening any type of drink – so I made Rosemary Water instead.
Take a small pan, add 1 cup water and one sprig of fresh Rosemary, and simmer for about 5 minutes.  This is long enough to extract the flavor from the Rosemary. Fun fact!  The liquid turned dark greenish when I was simmering . . . but as it cooled down, it turned a beautiful shade of pink!  How bizarre is that?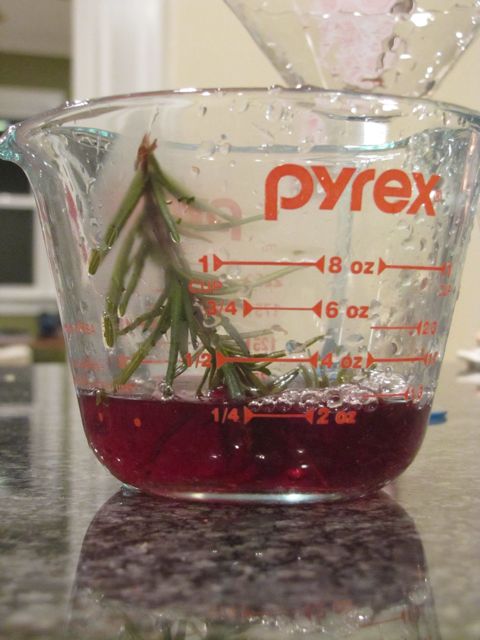 And Now for Some Variations!
The "I'm Sweet Enough Already" version:  Eliminate the simple syrup for a less sweet and totally savory version (my preference).  If you do this, you can just pour each ingredient into the champagne flute and skip the shaker.
The "Rosemary with Champagne Wigs Me Out" version:  So you're freaking out about adding that herb to your otherwise fabulous bubbly concoction.  It's cool, just leave it out!  Herbal cocktails aren't for everyone.
And of course . . . The Designated Driver Version!
I'm dead serious about the DD versions of cocktails – not just because Ryan doesn't drink alcohol, but because it's super important to stay safe on the road.  And have you ever been at a party where everyone is getting tipsy on luscious libations, yet the Responsible Drivers and Baby Incubators are stuck drinking lame-ass soda?
Not in my world!  Everyone deserves to enjoy creative concoctions. So here's how I whipped this up for Ryan:
Put 1/4 cup of Pomegranate seeds in a cocktail shaker.
Add a splash of Rosemary Water, a tablespoon of Simple Syrup, and a small splash of regular water.
Muddle the mixture to squish all the juice out of the Pom arils.
Shake with ice.
Grab a champagne glass.  Sprinkle the Pomegranate seeds in the bottom.
Pour the mixture into the glass, and top with Club Soda.
Entertaining Tip:
Always keep a bottle of Champagne chillin' in the fridge.  Even if it's the $7 black bottle of Freixenet.  If you ever have guests stop over, you whip out that bottle, pop the cork, and suddenly you've kicked it up a notch in the classy department. Want to take it a step further?  Stow a travel-size bottle of POM liquor, Chambord, and/or St. Germain in the freezer so you can offer your guests a variety of mix-ins that will sweeten the drink up (for those who don't dig dry Champagne).
Well, I think that's all the rambling I can do with this cocktail. I'll be back tomorrow with some other ways in which you can use your Fresh Pomegranate Vodka!