In yesterday's post I gave you just a "taste" of what was to come – Pomegranate cocktail recipes. But first, the little story of why they ended up in our glasses Saturday night.  And after writing the world's longest cocktail post, I decided to break this up into a miniseries. Turns out I have a lot to share about Pomegranate Cocktails!
I was simmering cranberries on the stove in preparation to make what I imagined would be "Cranberry Holiday Cocktails." As I burned the first batch and started over, running out of sugar in the process, I suddenly realized that a Cranberry Cocktail was either a) a sugary and totally not-real-fruit-juice drink by Ocean Spray or b) Carrie Bradshaw's fave drink – AKA a Cosmo.
My fabulous, unique, imaginary cocktail was really just a glorified Cosmo??
LAME.
Now I'm not knocking all you Cosmo drinkers out there. It's just that I love to create new and surprising cocktails. Ones that you wouldn't find at every corner bar.
Enter the Pomegranate – because I had a fresh one being totally lazy in my fruit bowl. Usually Pomegranate cocktails are created with POM liqueur and/or POM nectar, but I was determined to make it work with what I had on hand. First up? I needed to make some Pom Vodka.
Liquor Store Tip: I never spend the dough to buy flavored vodka. First, I don't want to have a huge bottle taking up space at all times. Second, Second, I don't want cheap vodka in any flavor, so it's way cheaper and easier to make my own from the good stuff.
Fresh Pomegranate-Infused Vodka
I made a quickie batch of Pomegranate-infused Vodka – to squeeze the most flavor out of the fruit. The hardest part was having to separate all the arils (seeds) out of the flesh of the fruit.
Ingredients:
2 Cups Good Vodka
1/2 Cup Fresh Pomegranate Seeds
Useful Tools:
Cocktail Shaker
Muddler or Mortar & Pestle
Confidence 😉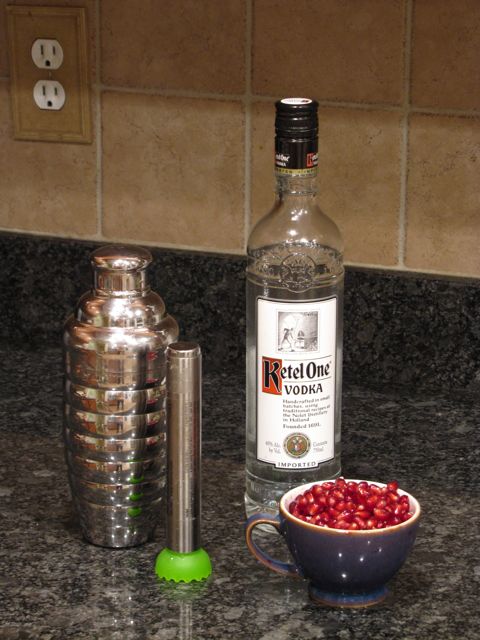 Throw the Pom arils in the bottom of the shaker.
Add just a splash of vodka.
Use your muddler or the wrong end of a fat-handled cooking spoon to squish all the juicy goodness out of the fruit.
Add the rest of the vodka and let it sit for 30 min – 1 hr.
When it's ready, use the shaker and a hand-held fine mesh strainer to double-strain the vodka into a pitcher. If you don't double-strain there may be bits of crushed fruit in the liquid. And they won't look pretty, as all the color will be gone from them.
Now you've got a beautiful, ruby red vodka.  How do you store the stuff?
Well, you could go all artsy-DIY-blogger on it and pour it into a fabulously rustic jar, use your Cricut to design a gorgeous vinyl label, tie some hand-woven twine around the lip of the jar, screw on a cap adorned with your hand-painted rendering of a pomegranate.
-OR-
When you've got company arriving at any moment, you can use a funnel to pour that sucker back into the original vodka jar. That's what I did.
If you're storing the vodka, be sure to put it in the freezer to keep it fresh. Now that there's fruit in it, it's gotta stay cold. For best results, I'd use it up within 2 weeks – but I've been known to keep it around longer.
So you've got your freshly-infused Pomegranate Vodka. Now what?
You've got a few options – a delightful, bubbly cocktail made with Champagne or Sparkling Wine, a PomTini, or a Pomegranate Lime Soda. And many variations in between.  Stop back later for both the cocktail AND mocktail versions of the first!