Does this ever happen to you?  It's a lovely day, and you stand up from your desk and walk through your house to grab a cup of tea.  And out of the blue, you start to notice these little things that need to be done – paint touchups in the hall, that chair you've been "meaning to" recover for a year now, that frame that needs a new photo . . . and all of a sudden you're surrounded by a million overdue tasks.
It definitely happens to me, and when it does, I find myself feeling frustrated by the place that is supposed to be my cozy home.
That's not a good feeling to have, so I thought it was high time I did something to get our ducks in a row.  The only problem? I can never keep track of everything we need to buy or do, so often some lower priority items are purchased / less important taks are done, before we do the more important ones.
The solution?  Enter my favorite online tool, the always-useful spreadsheet: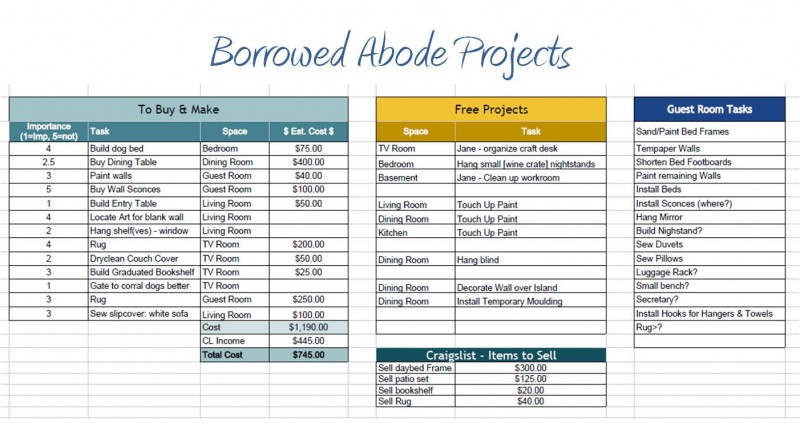 It's a little tough to read because it's so small, but when I put the chart together I wasn't really designing it to be legible when posted as an image on the blog. 🙂
I've basically got four charts listing the fun and the not-so-fun tasks.  I'm thinking that in order to do a fun task (such as buying a dining table) I need to check off a not-so-fun free task or two.
To Buy & Make:  This lists everything we'd like to build or buy, the expected cost (if known) and a number to help prioritize.  The prioritization is super important, since everything on this list costs money.
Free Projects:  Also known as "those pesky tasks we keep putting off."  These jobs won't cost a thing, either because they're free or we already have the supplies on hand, but they're maybe not the most glamorous or fun – hence the procrastination.
Craiglist – Items to Sell:  I think the name speaks for itself, but the thing I'd like to point out is that every item we sell means more money is on hand to put towards the items "To Buy."
Guest Room Tasks:  This list was an afterthought, put there just so I can keep track of the order in which I need to do the projects for the guest room makeover.  I suppose I need to create a similar list for the TV room makeover, because that's still in progress as well.
The chart is stored in our private Google Docs folder, where Ryan and I can both see it and add to it. But I'll also print a version to keep on our fridge, as a reminder and a literal checklist.
How do you keep track of all the tasks you want to and need to do around the house?