Have you ever noticed that the best, most useful and lovable spaces in your homes are the ones that have evolved over time? I certainly feel that way.   While it's gratifying to collect inspiration and then execute a vision in one quick, dramatic before-and-after, the magazine-ready results may need to be tweaked after months of living with them.
Such was the case with my sewing studio/office/dressing room.   With three crucial functions all occurring in this little 10′ x 12′ space, ever inch of the space needs to work as efficiently as possible.
After about 8 months of really working in my studio, I learned that some of my "great storage ideas" just didn't work as efficiently as I needed them to.
Take, for example, my sewing corner.  Here's how it looked when I first put the space together last January: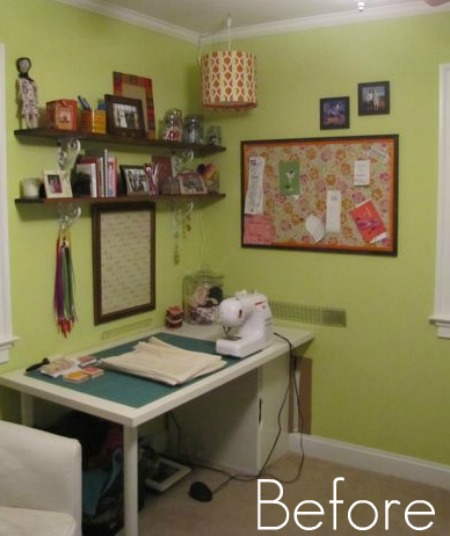 And now: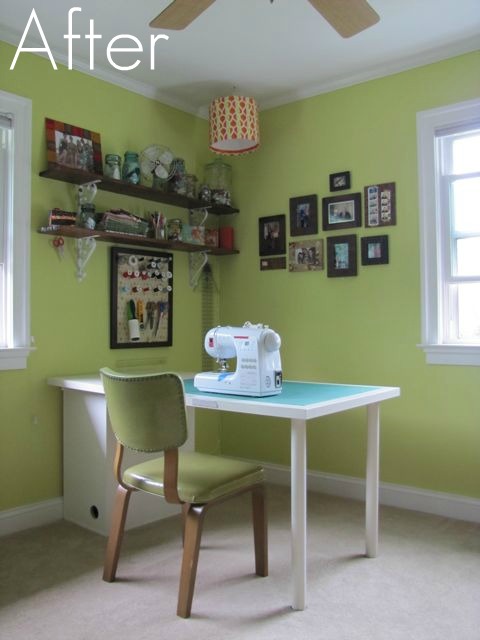 Gosh, I think it's a 100% improvement from January.
It's funny, because at the time I put my sewing studio together, I was pretty pleased with the space.  But now that I see the "before" and "after" photos side-by-side, I am a bit horrified at how I decorated / laid the space out in January.
First off, I had to change the setup of the sewing table.  Often when I'm cutting large swaths of fabric, I need to get around both sides of the table – so having it in the corner was not ideal.
Aesthetically speaking, I think the biggest (and maybe best) change is the removal of the custom cork board, which I replaced with my first gallery wall for photos of family and friends.   Let me tell you – when I first posted about gallery walls I thought they were easy to arrange.  Now I know differently – it's hard to arrange the frames so that they look casual and random yet balanced and artistic 🙂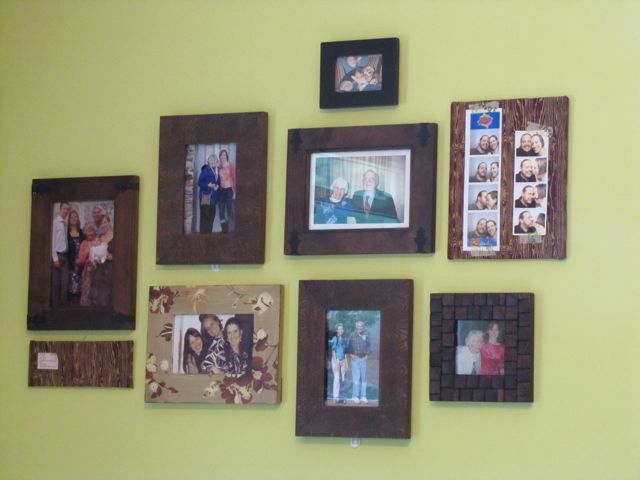 I used mostly frames that I already had.  The two wood-grain bits are pieces of cork that I wrapped in Joel Dewberry fabric.  The large one holds  photo strips of me and Ryan (because I didn't have a frame for them) and the small one will let me stick fabric labels on it when I need to remember to order more.
Oh – Why did I remove the cork board?  Because I found that I just covered it with clutter.
Next change: My shelves are now a bit less cluttered, yet still totally functional.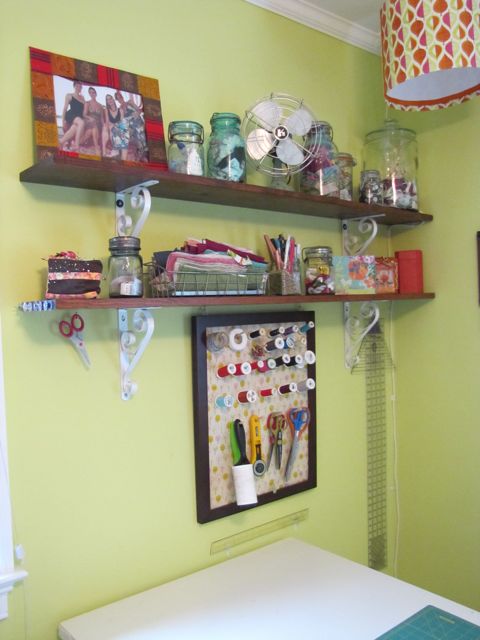 Another big improvement from a sewing & storage process is the addition of the large frame that serves as the thread holder.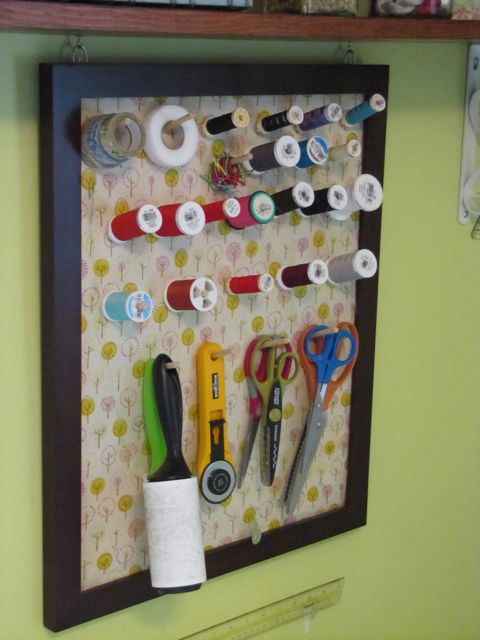 I had to make this framed thread holder because my vintage jars were a cute pain in the ass!   I often had to dump them out to get to the spool I needed.   Do this 5 times an hour and you'll want to throw that jar out the window.  (If you rarely sew, it's probably not annoying.)
I hung it in place where my fabric-backed whiteboard was – because the whiteboard didn't come in handy all that often. I learned that whatever I figured out on the whiteboard had to be copied into my notebook so I could save it.   After doing that a few times, I stopped using the whiteboard and stuck with my notebooks.
The same goes for your scissors and bobbins, so I created this setup on the end of the shelf closest to where I sit when I sew: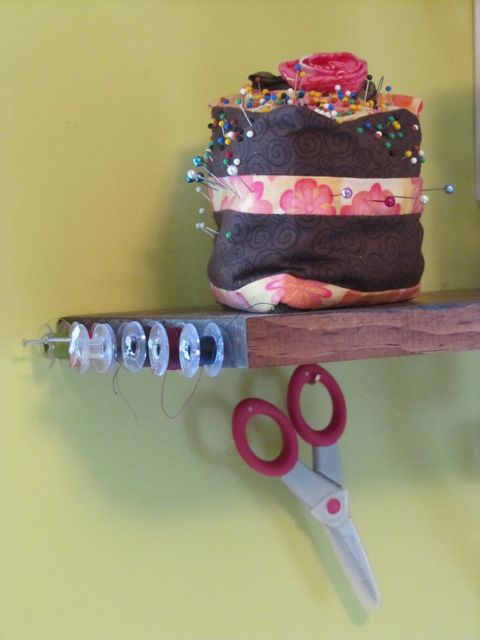 Over time I noticed that these three items always ended up on the windowsill right by where I sat when sewing:  my favorite scissors, my pincushion, and my bobbins.  So I drove some nails into the edge of the shelf, added a little hook for my fave scissors, and kept the space above empty for my pincushion.  Voila, totally useful storage that's within reach whenever I need it.
There's still one more change I'd like to make:  Now that I have a beautiful vintage and wooden pieces in the space, I'd like to replace my white table with an old wooden one.  I think it would add just a bit more warmth to that corner, while providing a slightly larger work space.
For the mean time, though, I'm really happy with how my sewing corner has evolved – just like the other corners of the room, which I'll share tomorrow.
I don't care what anyone else says – I think "real life" decorating really is an evolutionary process.