Hi all. I'm Julia, Jane's virtual assistant. I hijacked the blog today because back when Jane posted on gallery walls I got excited thinking about art. I love art, and studied art history in order to be a curator (long story for another time, I am not a curator). Anyhow, this is the image that drove me to new levels of inspiration: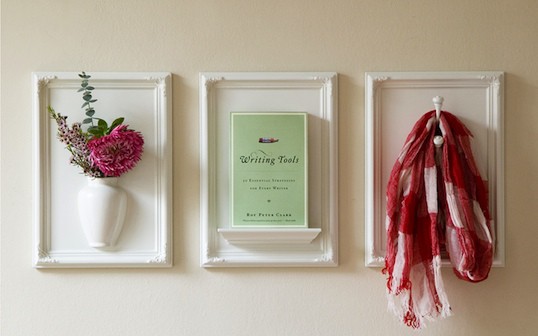 My brain started whirring on how practical but beautiful this small gallery is.  I pitched the idea to Jane for a post on gallery art.
She said: "Heck yeah! You write it. It'll be great."
Cue nervousness – I blogged back in the day and quickly realized I'm a behind the scenes kind of gal. I likes me some spreadsheets, data entry, and email writing.
Enough about me, come take a walk through my virtual gallery of gallery wall art where we'll look at gallery walls from the perspective of 1) usefulness and 2) Tattoo potential.
1. Above all,  Make it Useful.
This whole post operates on the premise that gallery walls be useful and not a means of bringing more clutter and unfinished DIY project pieces into our homes (husbands and boyfriends, rejoice!).
What drew me to Jane's blog back in the day was her unwavering commitment to beliefs. She believes that a rental can be a home and and that your home should accurately reflect what you hold dear. That message is about philosophy of life and not just stuff. Often, stuff becomes important to us. There's a way to effectively display such stuff: a homemade gallery wall.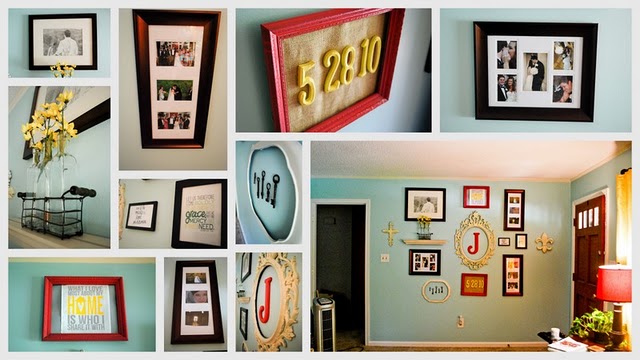 At its base level, a gallery wall is an opportunity to commemorate what you love and believe in. It's also an effective way to store things that otherwise get dumped in a closet or box; unseen forevermore. So if you adhere to Jane's philosophy of a place for everything and everything in its place (as evidenced by her jewelry storage  and scarf storage projects) then your decor can reflect that.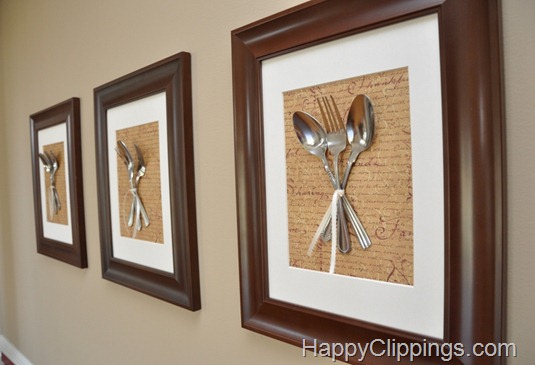 2. Make it YOU.
Pictures make fantastic artwork. So do other things, especially if you're considering your gallery wall to be storage and not just eye candy. The trick is finding the thing that makes your eye sing and your heart happy when you see it. Here are some ideas:
Memorabilia: DIY silhouettes, Pictures (all in one tone PLEASE), Wedding favors, treasured objects, paper and fabric scraps, things you collect.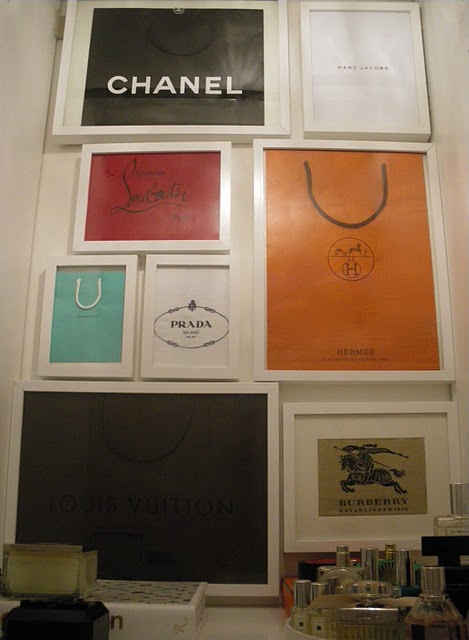 (Above) Moth Designs' amazing closet gallery wall. It's composed of her shopping bags accumulated over the years. Incredible.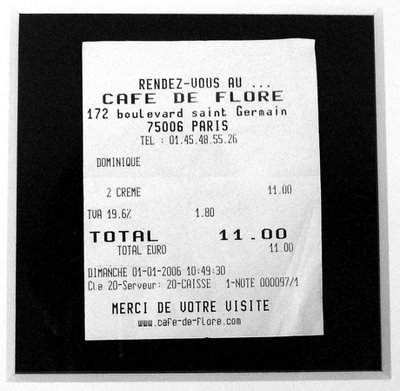 (Above)  A framed receipt from a couple's trip to Paris. That's a pretty sweet memory.
The next two pictures are my favorites. Who says a gallery wall has to be made of frames? I am a paper junkie who tends to build piles. This idea is way more appealing than my current vintage letter box system… if a system involves throwing piles of stationary and clippings into a box.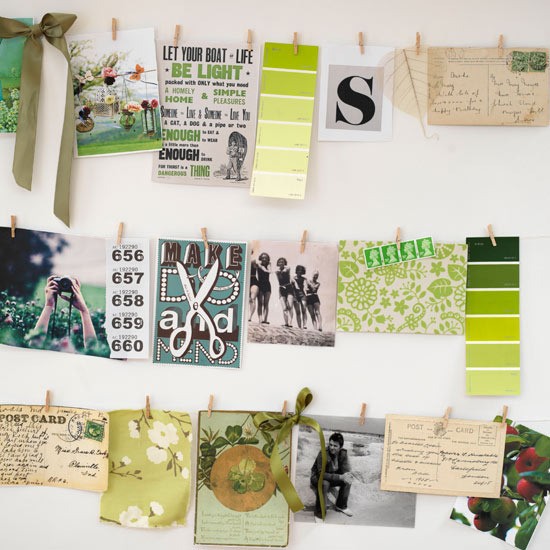 This one kills me: why not have a giant board on which to rotate the many amazing pieces of your collection?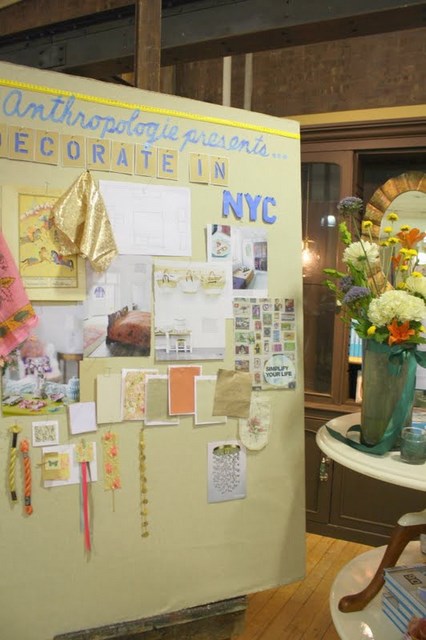 3. Make it a Tattoo.
If you'd like it as a tattoo, it'd make a great piece of artwork in your home. Numbers, birth dates, names, anniversaries, song lyrics? Go for it. Besides being useful, artwork in your home should be something you'd generally want permanently etched on your skin (my opinion. Yes, I have a tattoo.)
This piece would be amazing with any combination of letters, names, or my favorite choice: the song lyric.
Check out this sweet silhouette by papercutsbyjoe on Etsy. I'd tat that.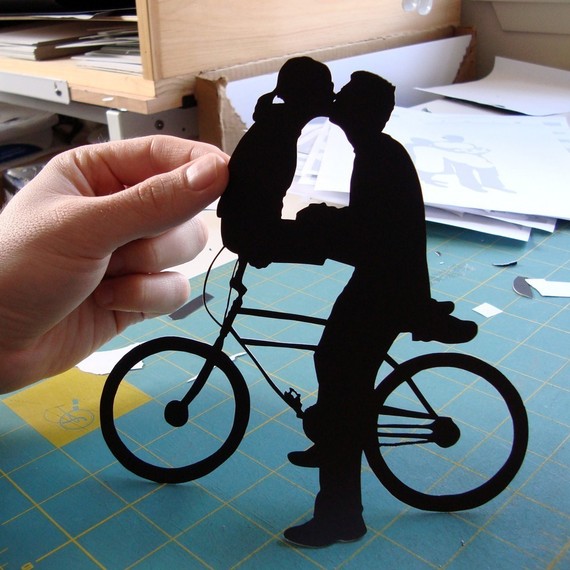 On a personal note, Standard, on Etsy, has got me pegged. That phrase is definitely tattoo worthy.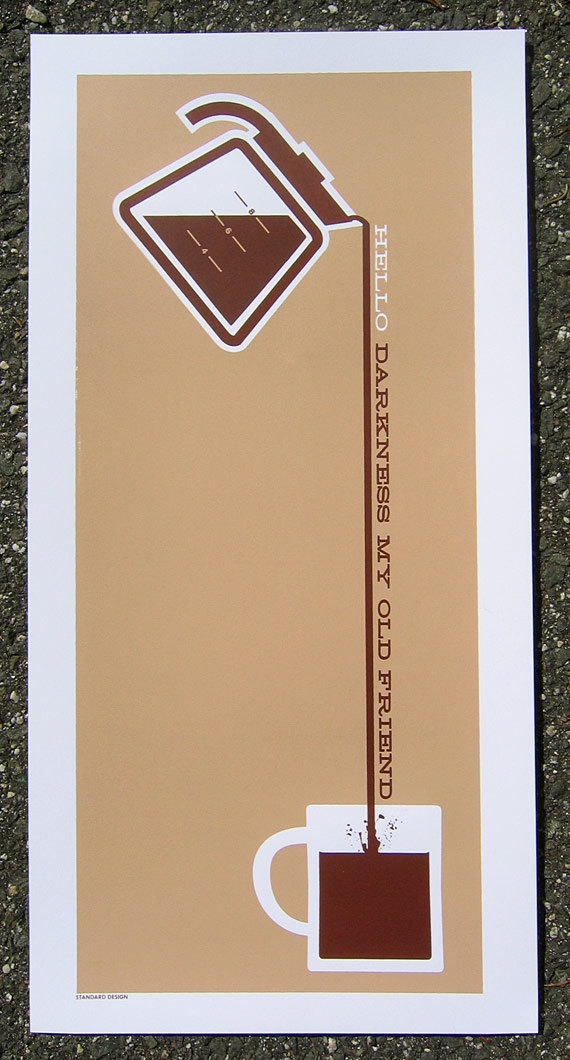 I could overload this poor blog with pictures upon pictures, but I want to go DIY some artwork now. Or at least go get another tattoo.
Do you have an item lying around your house that can go up on a wall? Let us know what it is. Heck, submit a picture of it for a reader feature. Jane would dig that as well.
Thanks for letting me visit, Jane!