Good morning!  It's such a perfect morning here in Virginia.  There's a slight cool breeze drifting in my window as I write.  It's  welcomed treat after those weeks of horrible heat.
Speaking of mornings, I'm really enjoying getting up earlier and sitting here writing to you guys while sipping my cup of coffee.   It's such a great way to start my day before heading to the office.  Yes, I just said "writing to you guys."  That's how I view this blogging business, because I feel like it's kind of like writing a really detailed letter to far away friends.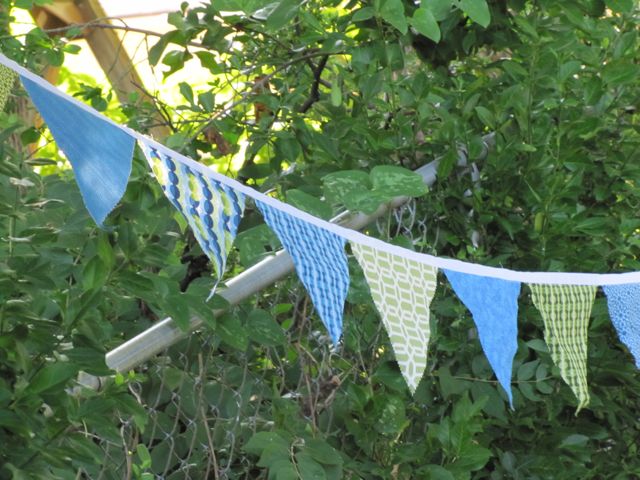 Anyhow, I recently went to Richmond to celebrate one of my bff's birthdays.  When the other bff and I were planning, she asked if I could help with decorating because it's not really her thing.  Let me tell you about the convo that ensued, because I think it illustrates the difference in mindset between us DIY bloggers and non-bloggers 🙂
I said "sure, I'll make a fabric banner or 2, because it's more environmentally friendly than buying disposable party decor."
Reba said to me "You don't need to sew a banner, I know you're already super busy."
I said:  "No, I'll make it!  I've been just dying to make a fabric banner for over a year!"
Reba:  "Um…really?  You've actually been dying to do something like that?  Ok . . ."
Reba couldn't comprehend the fact that I'd been so wanting to create something like this.  And after we chatted, I realized that not everyone out there is filled with eager anticipation at the prospect of attempting to create crafts.
But seriously, I have been wanting to sew a pennant for ages.  These banners just seem to add the perfect dose of happy to any space.  I just never could justify taking time to make one, because I felt like I had too much else to do . But for the party, I did it.
Hm. I think I'm in a chatty mood this morning.  Let's move on to the actual tutorial, shall we?
 1.  Gather supplies
For this project I used the following, in addition to my sewing machine:
My triangle ruler, pictured below, was key to easy completion of the project. I've read a bunch of tutorials where people cut the triangles out using either a paper template or the triangular guide lines on their cutting mats.  But last year when I first planned to make a banner, I knew that I wanted to use a solid form to guide my cutting.  It just seems way easier, and much more foolproof, than the other ways.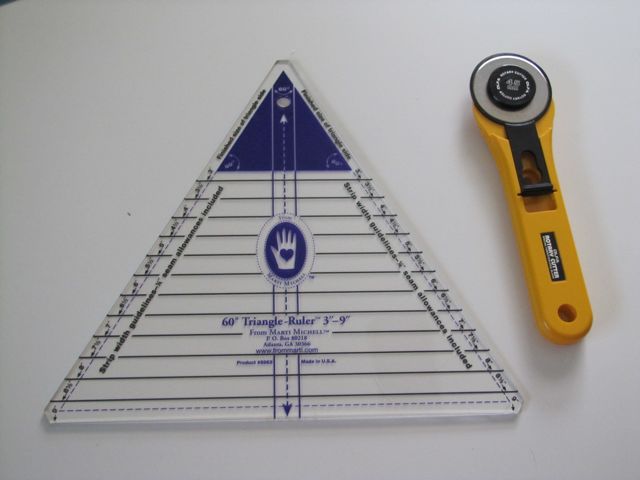 2.  Cut Out the Triangles
I'm going to really explain this part in case any novice sewers are reading – so if you get how to do it just skip ahead.
See the green mat with the grid on it?  That's my cutting mat.  It provides a safe surface on which to cut fabric, because when you cut with a rotary cutter (pictured above) you basically are rolling a round razor blade across the surface.  It's called a "self-healing" mat because the razor blade doesn't hurt the mat.
The grid lines are there to help you measure and line up your fabrics.  But for this project that wasn't necessary.
I ironed my fabric to get the wrinkles out.
I laid my fabric on the cutting mat, then placed the triangular "ruler" over the fabric, then rolled the rotary cutter along each edge.
The result? Easy-peasy perfect triangles.
Psst:  See how the triangles line up in the photo below?  Because of this triangle's shape, there was no fabric wasted between triangles.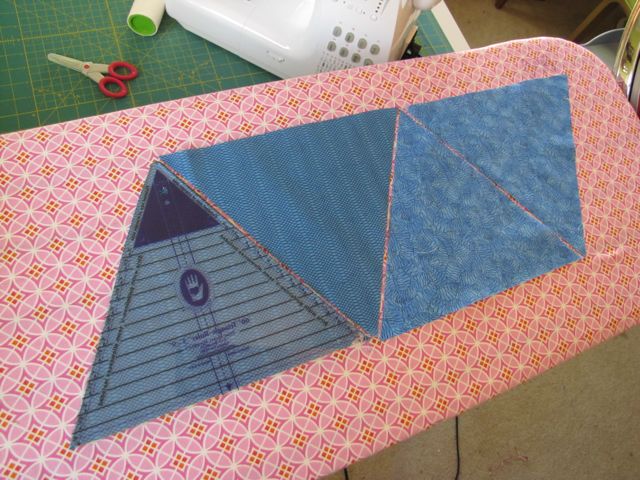 3.  Trim With Pinking Shears
Once my triangles were cut, I trimmed two sides of each triangle with pinking shears.   That was a bit time-consuming, but watching old episodes of Melrose Place made it more tolerable.
Once the triangles were pinked, I put them in stacks with like patterns.
Then I stacked them into the order in which I wanted to use them.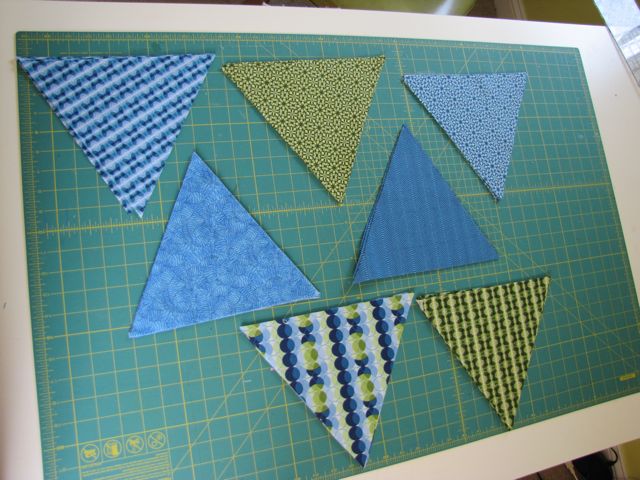 4.  "Pin" Triangles to Ribbon
Next up, I laid the ribbon out on my ironing board, "wrong" side facing up.  I placed the non-pinked edge of the triangle against the ribbon.
Most people would pin the triangles in place.  But I hate removing pins while sewing, so I prefer to use my iron-on hem tape to hold the triangles in place. After the triangle was in place on the fabric, I slipped a few pieces of hem tape between the ribbon and the triangle, then ironed for a few seconds to adhere the fabric to the ribbon.
Never used hem tape?  It's basically a super-thin substance that you place between two pieces of fabric.  When you place the iron over the fabric, the heat and steam melts the hem tape and creates an invisible bond.  It's not as sturdy as a sewn hem, but it's pretty darn close.
Never put your iron directly onto hem tape. It will gunk up your iron's surface within seconds, and is a pain to clean off.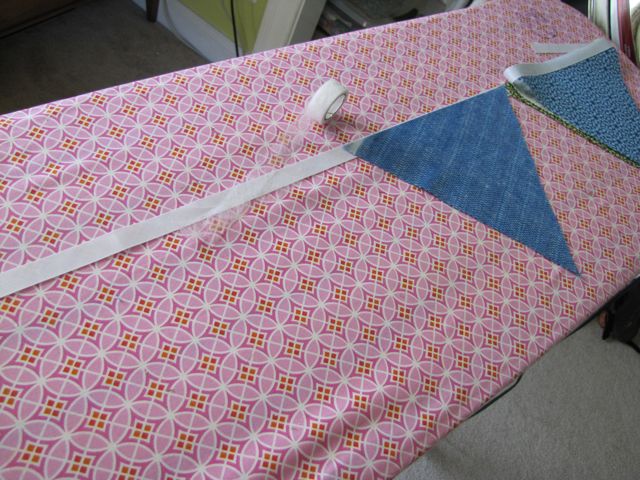 I repeated the process for each triangle.
You might want to plan ahead, and determine what length banner you're making.  I simply went until my roll of ribbon ran out, which made for a very long banner.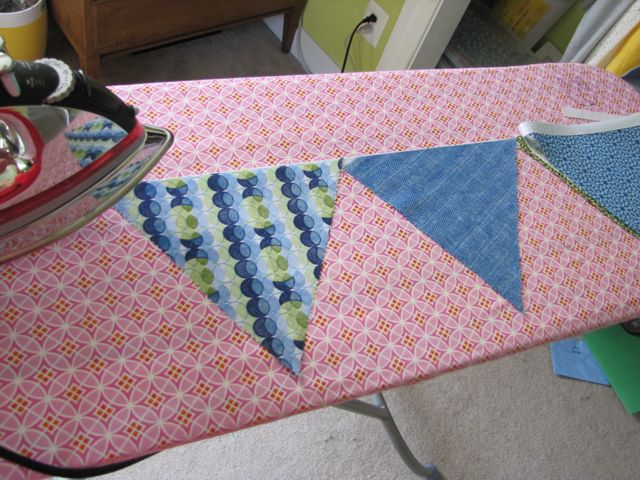 5.  Sew Triangles Onto Ribbon
After I'd adhered each triangle to the ribbon with bits of hem tape, I carefully ran it through the sewing machine on a zig-zag stitch.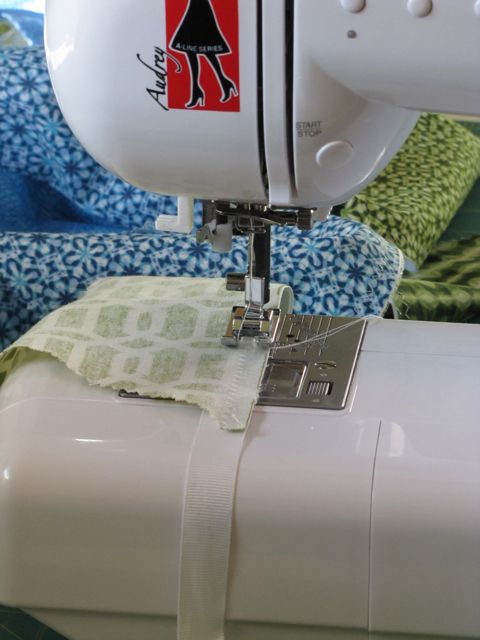 A few tips:
When you run the banner through the machine, place it ribbon-side down, so that the back of the fabric triangles is facing up.  This way you can ensure that when you get to the corner of each triangle, it doesn't bunch up or wrinkle as you sew over it.
To get a straight stitch, I lined the right side of my presser foot up against the right side of the ribbon.  (See photo below)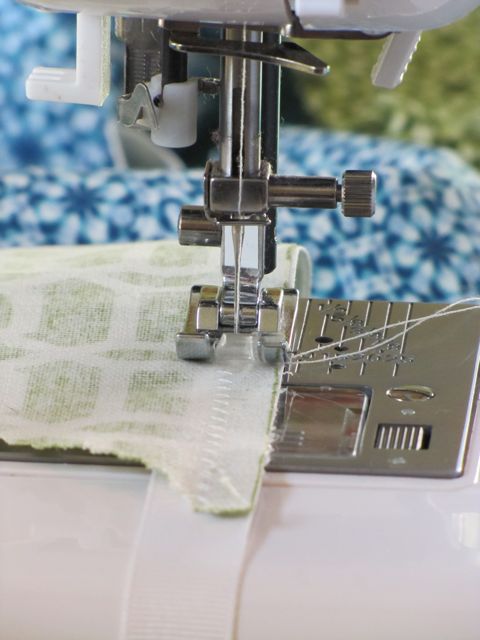 Don't have a sewing machine?  Don't worry!  I think that the Stitch Witchery hem tape does a great job adhering the fabric to the ribbon, so you could get away without actually sewing the triangles onto the ribbon.  If you want to make them a little more secure after ironing, I'd:
Use hem tape along the entire edge of triangle that meets the ribbon
Take a needle and thread and put in a stitch or two at each end of the triangle where it meets the ribbon. It's a bit tedious, but again – TV or a movie can make it go by quickly. 🙂
The Finished Product:  A crazy long banner!

The verdict?  It was a totally easy, do-able project.  However, I don't recommend making one as long as this.  You'd be better off making several shorter ones.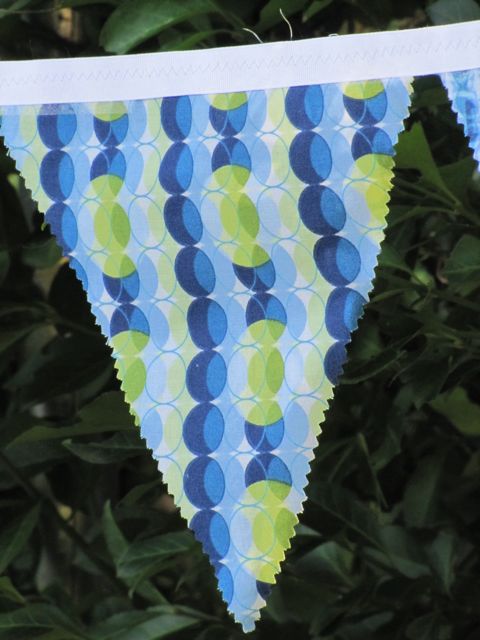 There are many other ways to make this.  Some people cut long swatches of fabric to use instead of ribbon across the top – but I don't like going to all that work, and don't like "wasting" the fabric, when ribbon is so easy. Others will sew triangles together to create double-sided banners, which is nice – but again, more work.
I simply went for an easy, quick approach, because frankly – it's just supposed to be a simple party decoration.
I'd love to know if you found this tutorial helpful, and if you'd like me to share more easy-sew projects like this.
*Disclaimer:  The products linked above are in my Amazon Store.  I get a tiny commission for every product purchased through there.