So here's the deal. You're renting your apartment, and it's got those horribly cold white walls that glare at you.  You asked your landlord if you could paint, and the answer was a resounding "NO!"
Why not? Does he really think that a little paint on their walls will wreck the place?
I guess so – because regardless of whether or not you agree with his logic, you're living in a white cell until you find a way to jazz up those walls without hitting up the paint aisle at your local hardware store.
Fear not, fellow renter – because I've been there, done that. I (sadly) don't have the pics to prove it, but I've got a few tried and true tricks up my sleeve.
And that's where my new Beyond White Paint series comes in.  Over the next few weeks I'm going to discuss several alternatives to painted walls.
Beyond White Paint, Episode 1:  Curtained Walls
Curtains can be used in so many ways around the house – from dressing up a bedroom to hiding the cat litter.  But they can do so much more than the basics – like covering up the antiseptic-white walls that too many renters get stuck with.  Behold, the curtain wall:
Using Curtains to Create an Accent Wall
These walls can be used to create an accent wall anywhere in the home.  Kara of  Kara Paslay Designs installed a pale gray one in her dining room to create a specific ambiance – and it looks gorgeous! If you'd like to try a similar look, she's got a great tutorial on installing the curtain wall.
This site  also shows curtain walls installed in several different ways, such as it swagging curtains gracefully or using exposed curtain rods for a more urban look.
And check out this before shot of the master bedroom at Welcome to Heardmont.  In the bedroom pictured below, Meredith wanted to create an accent wall behind the bed, but felt that it wouldn't look right with the off-centered window.
Instead, she installed wall-to-wall curtains to add a dramatic backdrop while bringing symmetry by covering the window.  And look at the incredible transformation!  Isn't it elegant?
Using  Curtains to Fix Awkward Spaces or Add Storage
Are you a lucky renter who has a strange nook or hallway that could use some zing?  Cloak your entryway, hallway, or any other space you previously thought you couldn't fix. This treatment will add warmth and soften corners if need be.
Additionally, this can really hit the spot when it comes to creating beautifully hidden storage.  This elegantly curtained wall, which I discovered at one of the newest and best restaurants in DC – The Atlas Room – displays the power of fabric.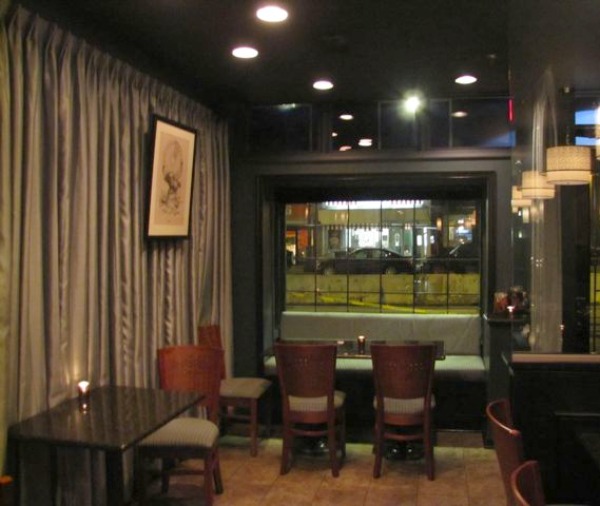 The restaurant resides in a skinny and deep building typical of downtown businesses.  Storage space was lacking, yet storage isn't want pays the bills – seats are.  To create easy storage that didn't sacrifice table space, a curtain wall was installed along one entire side of the restaurant.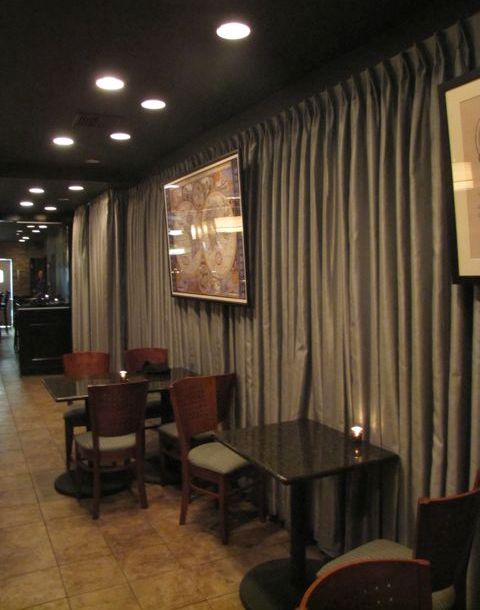 Behind the wall is a surprisingly large amount of storage -a perfect use for the awkward space below the staircase to the second floor.  But the best secret of all has got to be the hidden office, which is accessed via a door hidden behind the curtains.
The curtains also hide the point-of-sale computer, where customer orders are entered.  The staff can easily access it by pulling the curtains aside, and the manager can also access the computer from the office, as the machine is installed on a swinging door.  Genius!!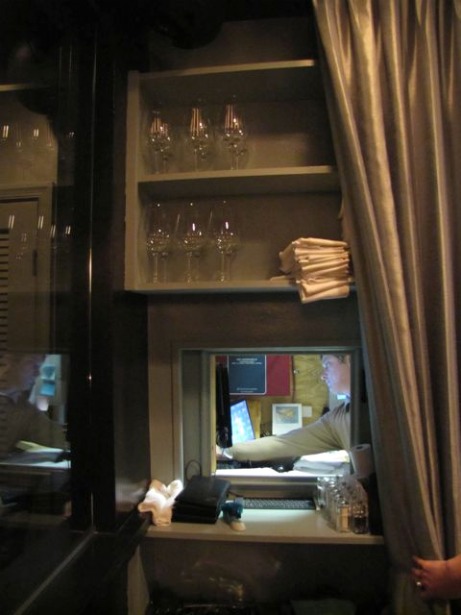 Bonus Idea:  Creating a "Wall" With Curtains
Finally, curtains can be used to create the illusion of different rooms in one space.  The photo below is a great example of how a studio apartment can be given a "bedroom" simply with the installation of strategically placed curtains:
So there you have it – a roundup of one of my favorite ways to beautify a space.  Ryan and I actually have plans to create a curtain wall in our basement TV room – but we're just now sketching it out and don't have photos to share yet.
Have you ever used curtains to dress up your space or solve an awkward design dilemma?  If so, I'd love to see photos!  Email me at borrowedabode@gmail.com
I would like to thank my virtual assistant, Julia, who contributed to this article.