Thanks so much for visiting - Please subscribe to my RSS Feed or come say hello on Facebook!
Do you notice anything different in our living room?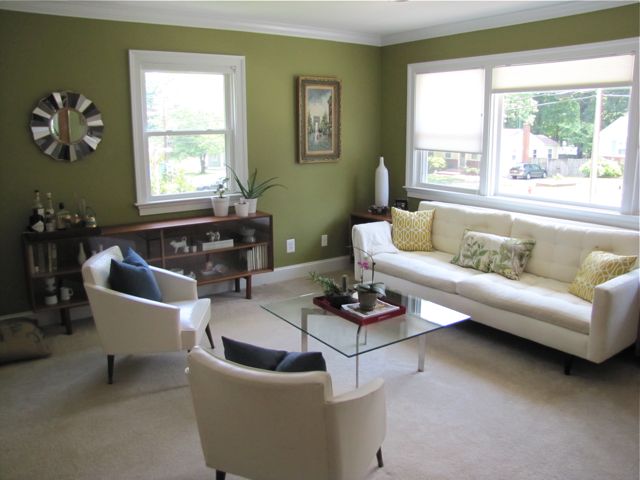 It occurred to me recently that it's kind of silly not to have any of my own handmade pillows and other home accessories from Janery in my home.  The main reason I hadn't used any of my own products yet is because I didn't want to waste time making products for me when I could be using that time to create products for the shop, write the blog, or clean the house.  (Or work on the gazillion behind-the-scenes business tasks that no one tells you will consume your life when you launch your own handmade business. :)
But when I realized it was ridiculous to not be using my own products in my own home, I took myself shopping in my "Janery stock room closet."  I settled on two of my Dwell Trellis pillows in Citrine, because I wasn't willing to sell them online due to defects. 
Sidenote about my Dwell Pillows: I'm really disappointed in the Dwell Trellis fabrics.  With each cut I've received, the pattern has not been printed straight on the fabric.  That makes it really tough to sew pillow covers with the same print on both sides, if I want the lines of the pattern to line up well at the seams.  And these two pillows in my living room lined up so poorly that I refused to sell them to a customer – because they don't meet my standards.  Therefore, I've decided not to offer the Dwell Trellis pillows anymore.  At least not with the trellis pattern on both sides.  I also refuse to offer them with plain white backs, because I believe that lessens the quality and usability of the product – so I'm looking at coordinating fabrics that I can use to make double-sided pillows.  Because I know a lot of you love that trellis print (as do I!).
Please chime in in the comments section and let me know if you think a pillow with the trellis pattern on one side, and this coordinating bird print on the other, would be hot – or not.
But I've digressed.
I love how the warm yellow tones of the pillows work with the olive green on our walls.  It all feels so happy to me!  And it ties in perfectly with my green leaf pillow, which I splurged on at Target years ago – before I had a sewing machine.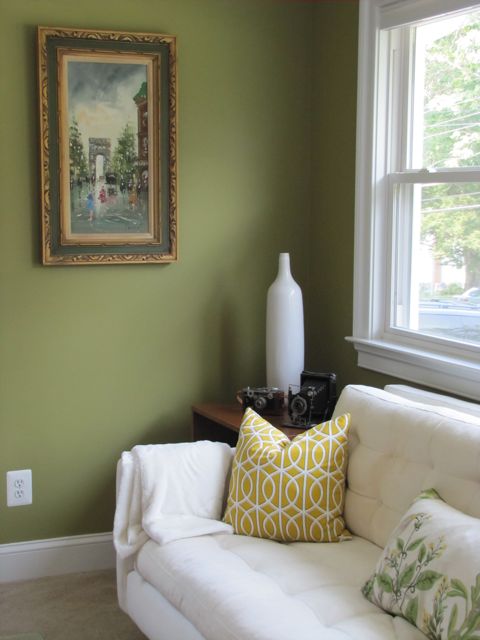 I moved my thrifted navy silk pillows to the little white arm chairs, because those chairs have always felt so naked and blah to me.  Even though the navy is totally random, I'm feeling like it works a-ok for now.  And the pillows are so darn comfy!  I can't believe I got them each for about $1 at Goodwill several years ago.  (Don't worry, I tossed them through a good strong wash cycle before using them in my home.)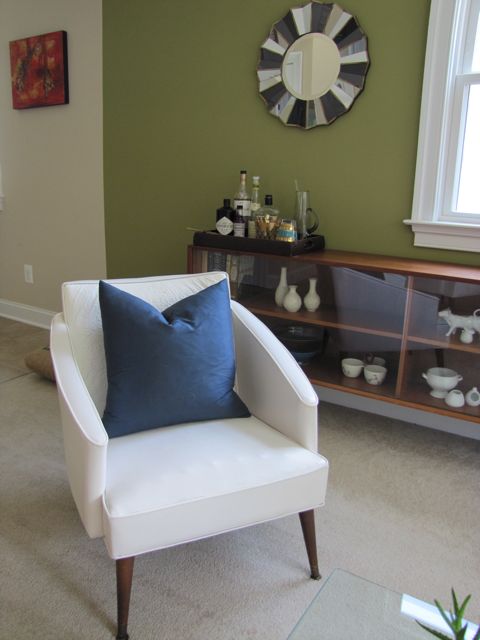 Eventually, though, I'd like to make some coordinating lumbar pillows for those chairs.  I've been holding onto a swatch for months, and I think the colors would really add more excitement to our simple white couch & chairs.
Last but not least, I added a new dog bed to the back of the living room, because Merlin wanted to test it out for the shop.  Can you guess what it's made of?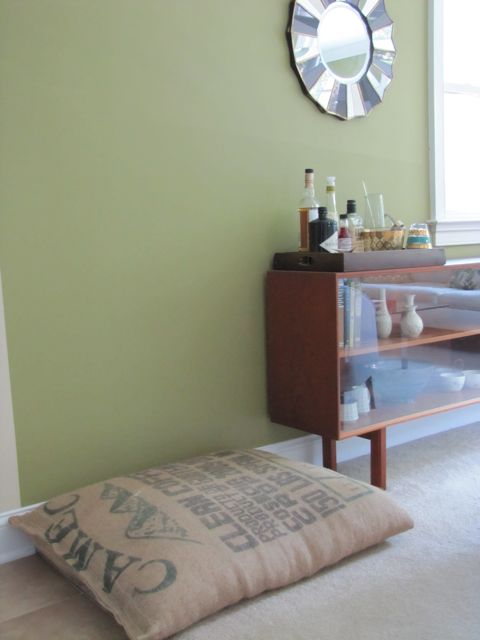 PS:  Curious to read more about our living room?  A while back I wrote this budget breakdown on where and how I furnished the whole space for under $750.