Are you wondering about the "sexy secretary" that I've been talking about on Twitter? Gotcha.
Sorry to disappoint, but when I said "sexy secretary" I wasn't talking about Christina Hendricks' character in Mad Men.  I was talking about this gal right here: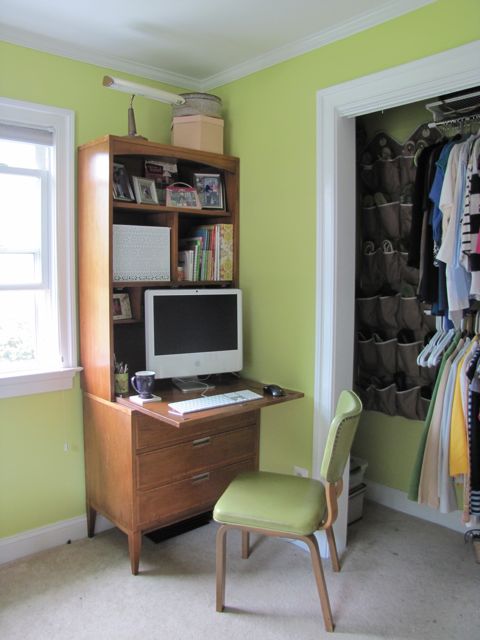 Isn't she pretty?   She sure is a great change from the white Ikea desk I had before:
Maybe you remember the secretary and her companion, the little green chair, from this mood board that I created way back when, this past winter?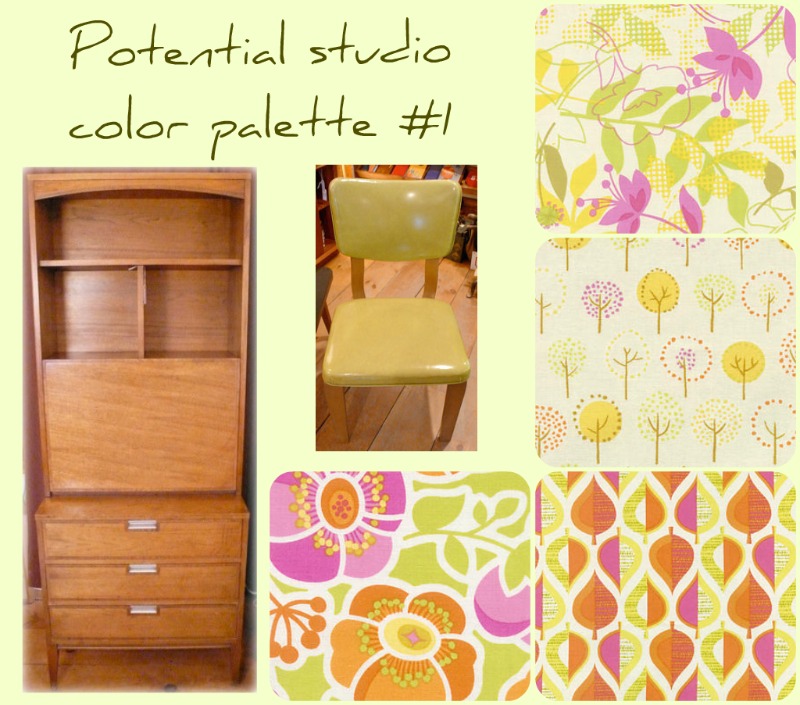 Well, I finally picked her up at my favorite furniture store, Just L (in Littleton, NH) this past June when I went up to help Melissa move.  Yep, the awesome owner of the store had been holding it (and the green Thonet chair) for me ever since I spied it on their Facebook page last fall.   But that's a topic for another post.
Finding this secretary was fate, I tell you.  Do you see how closely it's wedged into the space between my window and the corner wall?  It fits with literally NO room to spare.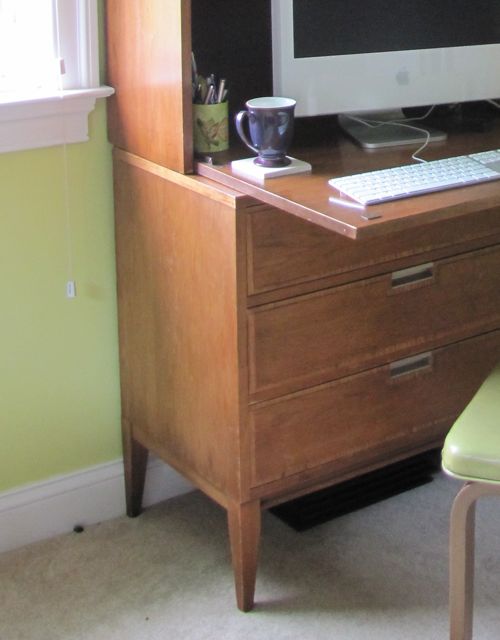 See?  A custom-built cabinet wouldn't have a tighter fit.
Anyway, boy was I thrilled to finally bring this baby home and put her to work in my office.   She offered up some much-needed storage, holding my office supplies in one drawer, my electronics jumble in another, and my rarely-used binders and books in the topmost (and hardest to access) drawer.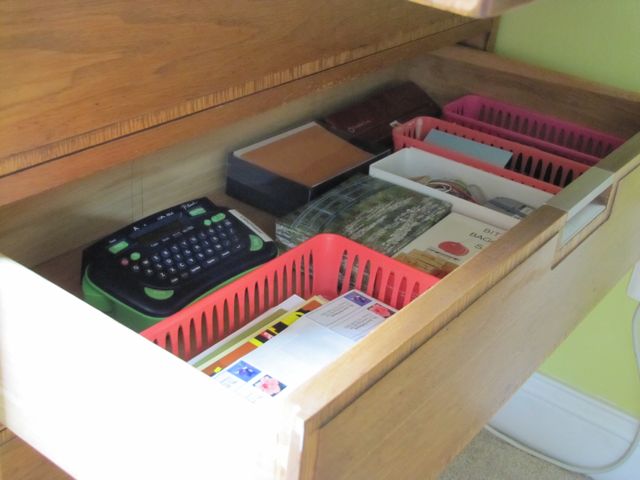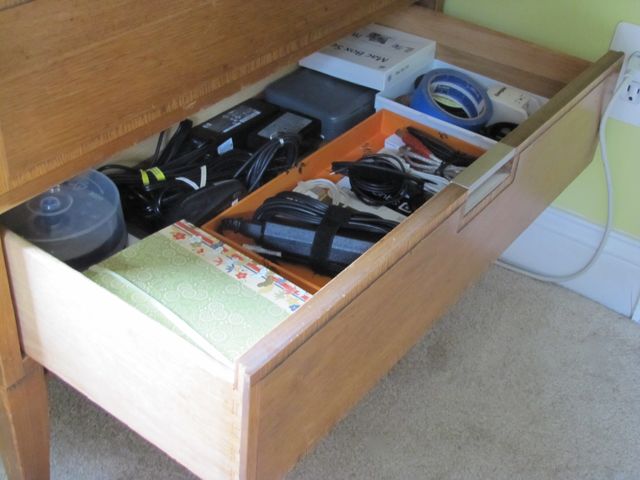 Up top, the storage situation keeps going.  I love how secretaries always have great cubbies to stash things in – in this case I was able to create file storage in one, hold books and binders in another, journals in a tiny one, and photos on the top shelf.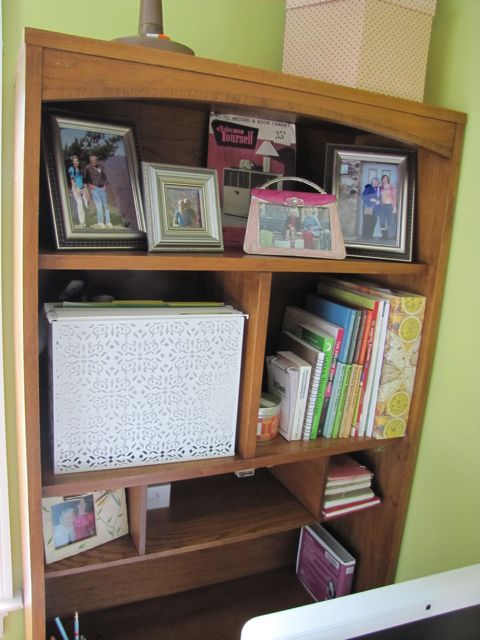 See how my computer is pulled out from the shelves in the photo below? That's just to show you the extra cubbies.  The plan was to cut those bottom cubbies out, so that the computer could fit back in the compartment, but for now I decided to just place it in front of them instead.   I can't bring myself to alter the shelves.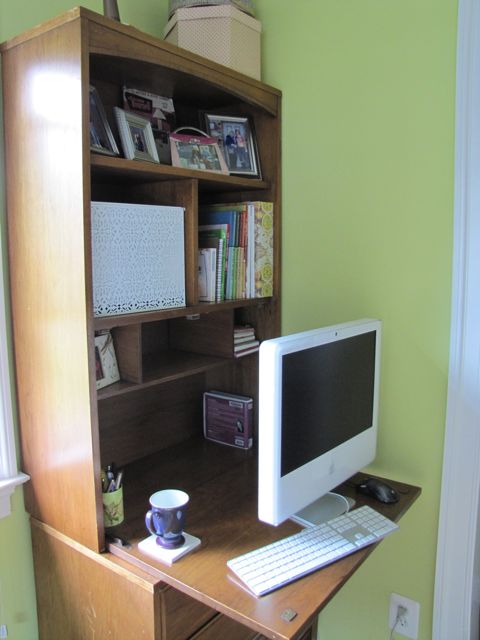 But if I want to close the secretary, I can simply remove my computer ( love my Mac, everything is contained in the monitor) and close the front like so: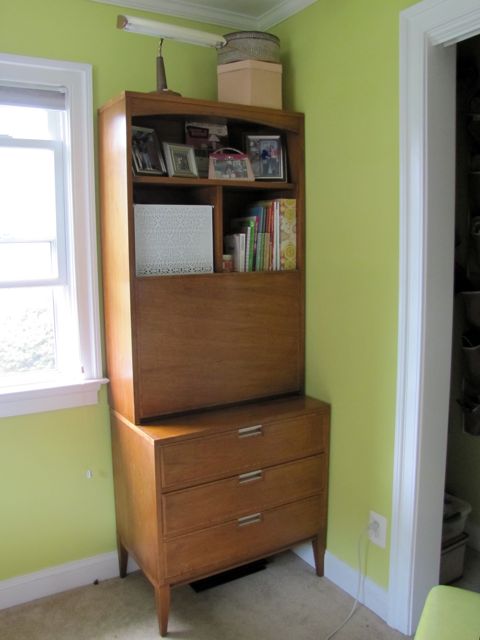 I was especially thrilled by her sleek, modern lines – I've seen plenty of secretaries, but they're all so old-fashioned and fussy, with tons of curves and embellishments and brass pulls.  But not this one.  She needs a name.
Small-Space Decorating Tip
Secretaries are one of the best pieces of furniture you can invest in if you live in a small place.  (Or heck, even a not-so-small place, like my rancher.)  Seriously, they rock – they offer tons of storage, a good writing (or typing) surface, couple with the ability to be closed up to hide the mess when guests are around.
For example, say you need your guest room to do double-duty as your office.  If you have a secretary, which only takes up a small portion (2-3 feet) of the wall space, then you can plop your laptop in there, decoratively store your books, files, etc, in all the cubbies, and call it a day.  Then, when your guests come to stay, you fold the desk surface shut, and offer your guests use of at least one of the drawers below.
And speaking of small spaces, I promise I'll have the rest of Melissa's studio apartment "after" tour next week.  I just didn't have the time I wanted to devote to writing the posts this week.  My shop has been busy – which is awesome – and hopefully I'll have some new items to show off in a week or two!
Have an awesome weekend!
PS:  You can find links to all the steps of the room's makeover if you visit the house tour here, then scroll down to the section on the studio/office.