Hey all! As I mentioned late last night, there's been a slight technical delay getting my shop website up and running, so we're going to have to wait until Tuesday to kick off the Janery Launch Party, a 5 day extravaganza of giveaways and other awesomeness.
In the mean time, I'll show you how I created a "stock room" for storing my products  – for  zero dollars.  All it took was some clever re-imagining of the space in my home – which is one of my favorite things to do!  It's a bit long-winded, but if you're someone who's stumped by "where to start" when simplifying or re-organizing a space, maybe you'll find it useful.
When you decide to run a handmade product business out of your home, a key ingredient you must have is the ability to store your products.  Whether you rent or own, there's always a way to make this happen in your home – and I think it's best to figure it out before you get knee-deep in inventory.
Case in point:  Last week, after the craft fair, I was faced with a mess.  I had no storage plan in place: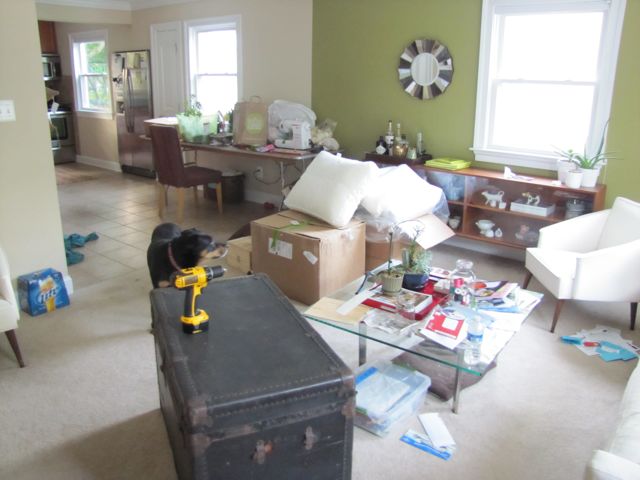 Pretty rough, huh?  But in the interest of keeping it real, that's exactly how our living room looked until . . . well, for most of last week.  I had to figure out where I was going to store everything in the long run, so I didn't want to do a half-assed job of shoving things here and there. I wanted to create a solution that would stick.    And I took my time, because after a few crazy weeks of working nonstop I needed to slow down last week, go to bed early, and definitely spend more time just hanging out with Ryan.
So on to the stock-room solution:  I thought through several options before settling on one that I was satisfied with.
Option #1:  Build storage in the basement
I have two spare dressers in the basement that can be used to store smaller items, but there's no way the pillows would fit in them.  I thought about buying new shelving and placing it in the work room, but then I'd also have to buy plastic tubs to keep the items covered,  because that's the furnace room / tool room, and it can get dusty.  So that would cost a pretty penny. . . and then I'd also have to walk down there and open plastic tubs to get to anything or look at what I had on hand.
Option #2: Create storage by re-imagining our 5 closets
I looked at the potential storage spaces on the main floor.  We have three bedrooms – a bedroom for us to sleep in, and then an office for each of us.  We have 5 closets – one in each bedroom, a coat closet, and a linen closet.  My clothes live in my office closet, and Ryan's live in his.  And even though we decorated the master bedroom last summer, its closet was a dirty, messy little secret.
5 closets for 2 people?  I realized there had to be a way that I could commandeer one of those closets for my "stock room."
The coat closet is perfectly organized, with room to spare if needed,  but not for shop products.  The master bedroom closet was the least utilized, but the hanging bar and only two high shelves made it a less than ideal option for my products. The 5-foot-wide  linen closet, with four deep shelves running the entire length, had to be the answer.  The only issue?  It was chock-full of linens, etc.
I looked at the linen closet and thought "How on earth can two humans fill 4 long shelves with linens??  Do we really *need* all this stuff in here?"   The answer?  Of course we didn't need all that stuff.
Operation "Simplify Linens"
I forgot to get a "before" shot.  I tore into it with a vengeance, suddenly needing to clear out the clutter and reorganize after the hectic month I'd had.  I find organizing and cleaning and purging SO relaxing.
Everything came out of the closet and onto my tables in my office.  Here's what happened to stuff:
A ton of items, including mismatched pillowcases and old throw pillows, went in the "donate" box
"Dog towels"  went down to the laundry nook with the other rags
Cleaning rags went in a cute bin in the coat closet
Kitchen linens (place mats and tablecloths) went into a box which now lives in the coat closet, much closer to the kitchen area
Sheets were simplified:  One cotton set for summer, and one flannel set for winter.
Guest towels went into the guest room
Medications and first aid kits were already organized  in clear plastic bins, and were ready to move to their new home
Old pillows that were too lumpy to use got set aside to recycle into a dog bed for our pups
Bath towels got paired down to a total of 4 – two towels for each of us, so we'll always have one clean one handy
Suddenly, we didn't have 4-shelves worth of linens anymore. Perfect.  Now it was time to turn  the messy master bedroom closet into the linen closet.
Here's the messy "before":
It turns out that a ton of my winter wool sooks were hiding in that cardboard box. . . totally random. Wish I'd found that this past winter!  That green box was holding shop supplies.  My formal gowns weren't even in a dress bag.  This is just embarrassing, people.
Do you see the waterfall of wire dry cleaner hangers tumbling out of the closet?  Silly, just silly.  But I quickly kicked this closet's butt.
Here's the much-more-efficient "after":
My white wicker baskets (from Target,via my mom, circa 2004) came in handy.  Our new "linen closet" fit perfectly on the top two shelves of the master bedroom closet.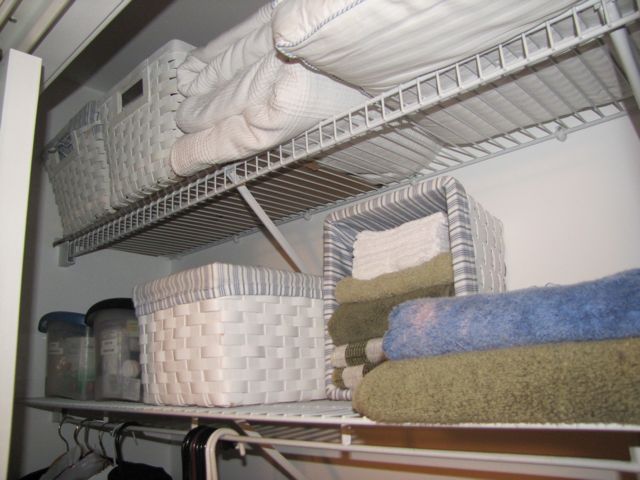 The space below now holds assorted storage:
Ryan's suits (rarely worn) hang on the left
My sweaters hang on the right, along with my formal gowns (now protected in a gown bag)
My boots and other winter clothes are in two plastic bins on the floor of the closet
My serger (for sewing) is under my winter clothes
Did you notice my "Guest with Pets Kit" on the floor of the closet? When my best friend comes to visit with her 4 dogs, I have a special set of linens now devoted to high-pet use.  A quilt, a washable duvet cover, and a set of sheets, all sealed up in a large quilt bag.   This way it keeps things separate from my pet-free guest linens, which I use in the official pet-free guest room.  (This is because my mom and Ryan's mom are both very allergic.)  And now, when my friends come visit with their pets, I'll have everything ready to go and will know where to find it!
With the "new" linen closet squared away, I had a big, wide, empty closet to set up shop in.  Isn't she bee-utiful?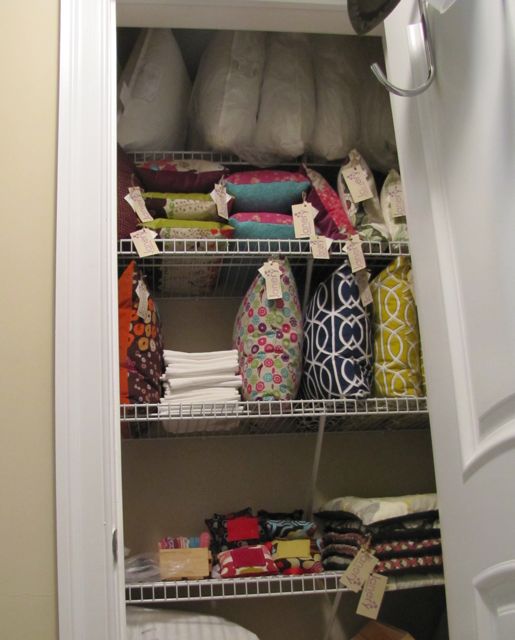 The closet is right outside my sewing studio / office, and it provides perfect closed product storage.  No worries about stray pet hairs or anything like that.    Even better, it's not overflowing yet, so I have room to grow.
I will admit that I love to open it up and just look at my pillows and other goodies all lined up. 🙂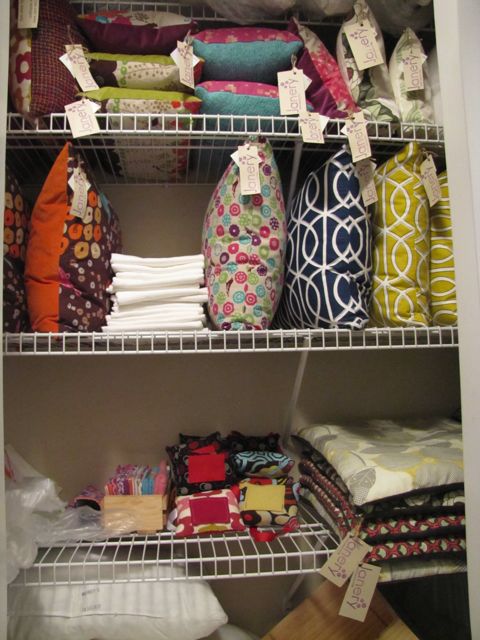 Each of the pillows and cat beds has a tag with an inventory number written on it.  Those numbers correspond with a spreadsheet, where I keep track of what materials were used to make each item, what the price is, and if it's sold or not.  I may be working too hard to track this, but I'd love to have clear records of everything that's created and listed for sale.  Especially since I'm working with fabrics of all price ranges, I need to keep things straight for pricing purposes.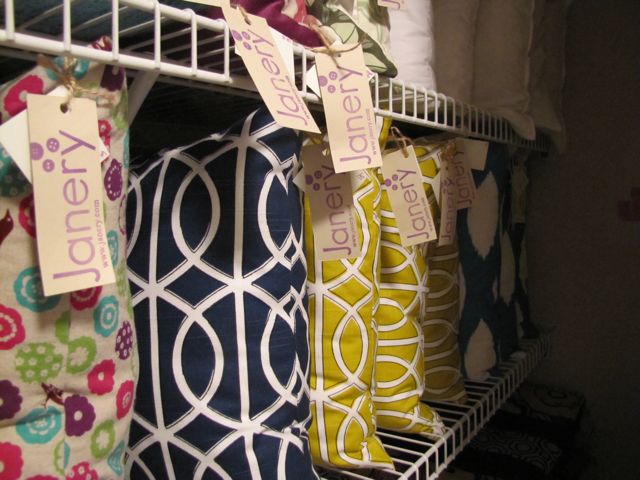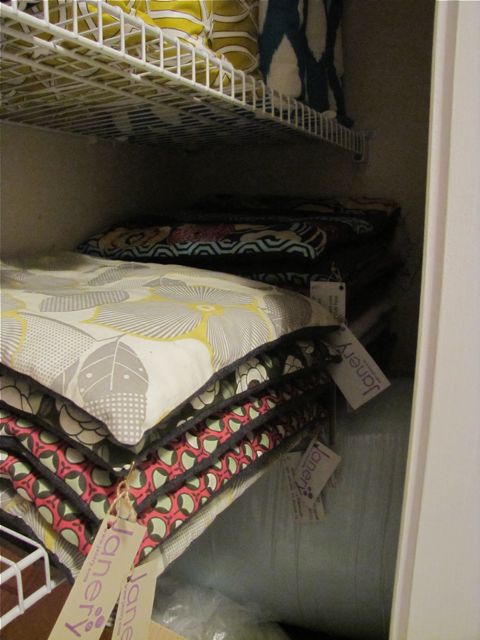 I love how this project ended up having so many benefits, like a 3-for-1 deal.  Not only do I have a lovely stock room set up for my Janery products, I also got a clean & organized master bedroom closet out of the deal, as well as a sweetly simplified linen closet with only the bare essentials.
If you're in the mood to simplify your linens, but find that you have a ton of worn out sheets or towels, here's some ideas for how they can be recycled rather than tossed in the trash:
Old sheets make great dropcloths for painting, as long as there's no holes
Old sheets or towels can be torn into smaller pieces and used as rags
Old towels and blankets can be donated to animal shelters or vet hospitals – take it from a girl who's put in serious time cleaning kennels 😉 they can ALWAYS use them!
Old towels, blankets, pillows,  and sheets in good shape can be donated to homeless shelters
Speaking of simple linen closets, do you keep things easy with just one or two towels and sheet sets, or does your linen closet runneth over?
I shared this with Thrifty Decor Chick's Before and After Party!