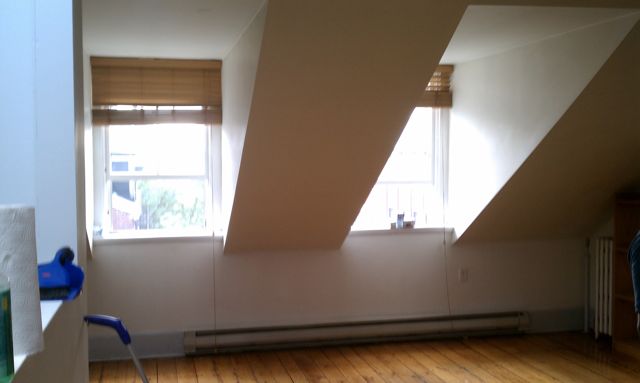 Last week I was up in Massachusetts, squeezing in some very important best friend time while also working on my most challenging rental decorating/organizing task to date.
When I found out that Melissa had only a few days between jobs to move across the state of MA, I knew I had to go help.   You see, not only is she a surgery resident (which means she is always exhausted and has zero time on her hands), I also know a bit about her moving style (last-minute packing) – as we've been friends since we were stuck together as college roommates in our freshman year.
Melissa doesn't seem to love moving. But I do.  From the packing to the unpacking to solving the organizational and furniture layout challenges, I love it all.  So knowing that Melissa's moves usually end up with her throwing things into garbage bags as the truck pulls up to her stoop, I headed to Mass to stage a moving intervention.  I really wanted to do as much as I could to help her get settled before she dove into a new, high-stress position at a new hospital.
We spent about 2 totally whirlwind days packing her up and loading her life into a little Penske truck.  (Always go with Penske, even though it's pricier than U-Haul.  Just trust me on this one.)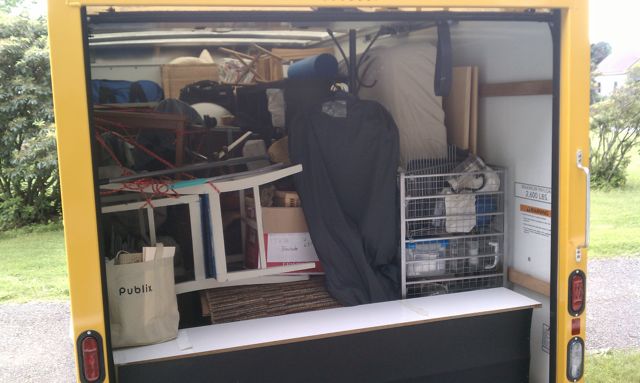 When we arrived in Boston, I was blown away by Beacon Hill, M's new stomping grounds.  It was gorgeous, with narrow, tree-lined streets sandwiched between rows of pretty old brick and iron town homes.  And then the move literally took my breath away . . . as we had to climb three narrow flights of steps to get to her actual apartment, the top floor (essentially the attic) of an old row house.   The view was great, but –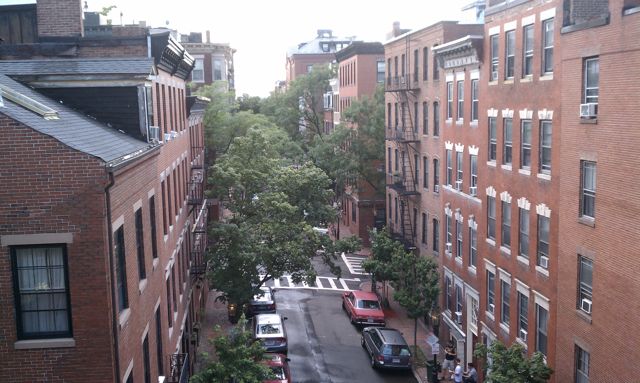 I just kept thinking over and over "Thank God Melissa hired movers."
**Insert huge shout-out to our two guys (names forthcoming) from Pony Express Movers.  They arrived in the afternoon, already having done several moves that day.  They didn't know they were going to have to carry everything up those three horrible flights of stairs, but did so with totally awesome, friendly, positive attitudes, and were super careful, even though they were literally drenched with sweat after carrying just one load.   And if you need to hire movers in Boston, check this company out.  They fit us in at the last minute, and were willing to provide just the labor for the move-in once we arrived with a truck full of stuff.**
The movers carried the heavy and awkward stuff, and Melissa and I took care of the little things.  It was still a pain in the ass . . . and the thighs, and the calves, and the . . . well, you get the point. There's a reason I fit into my vintage summer dress for the first time ever.
When the last box had been piled into the new space, we were both a bit surprised to find out just how tiny M's new studio was.   So we squeezed amongst the boxes and measured it out.  350 square feet, if you counted the bathroom and the kitchen and the closet. Not sure how up you are on square footage,  but that's a freakin' tiny space.
Here's what the space looked like before our invasion:
(Pardon the crummy resolution. I didn't have my camera so I had to use my phone.)
I tried to make a floor plan and got fed up, so bear with me.
You enter on the third floor and go up a flight of steps.
See the doorway and the cutout in the wall?  The steps are on the other side of that.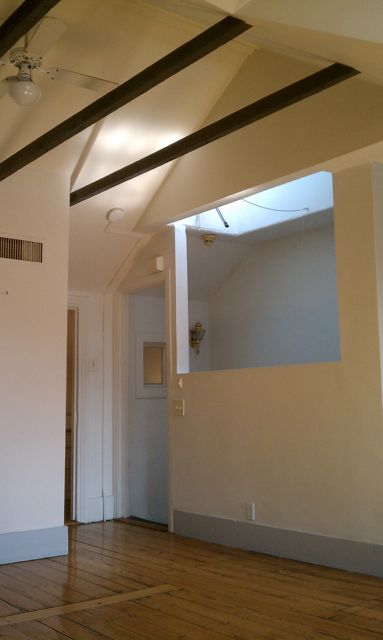 Standing at the top of the steps, and looking at the front of the space, you see this: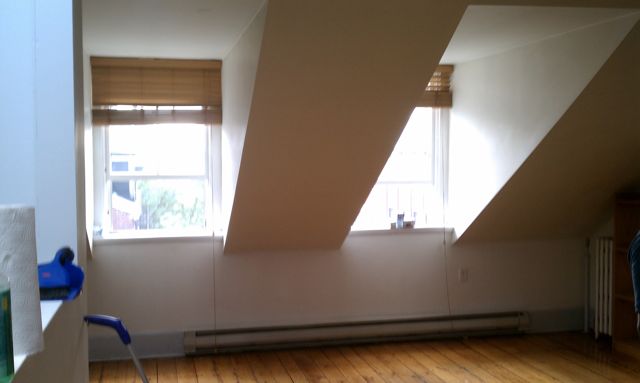 That's the living space.  Living room, bedroom, office, etc.
No, really.  . . .
Look a little more to the right and you'll see a nice little bookshelf tucked under the eaves.  To the right of the shelf is the sole closet.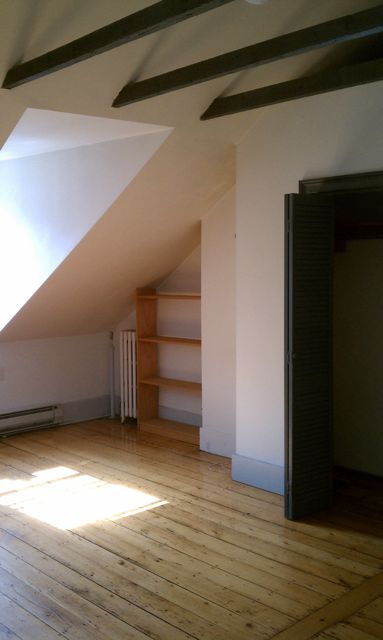 Now we are looking towards the back of the space.
After the closet (blue/gray doors) there is a kitchen nook.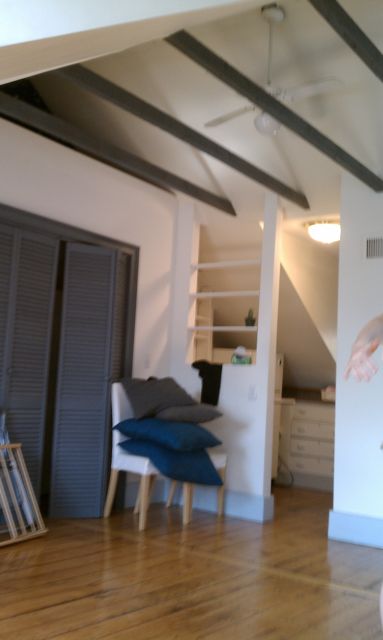 This kitchen is also tucked under the eaves.
However, Melissa – who loves to cook – informed me that this was actually a better, bigger kitchen than any other studio she looked at.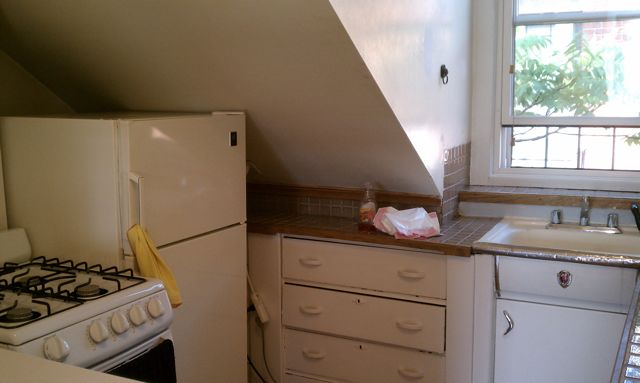 The bathroom was by far the most absurd space.
Fortunately Melissa is short.
See that thing against her head? That's the sloped ceiling.
No, really.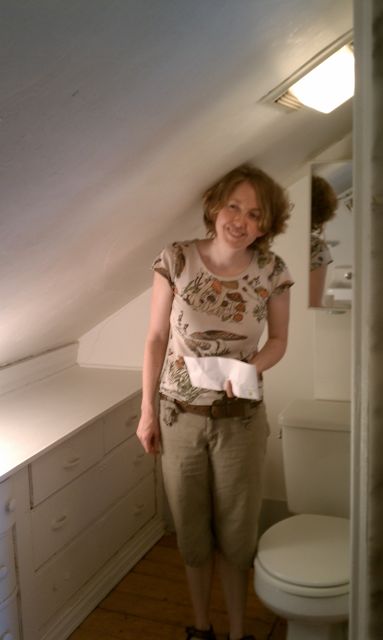 A few hours later, here's what it looked like with all M's stuff piled into it.
TOTAL. DISASTER.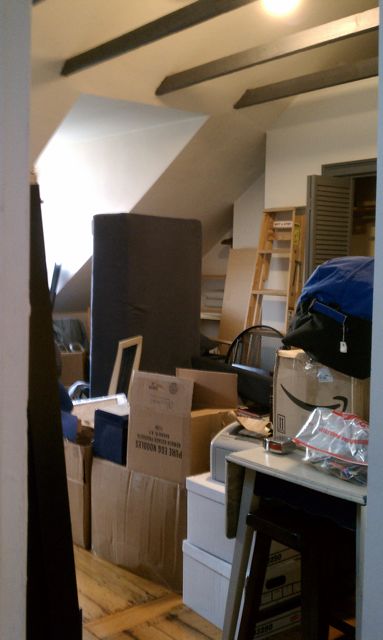 We barely had any room to move!  I felt like we were on an episode of Hoarders.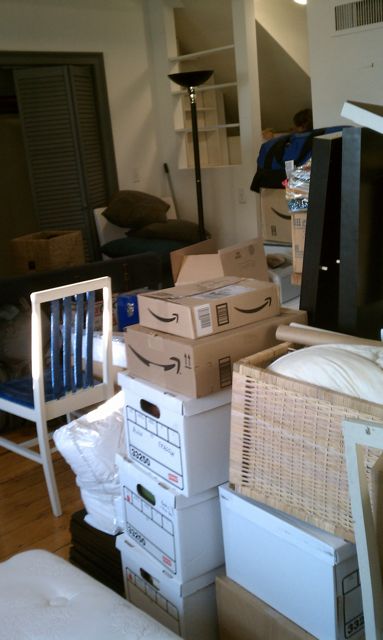 You know those games where you have 9 blocks in 10 spaces, and you have to organize them , but to do so you have to slide 8 blocks around just to make the 9th go where you want?  And then repeat a million times until each block has been shuffled into place?
That's what it felt like to sort Melissa's place out.  A ton of moving furniture and boxes around to one side of the space,  setting one thing up, then moving everything back to the other side of the space.  Rinse and repeat. Rinse and repeat.
But that didn't stop me from making a totally ridiculous and embarrasingly dorky video.  Apparently it's in "3gp" and needs to be converted before I can share it, so I'll be back with that later.
In the mean time, I want to know what you're thinking!  What's the smallest space you've ever lived in?  Or do you think Melissa is crazy to move into a space so small?