I'm here today to announce to you the winner of the 2011 Redneck Yard of the Year contest.  But before I do, I definitely want to thank you all so much for participating in the party!  I'm glad to see I'm not the only one who's willing to keep it real in the world of the always-so-darn-perfect-seeming home decor blog world.
Now, without further ado, three judges have spoken (none of them me).  Not only do we have a winner, we have several runners-up to name.
Congratulations to Sunny, from Life in Rehab!
You're officially surrounded by a redneck yard.
Sunny's probably saying "duh, I already know that."
But now she's got a whopping $25 bucks to Home Depot with which to kick-start the de-redneckification.

I asked Ryan for a little feedback, since he's always full of great commentary.
My top vote has to go for Sunny.  If you had a checklist of all the elements of a redneck yard.  I think she scores the perfect 100%. She's got the half finished projects, the projects that were abandoned, the stray discarded furniture. It's textbook. The poor dog even has a case of elephantiasis of the butt.
Second Place goes to Renee at R&R Casa.  The taped up storm door from 2008, the statue covered in chainlink fence, and the high tension wire chimney put her as a contender. And then I saw the zebra.  It clinched the win. And THEN I saw how she obtained the zebra. "STOP THE CAR!" and it reminded me of my own tribulations as a Ryan.
Third Place goes to Jenn at A Home in the Making.  Her place isn't that bad, I thought.  Give me an hour with a lawnmower and a weed whacker and I could clean that up fairly nicely. The stump is weird, but redneck? . . . BUT THE SIGN.  It's PERFECT.  It's a neon sign, it's metal.  It's half painted/repurposed white.  For everyone looking to compete next year, take this note down. A giant out of place, run down sign is a perfect indicator of a redneck yard. Chris clinched this one for you, Jenn!
Special mention:  Samantha at Two Become One. That is one dead lawn. I'm familiar with dead lawns because I've been struggling with patches here for 2 years now (we're winning… slowly).  I don't know if the previous owner salted the land before moving out or if your next years are going to be faced with other biblical plagues, but it might be time to look into astro-turf.
But this isn't everyone.  I also want to thank everyone else who participated.
Katie (living in the tire house)  from Making This Home
Speaking of redneck yards, we did get the ball rolling with our yard cleanup this past weekend.  I did a massive amount of weeding, and managed to destroy my shoulder in the process.   No thanks to my little "helpers" who chose to supervise rather than actually lend a paw.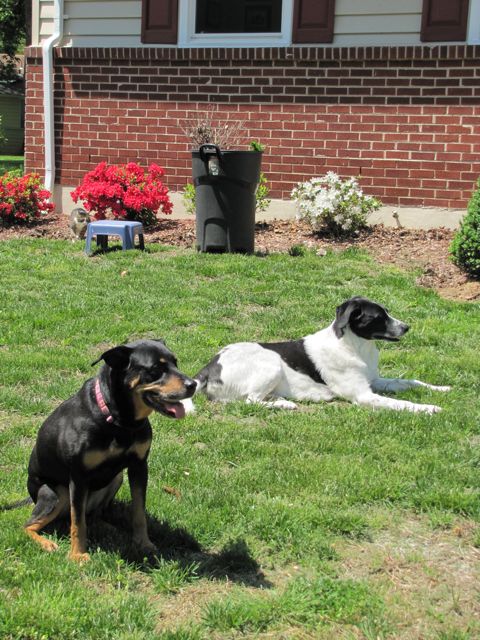 Sidenote:  I'm out of town for business for the first part of the week.  It's going to be strange staying alone in a hotel room.  I've only done that once or twice before.
How was your weekend?