When Rhoda of Southern Hospitality tweeted about her Thrifty Treasures blog party, I replied – on a whim – "Sometimes I think my whole home is a thrifty treasure!"
Then I thought to myself…why don't I look at just how thrifty it is?  So here's an example:  Let's look at the nitty-gritty details on how cheap our living room was.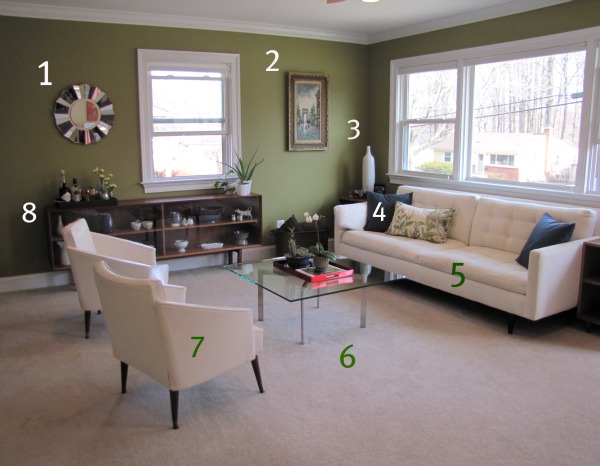 This mirror was less than $20 at Michaels after Christmas 2009.  I'd had my eye on it, but the $75 (ish) price tag kept it at arms' reach.  When I found it marked down $75 after the holiday, and managed to haggle another 15% off because it was chipped on one side.
Ryan scored this painting at his favorite flea market for only $15.  My guy has a great eye for art!
I found this West Elm vase at a thrift store for only $4.
Not one to pay full price for even some throw pillows, I scored this $6 pair of navy silk throw pillows at Goodwill.  A toss in the wash (down inserts and all) had them good as new.
Ahh, my beloved Crate & Barrel Petrie sofa.  This guy was a total score:  just when I was about to purchase him full-price last spring, I found one for only $300 on Craigslist, thanks to a tear in the armrest (which is easily covered by a white throw blanket).  Eventually (by Christmas?) I hope to have it reupholstered in a more pet-friendly fabric.
A secondhand score to end all scores, my beloved Barcelona coffee table was given to me by a friend and former boss.
Our pair of white mid-century chairs were $100 at a flea market, which to me felt like a splurge, but in reality was a pretty good deal.
The glass-door credenza, also a mid-mod piece, is the bottom half of a credenza/hutch set that we found for about $230 in the clearance section of a local furniture consignment store.   Again, not super cheap, but still a relatively thrifty deal.
The entryway side is equally thrifty: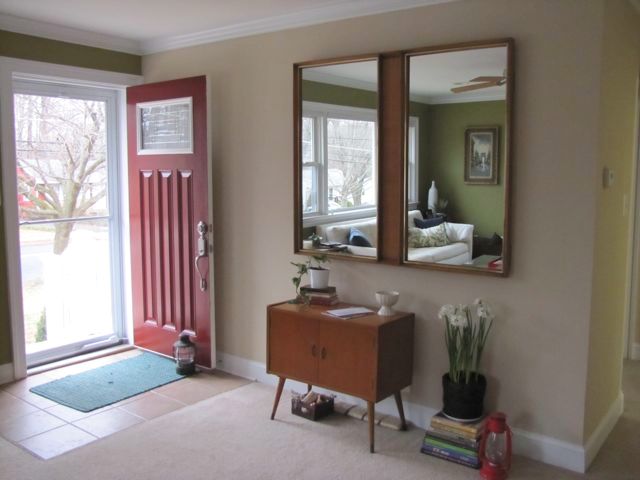 After a bit of haggling, I managed to snag the large mirror for less than $40 at the Salvation Army store.
My mid-century record cabinet was $30 on Craigslist.
The accessories were snagged from around the house.
Total Cost:  $745.  SERIOUSLY?   I mean, I knew I'd saved money, but I had no freakin' idea just how good a deal our living room was!
Heck, even my end tables have an unconventional story:  I'd designed them, planning to build them myself, for my old living room – to mask the ugly wall heater.  But in the end a friend of a friend ended up making them for us, and they turned out beyond beautifully.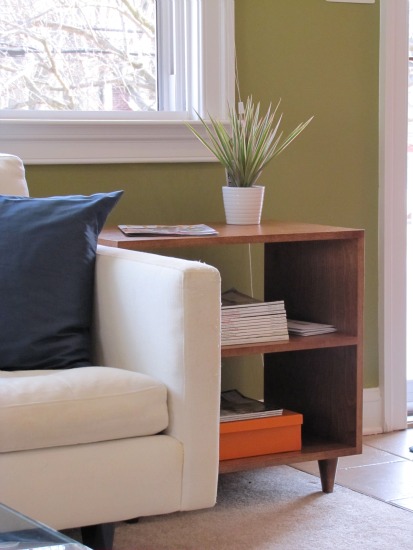 All in all, I think the only things purchased full price were the green/white throw pillow, the red tray on the coffee table, and the Ikea flower pots.  What a great feeling!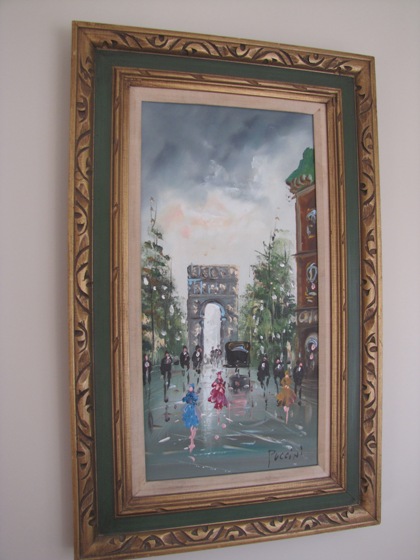 So how can you achieve the same success, thriftily furnishing your space without looking like a college kid in a first apartment?  I think the answer is patience.  If you rush to fill your space with things, rather than slowly saving and purchasing only the items that you love, you'll end up with either a haphazard assortment of thrifted stuff, or dead broke with a house full of new stuff.   When I first started blogging, almost 2 years ago, my place was a mishmash of stuff that didn't work, brought about primarily by impulse buys and poor planning.   But now, even if there's a few tweaks I'd like to make,  we've got a living room that I'm finally proud of.
Be sure to hop on over to Rhoda's to see her latest thrifty finds!
PS:  Ryan just told me I should have included the cost of the steam cleaner he bought to clean up after my spills on the sofa and carpet, as well as the dogs' dirty paws. Well, we already know he thinks he's funny, right?