I think I just go to Miami for the food and drink.
Oh, and the palm trees, the beaches, the pools, the people-watching.  Meeting Sunny.  And the decor at the fancy-schmancy hotels.  But the top priority is eating and drinking.  A lot.
So even though this isn't a food blog, in honor of my friend Jenn's What I Ate Wednesday party, I'm going to share a glimpse at the tasty goodness we pigged out on in Miami. There's a bit of fab decor at the end, so hang in there.
My fave spot for good, cheap food is the Latin Cafe 2000 in downtown Miami.  It's a locals kinda spot, with a huge outdoor bar and patio dining.  Sure, it's on a busy corner of Biscayne Boulevard where they've been doing road construction for at least the last three years, but that doesn't bother me.  If I want swanky ambiance I go to South Beach and pay 3x as much for the same food.  Anyway, we hit the Latin Cafe several times on this visit.
The Ceviche was something like $7 and was ab fab.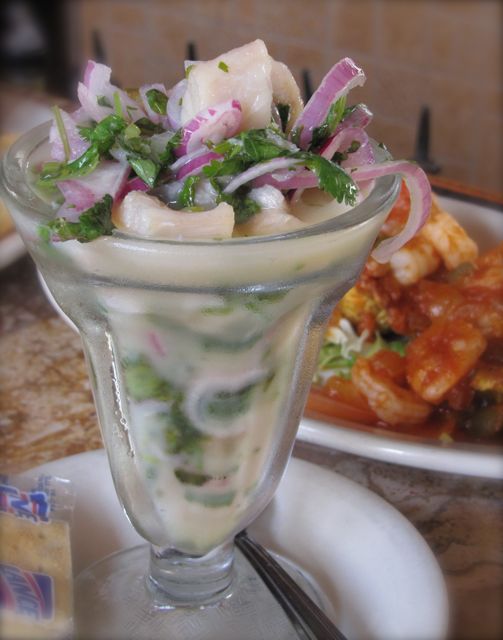 Fried green plantains stuffed with shrimp.  Yummy.  (Fried cassava in background.)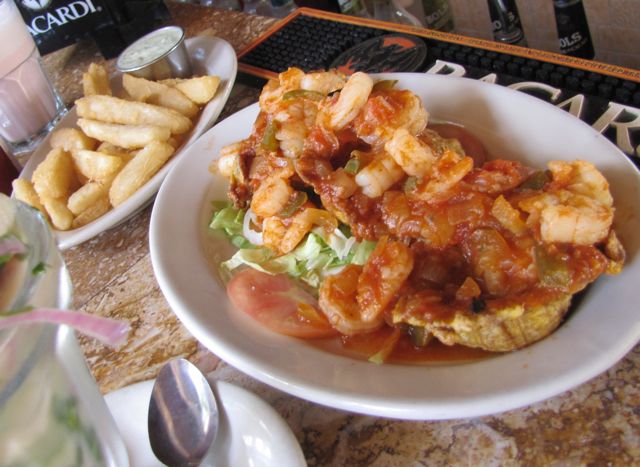 We also had:  pork tamales, Yuquita Frita (fried cassava w/ cilantro sauce), Camarones el Aljillo (shrimp in garlic sauce), Tostones con Mojo (fried plantain chips w/ garlic sauce).
We washed that feast down with plenty of Mojitos – they make the best ones in town.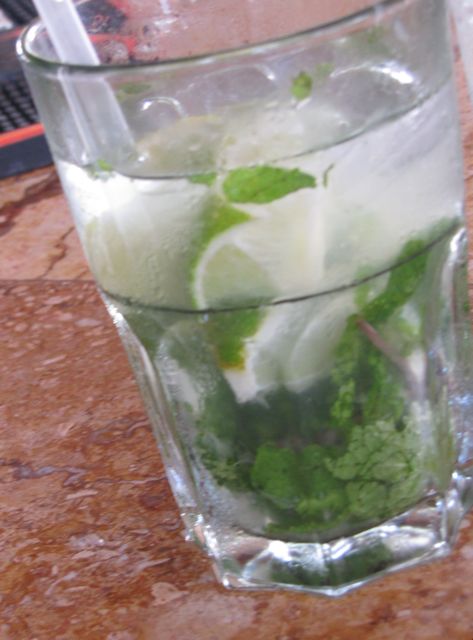 And then, to ward off any scary effects of my mojito madness, I had a few of these tasty delights:
Cafe Cubano (a.k.a. Cuban Coffee)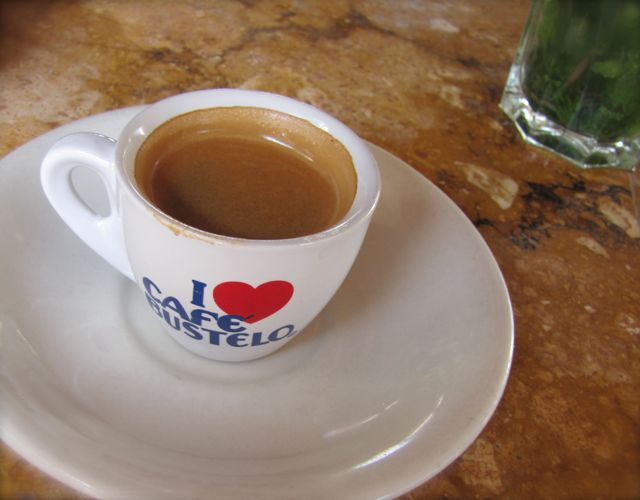 On South Beach, we had dinner two nights in a row at Sushi Samba – a place that I found with my A-Team ladies during last year's visit.  With a huge outdoor eating area in prime people-watching territory on the Lincoln Road pedestrian mall, this place couldn't be more ideally located.    It was dark when we ate (10 pm is perfectly normal for dinner in SoBe) so the photos are fewer.  But here are some faves:
Fried Shishito Peppers with lemon and sea salt (Japanese Hot Peppers)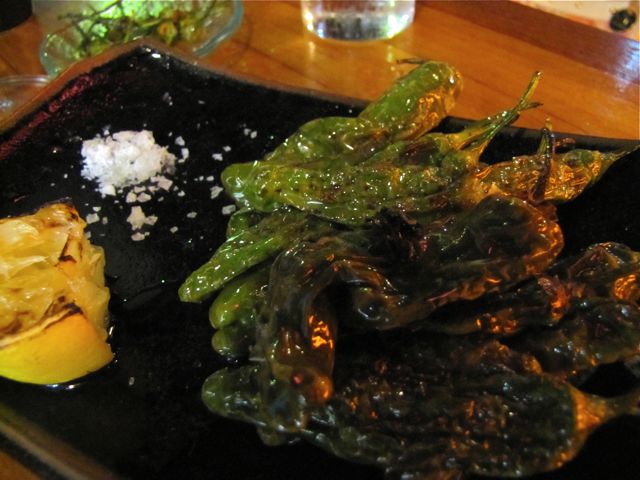 The Shishito peppers aren't as hot as the description sounds.  They're seriously delish, and it's frustrating I can't find them on menus anywhere else.
Extra points go to Sushi Samba for keeping Ryan's glass filled with yummy concoctions that were alcohol-free.  (He doesn't drink.)
Strawberry Mojito washed down the Lobster Roll & Kobe Beef Roll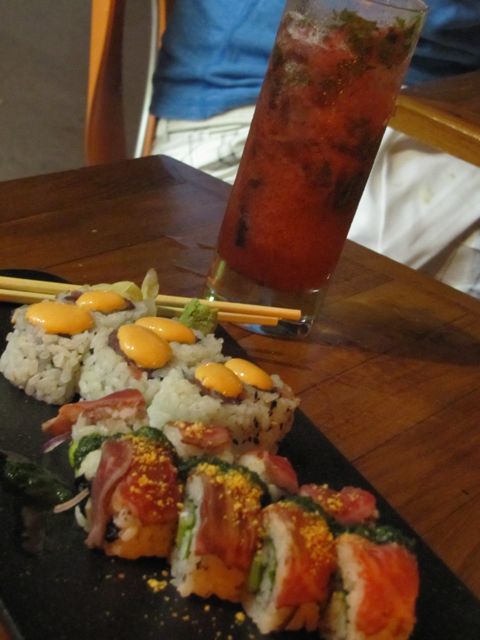 At Sushi Samba we also feasted on Kobe Beef Tartar, which is basically raw beef of the most fabulous quality. I had tons of awesome Ceviche.   We finished the meal with an awesome chocolate banana dessert that was served in a mini UFO.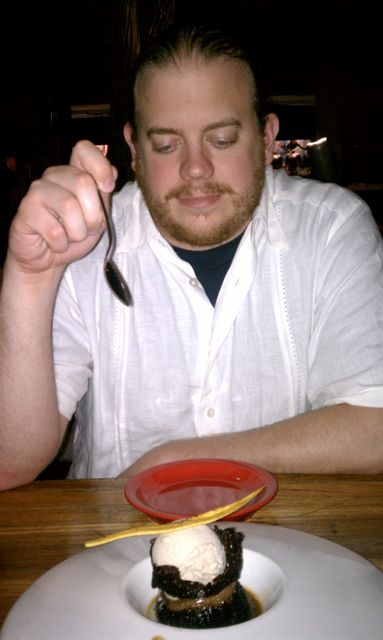 Love a good cocktail coupled with gorgeous design?  Then in the afternoon you must head on over to the Mondrian Miami, situated on the Biscayne Bay side of South Beach.  They have a mouth-watering selection of Caipirinhas and other cocktails, all of which can be enjoyed at their poolside lounge overlooking the bay and downtown Miami.  I shared photos of their fab decor two years ago, so this time we'll just peek at this year's visit.
One afternoon we grabbed our books and headed over to the Mondrian's poolside lounge to read and drink.
Why would we go to a fancy hotel's pool to read?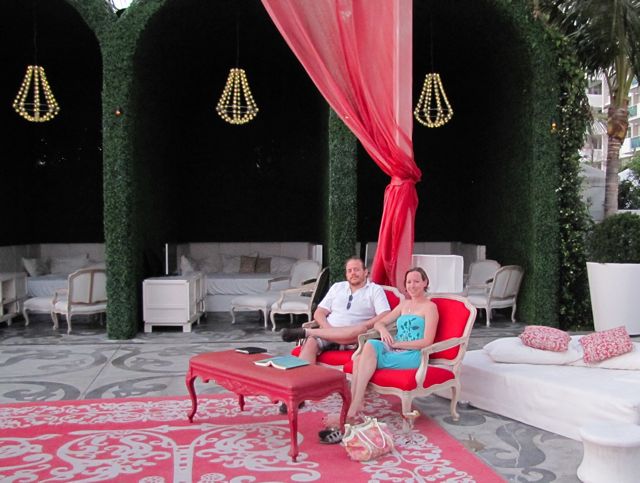 Because the decor was divine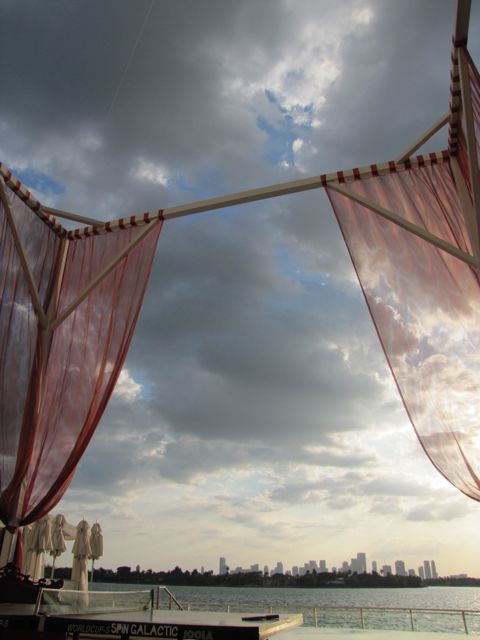 We were lookin' good

The chili passionfruit cocktail is the best drink ever invented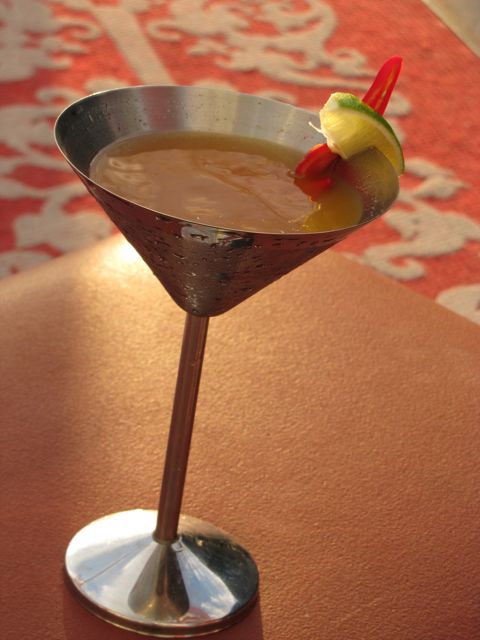 And the sunset was breathtaking.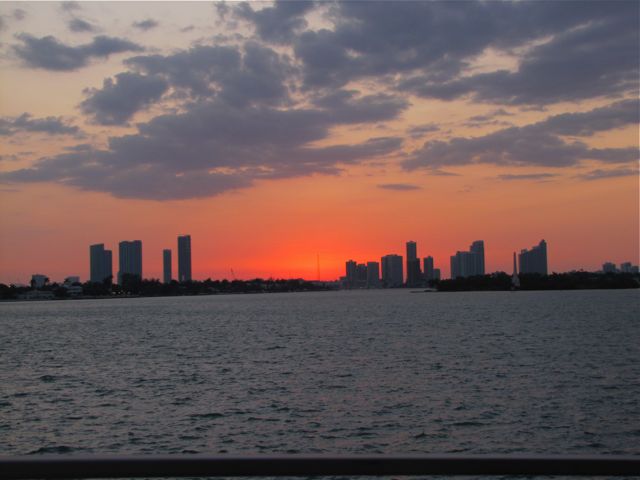 I've collected some great cocktail recipes from all my times in Miami.  Would you guys like me to share some of them on the blog?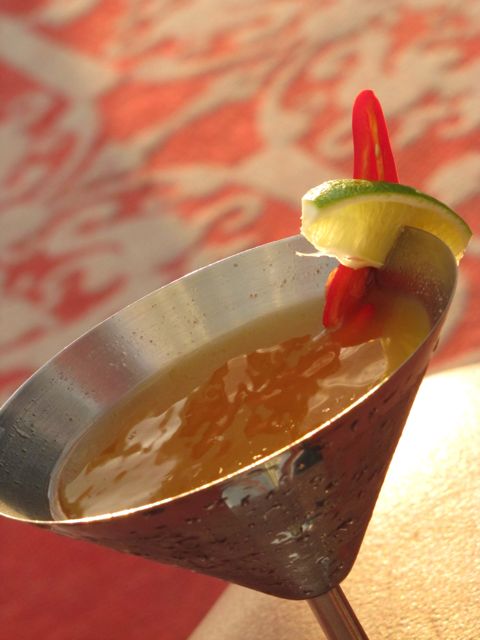 Be sure to stop back tomorrow to read about our somewhat-sketchy adventures in Miami's Mid-century Modern district.   In the mean time, here are some previous posts on my Miami adventures:
Poolside Glamour at Miami's Mondrian Hotel
Divine Decor at the Delano Hotel
Mid-Century Style at Surfcomber South Beach
{Re}Fashion:  Little Black Dress for Miami