Ironing is fun again, thanks to City Chic Country Mouse, a mother/daughter sewing and blogging duo who aim to inject some joy into the otherwise world of mundane household tasks.   They're having a Spring Cleaning Sale over in their Etsy shop, and I couldn't help but snag a cute new ironing board cover.
It arrived just a few days later, and it was wrapped so adorably that it felt like Christmas or my birthday all over again.
The item was wrapped in tissue, secured with a cute little mouse sticker, tied with a fabric strip (that coordinated with the product), and topped off with a hand-written "thank-you" note.
I peeled back the precious wrapping to find the ironing board cover neatly folded, and topped with a small envelope.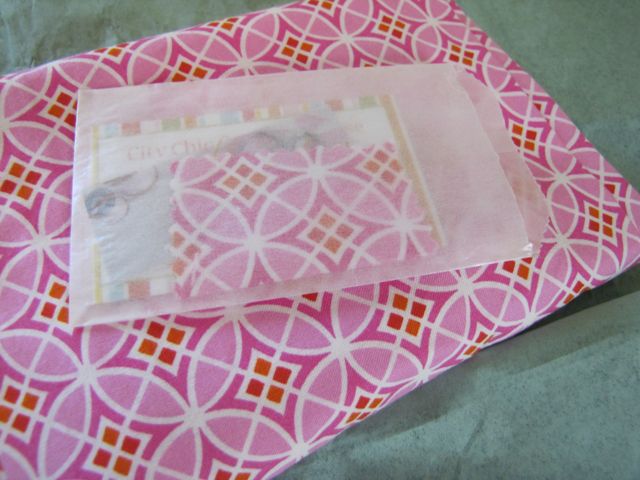 And what was inside that envelope?  Their super cute business card, a mini-card with a coupon code, and a spare piece of fabric (which I can only assume is for patching the cover, etc, if need be).   If you guys ask me, these ladies take the cake with product packaging.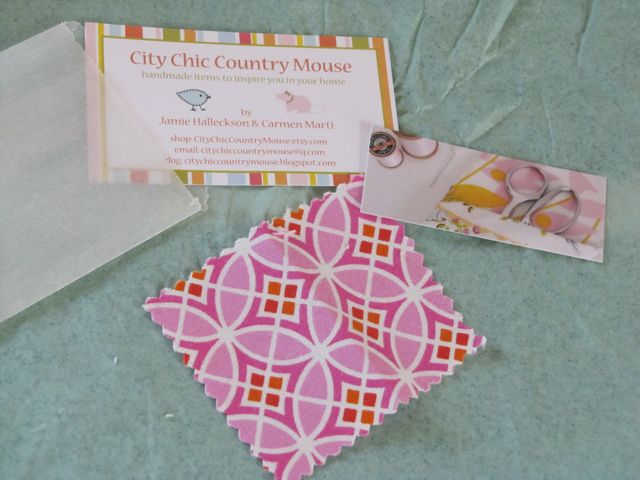 As for the actual item I ordered?  Well it fit my ironing board perfectly, thanks to its sturdy drawstring closure.  I'm happy as a clam now that my ironing board has a new look.   Did I mention that my old cover was stained, and so worn that the elastic no longer worked, and after I last washed it I had to hand-sew it in place to hold it on the ironing board?   Goodbye, ugly!
Though you can't see it here, the cover coordinates well with the colorful fabrics I used in my studio makeover.    All the bright colors help to keep me energized when I'm working late at night.
Speaking of working in my studio, would you like a peek at a design I made last night?  I love it!  This pleated design will be for lumbar pillows, and I will have coordinating square pillows and cat purr pads to go with it.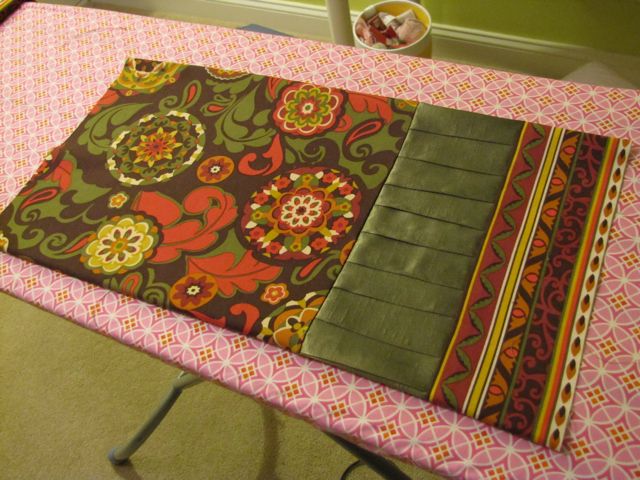 This is an example of what I love most with sewing.  The creation of designs and the piecing together of colors and fabrics and textures.  Yum.  Is it 5 o'clock yet?  My fingers are itchin' to get back to stitchin'.