Gah!  Can somebody please silence the voice of Ryan? It pops into my head whenever I try to blog.  I want to talk to you about my coffee "tablescape."   It's in " " because the second I start to type it, I hear Ryan silently what-the-hell-ing the word.  Of course.  In his opinion, it's a table. It's supposed to hold your drinks, appetizers, etc.  Why does it need to be decorated? And with a special word devoted to that practice, no less?
I half agree with him.  When I see photos of beautifully decorated coffee tables, ones which are piled up with books and candles and flowers and knick-knacks, I often wonder where on earth guests are supposed to put their cocktails.  Plus, I've always struggled with creating good tablescapes.  That's why, years ago, I used to resort to a simple  vase of flowers.
On the other hand I do feel that the right arrangement on a coffee or dining table can make a room feel more finished.  So I continue to attempt the ever-elusive "perfect tablescape."
I refuse to weigh down my large glass table with random stacks of books and a scattering of decorative crap (not that I have much of that), but at the same time I want something on it.  After a few years of practice,  I've found that my go-to solution is to start with a tray – it helps keep the decor feel contained, while adding some definition and color to the otherwise see-through tabletop.
That's exactly what I did this time around, as I'm tweaking our newly painted living room for a dinner this Friday.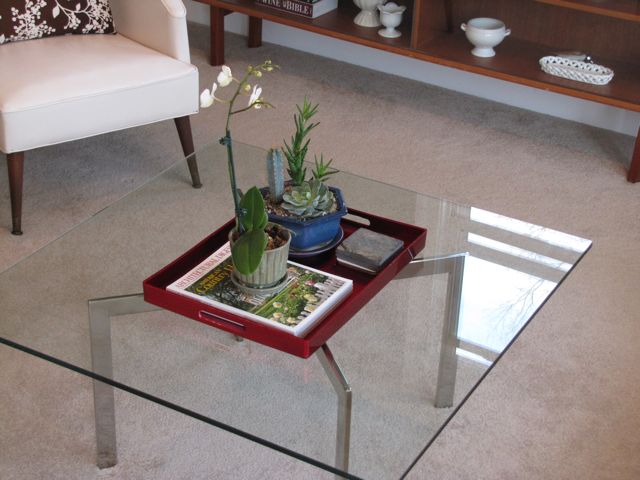 A small stack of magazines on one side add a little height to the tray.  Next come the decorative items, in varying heights and sizes.  I didn't have any decorative crap that needed a home, so I used some plants.  They always look good.  I picked up an orchid at the store, and put it in a pot I had laying around.  I also re-potted some random cacti of varying heights into one shallow pot.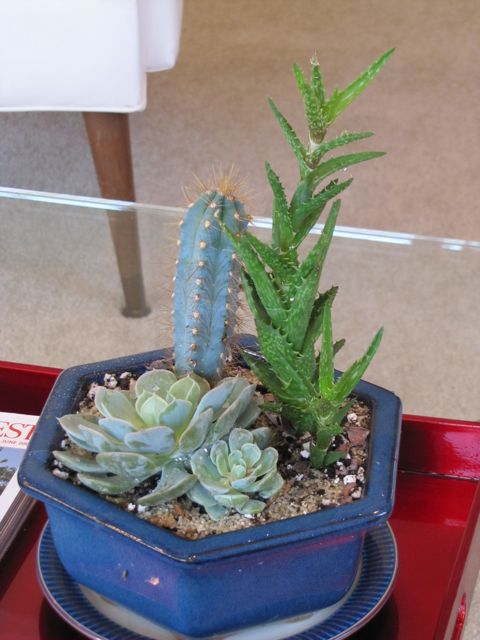 The orchid went on the stack of mags, and the cacti went on the other half of the tray.  Finally, I added a small stack of coasters, so that they'd be easily within reach for our guests.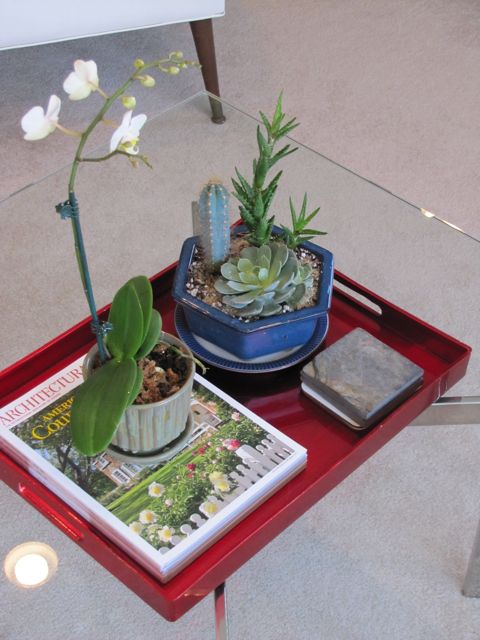 I'm now realizing I left out my favorite part – candles!  So I'll dig some out of my stash before Friday night rolls around.  I think a few votives or tea lights in glasses would work perfectly.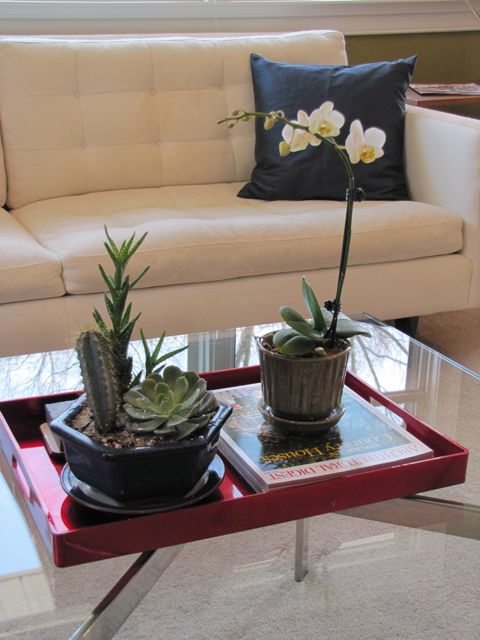 And that's my go-to formula for a foolproof tablescape. Bonus?  Because it's all on a tray, it can be easily whisked off the table when you're cleaning.  So in conclusion, all you need for a killer tablescape is:
Tray
Magazines
Plants
Coasters
Tiny candles
Do you have any tips to add?  Do tell!  And in the mean time, I've got a few more projects to finish up before Friday.

Cheers,
~Jane