Hi!  Did you have an awesome weekend?  I hope so.  We got to kick ours off to a great start with a little dinner party Friday night – and yes, we had the house ready in time.  It wasn't perfect, but it was clean, organized and most of the projects we'd wanted to accomplish got done.  I guess this week will be all about sharing the fruits of our labors.
Let's start with the "entryway."  Hit with a sudden burst of inspiration on Tuesday night, I totally transformed the space – using only things I already had in the home.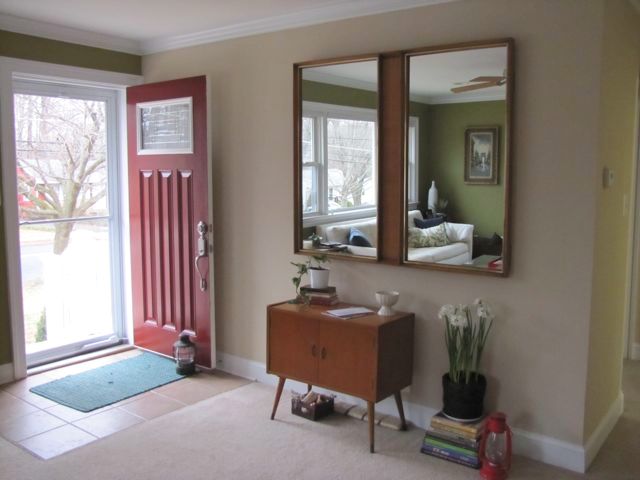 Both Ryan and I really love it, especially compared to how it looked before.  When we last talked, I wasn't loving how the wood bookshelf fit in the space. I was reluctant to move it, as my dad had made it especially for that space, at my request.  But you know, sometimes you just don't realize that a piece isn't going to work – until you've actually made it and put it in a space. I've since added a back and sides to it, and will stain and seal it, and use it elsewhere in the house.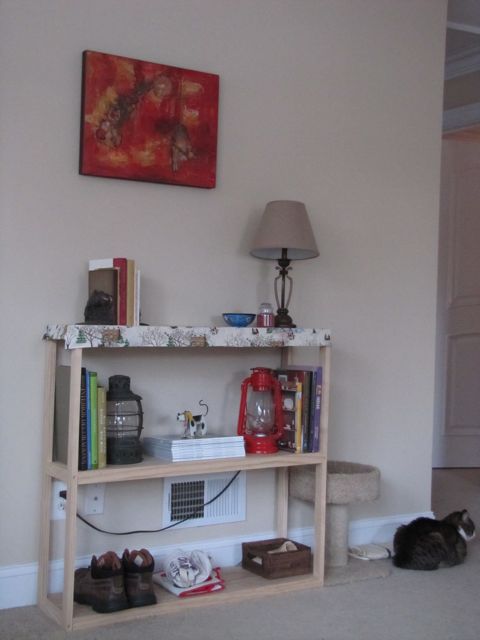 But back to the "new" entryway.  Here's how this new design accidentally happened.
The metamorphosis started when I asked Ryan about hanging my vintage mirror on a different wall.  We crossed wires, and he thought I meant this entryway wall, and enthusiastically said yes.   Once we got on the same page, I realized his idea was better than mine.  We hung the mirror, but then the bookshelf was too tall.  So I tried my vintage record cabinet, whose honey tones and mid-mod lines blended perfectly with the other wooden pieces in the room.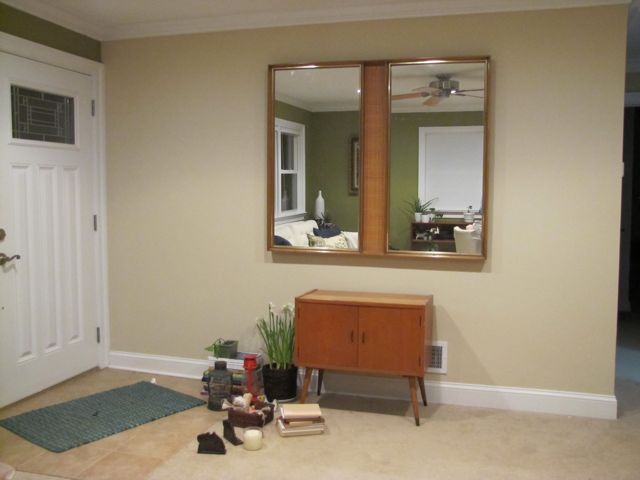 After I moved the record cabinet into place,  I noticed the stack of books and Paperwhite plant sitting next to it.  Because the cabinet was so much smaller than the mirror, a stack of stuff next to it would help to balance the space.  Now I've always thought that the whole stack-the-books-on-the-floor design trick was silly, but suddenly I was really digging it.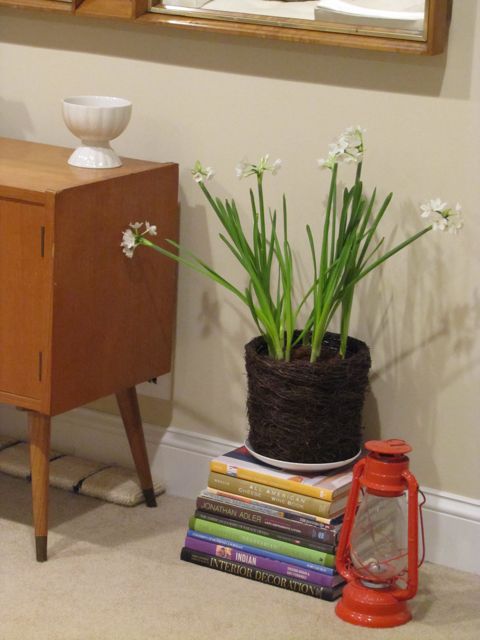 I braced myself for Ryan's reaction, because I was sure he would think the stack of books on the floor was ridiculous. But he came out of his office, and immediately said "Wow, babe, that looks really good!"   An impromptu design compliment from Ryan is definitely a good sign.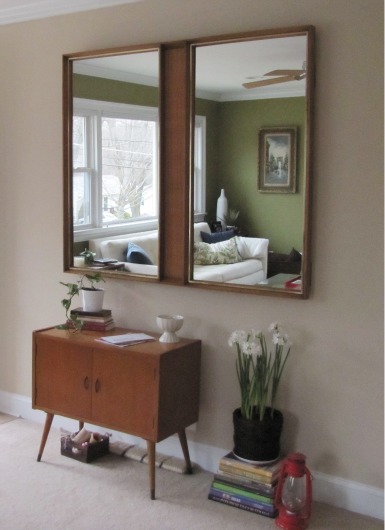 And with that, I can finally say that I feel our living room looks "finished" enough for now.  Sure, when time and money allow, I still would like to make some box valances for the windows, and some custom pillows, and add a rug, but I really am satisfied with the room as-is.  And that's a great feeling.
This project was a great reminder to always "shop your house" when decorating.  And the most important lesson (re)learned?  Don't force yourself to live with a decorating mistake just because you spent the money.  Sometimes you have to admit that you've made a mistake, cut your losses, and then assess what you have on hand in order to fix it.  Because at the end of the day, your home should be a place that makes you happy.
If you're a newer reader, here's some related posts: