January
The year started off with a decorating bang, as my bro and I pulled off a huge "While you were out."  We turned his cluttered guest room into a budget-friendly but cute-as-pie nursery, complete with some budget-friendly art,  one Saturday while his wife was at work.  She came home and loved it.  Hooray!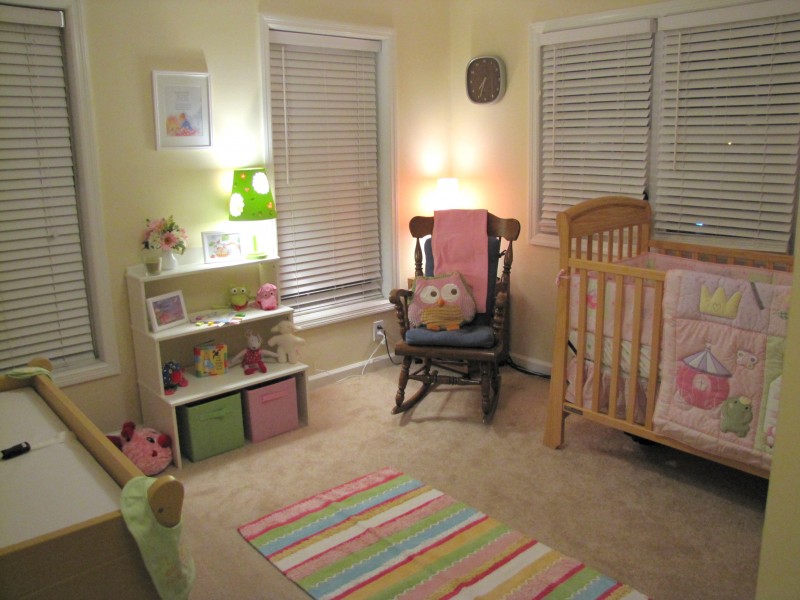 February
Ah, February . . . the month when I went to Colorado and climbed a mountain with a good friend, only to return to Virginia in time for several snowstorms.  That was also the month when Ryan's lease ended and he moved in with me.  It was a messy month in the old abode.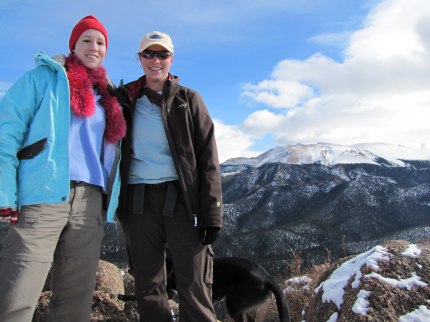 It was a cold month too, as that winter I also learned that I could deal with not using the inefficient heating system in order to save some serious dough on the electric bill.  The chill in the air certainly slowed down my project completions, but seeing my breath in the air was worth it – the 70% savings that winter made up for the $800 two-month electric bill from the previous winter.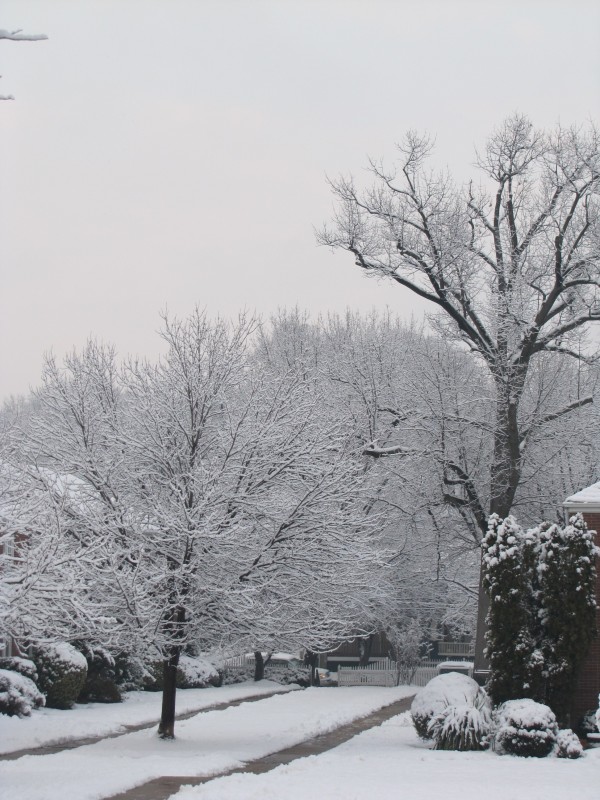 March
In March I was beyond excited to reveal the sweet custom cabinets I'd designed to hide the atrocious (and inefficient) wall heater in my living room.  (They continue to be appreciated in the new abode, where they serve as end tables in our living room.)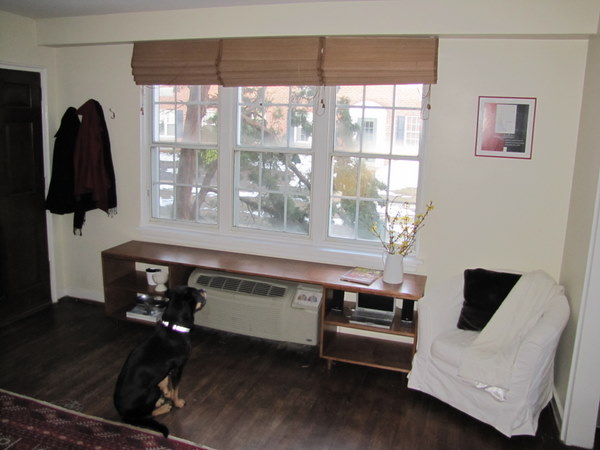 April
This month was a bit short on projects, as Ryan and I tired of the 1 hr + commute and searched for a home closer to our office.  But I did find time to belatedly share a project from Fall 2009 – when I made my windows classier with some cheap see-through bamboo shades, then lined them for privacy and insulation.  (My landlord loved them,  and we worked out a deal so I could leave them upon move-out.)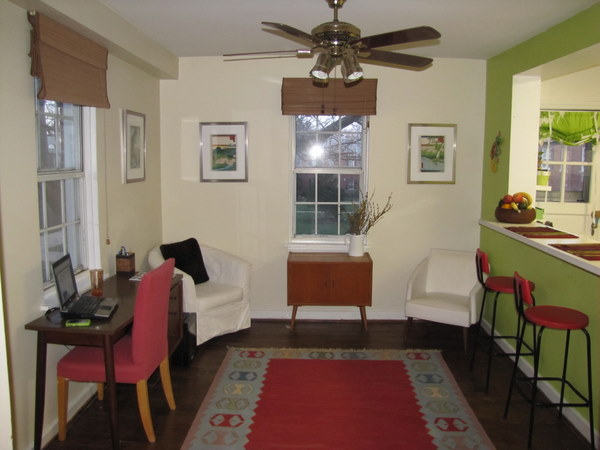 Psst:  If you're itching to ditch your mini blinds for some classier bamboo shades, but don't want to shell out the major dough for the quality non-see-through ones, those two links above are definitely for you.
I also shared the steps of the moving process, from the search to packing tips to our first "hiring movers" experience.  But my proudest moment for sure was when I thought to write a "sales pitch" type letter to sell ourselves (and our pets) to potential landlords.  It paid off big time, as I got email after email from people wanting to rent to us.  And if you're a pet owner who rents, you know that's unusual.
May
By far the most exciting month of 2010, May found us moving – both literally and digitally.  The blog got a new home with its own domain name, and Ryan and I settled into a new rental home, a beautifully renovated ranch with a killer kitchen and a yard for the dogs.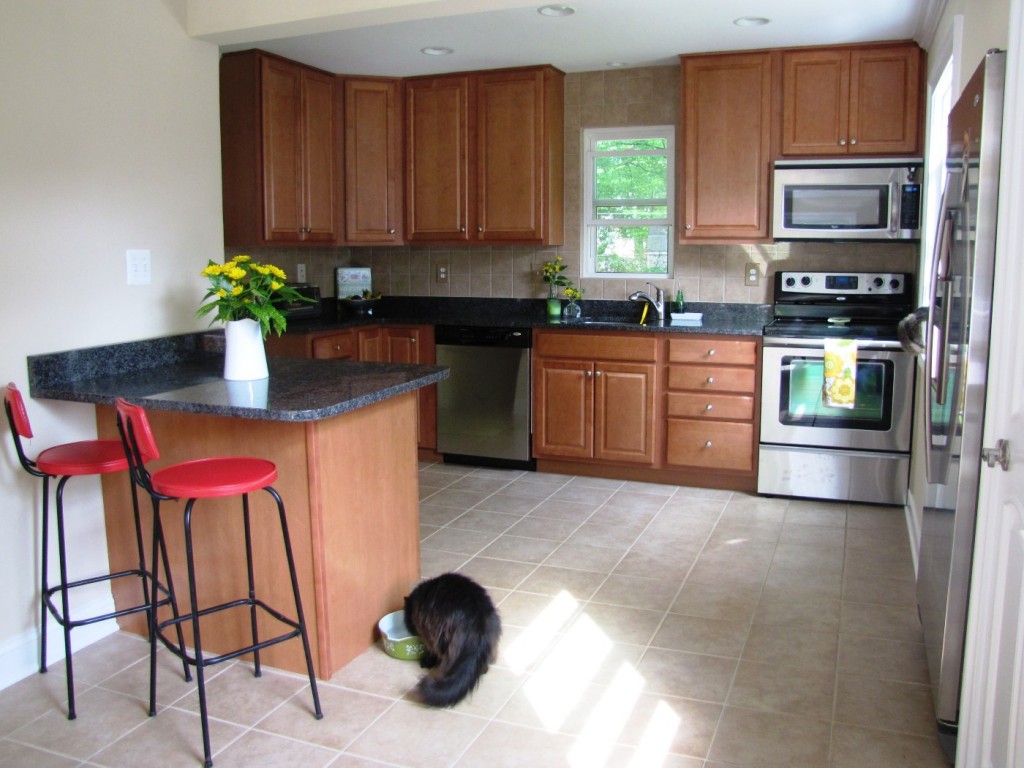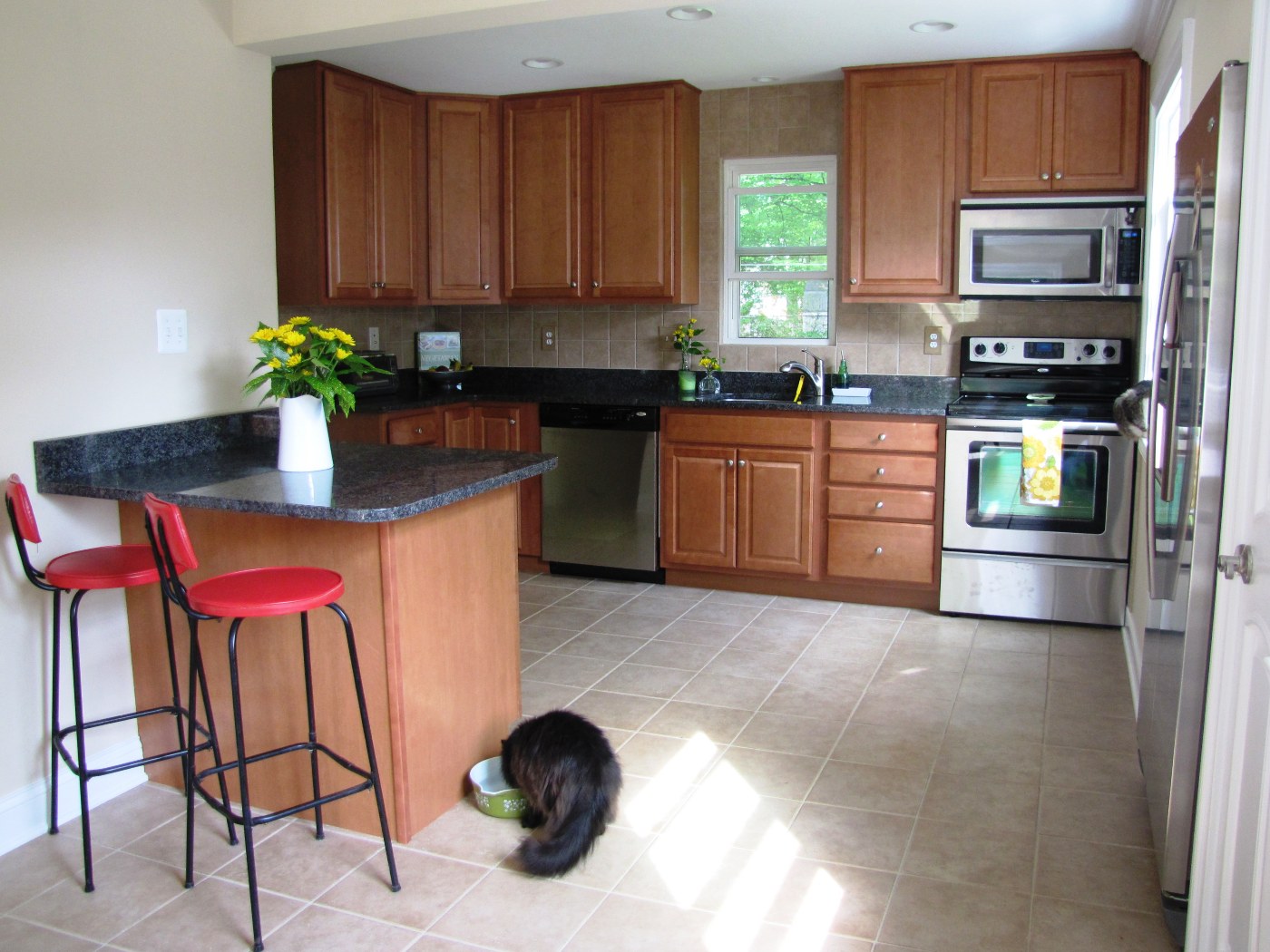 Though there were aspects I'd loved about my old condo, I was glad to get away from its dark living room (that continually frustrated me from a decor and layout perspective as well) and into this new light-filled one.  Hallelujah.
Finally, I got a chance to start my vegetable garden with the Square Foot Gardening method.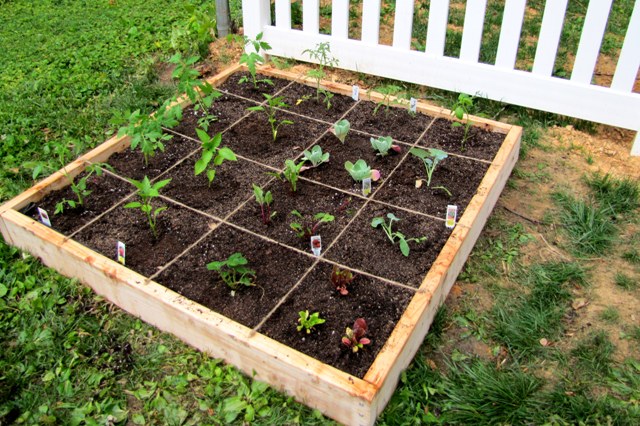 June
The first month of summer found me baking and decorating a cake for one of my best friend's weddings.  Talk about a nerve-wracking experience!
I also began the longer-than-expected process of decorating our master bedroom, from new linens to a painted ceiling and the home-built nightstands.
July
The bedroom makeover continued into July, when I finally sewed drapes for the room.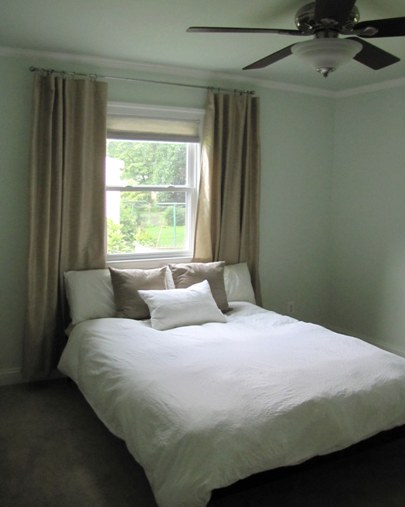 Also important (to me, at least) was the tip I shared for keeping kittens (and kids) safe around window blinds.  Not exciting, but useful nonetheless when I had the precious foster kittens the year before.
August
My project undertakings continued to build in August, as I created a pet feeding station & pharmacy, and built a "wrapping station" table to cleverly conceal the cat litter.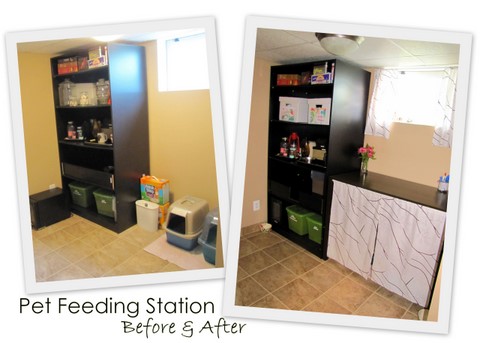 I also shared my first attempt at refashioning a dress, which went surprisingly well, and Ryan made his blogging debut with "What the Hell," his humorous insights into being a guy with a DIY blogging girlfriend.  (Oh, and he knows we're long overdue for another WTH post.  Believe me, I bug him regularly – and it's not like I haven't inspired any WTH exclamations lately.)
September
I finally finished  the bedroom night stands – and after the ordeal of building and finishing them, it was quite a relief.  The bedroom really came together as I then installed wall lamps and fabric-covered storage boxes made from old cardboard.
October
Ryan and I got a jump-start on fall, spending a good 12 days driving through New England.  And when we returned home, just in time to for the start of the Virginia fall season, I of course dove straight into the ever-popular fall decor projects.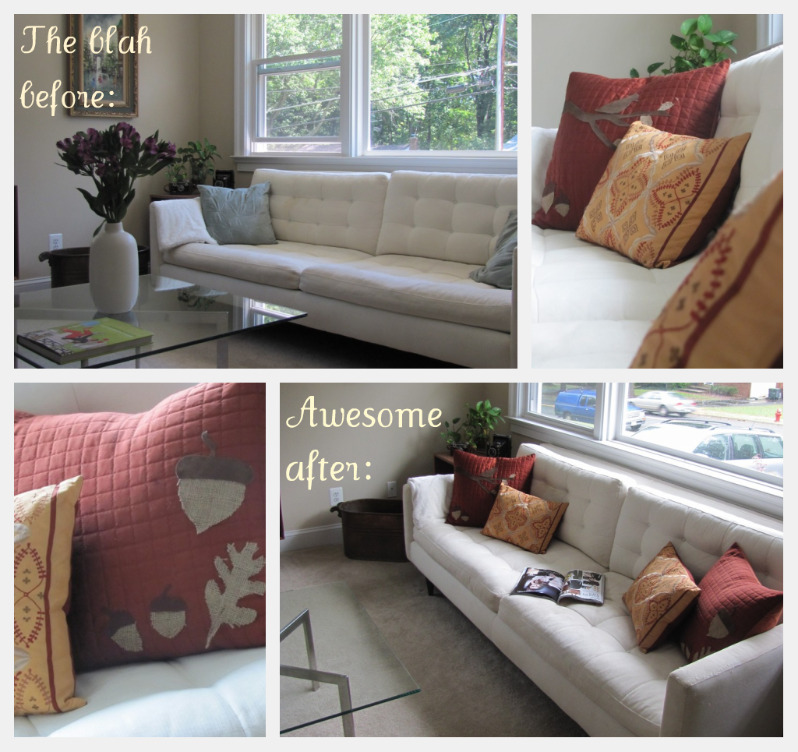 Just in time for the cool weather, we turned our back porch into an outdoor living room, which was enjoyed many a night with good friends.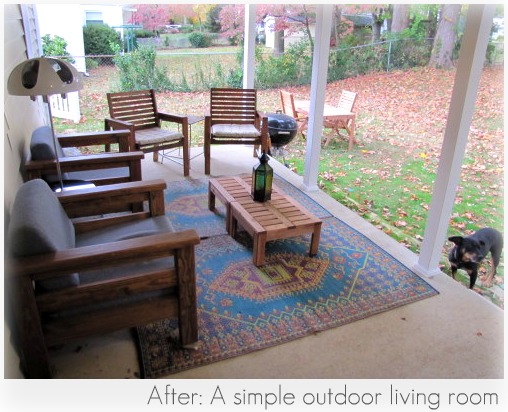 I also completed the Blogging Your Way course with Holly of Decor8, which I feel really helped me  grow and improve my focus as a blogger.

November
I was busily trying to design and sew products to launch Flourish Pets & Home in time for Christmas.  I learned a ton, most importantly that it would take me much longer to develop the whole product line I had in mind.
December
Ah, December.  The month that is always taken over by Christmas decor projects.  My favorite project was the creation of a winter wonderland display.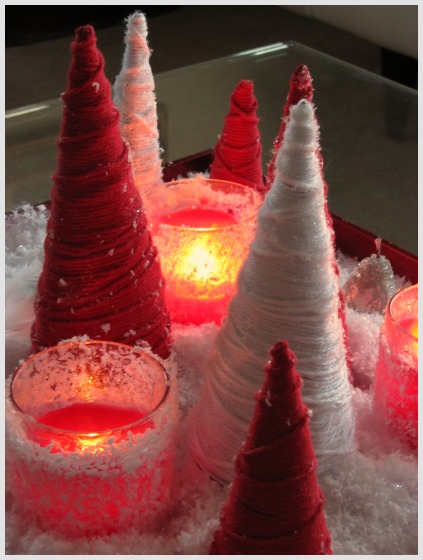 But for me personally, the most exciting achievement came when I partnered with a local coffee shop, selling bags sewn from their coffee bean sacks.
2011
And now here we are, fresh into a new year.  I've seen my blog readership grow over the last year, and I want to thank you all so much for being there!  I sometimes can't believe there are actually people who want to read my wordy posts . . . but you do, and it really makes my day!!!
PS:  If you'd like some [free] advice on how to tackle a decorating challenge in your rented space, drop me a line!