This weekend I used some Command Adhesive strips to stick round plastic Chinese food take-out containers to the wall.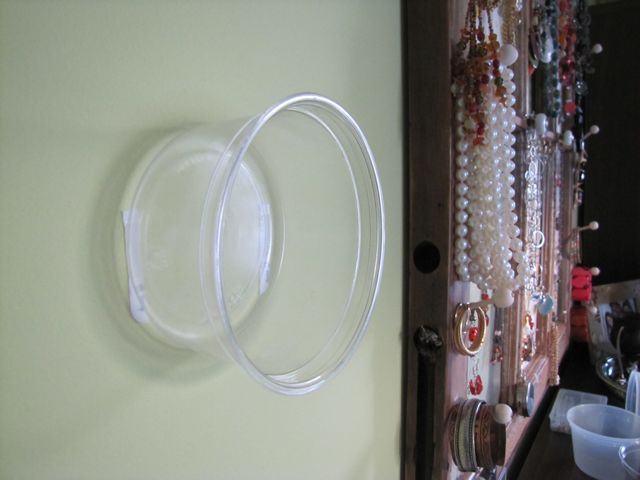 It worked perfectly.
You're thinking I've really lost it now. And maybe I have . . .  My studio was starting to look pretty good, but then I had to go and stick trash on the wall.
Here's another peek:  can you guess where I'm going with this?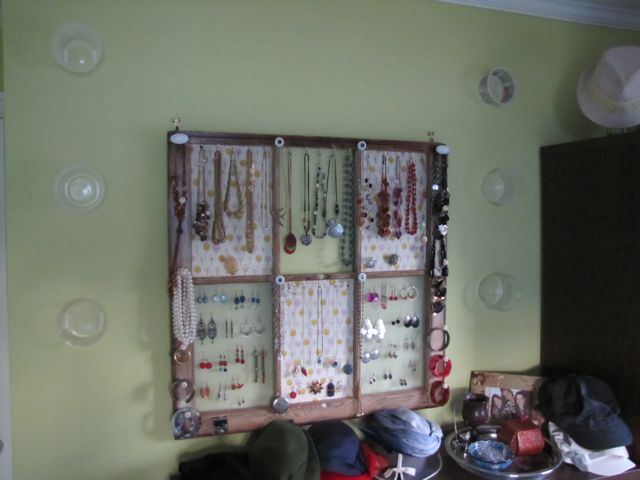 Why, I was creating hat storage, of course!
Please allow me to explain the thinking that got me to this point.
In the past I hung my hats on little hooks, but was never pleased with that solution. The hats always fell off the hooks.  Upon closer examination of the problem, I determined that a hat really needed a larger round object to sit upon.  Something that they wouldn't slip off of.   So on Saturday I took a birthday trip to Home Depot, where I found some great round wooden thingies in the section where they sell wooden corners and finials and other bits to finish off stair rails and moldings.  However, the round wooden thingies were about $8 each.
At that point I thought of what I had at home . . . and realized that those round un-recyclable containers that my Hot and Sour soup comes in would be perfect.  And FREE!  And they came with the bonus of saying to Ryan "See, I told you I'd find a use for my stockpile of plastic!"
Sure enough, it worked like a charm.  I cut each Command strip in half, length-wise, and stuck each half on the bottom of a container, then pressed the container to the wall.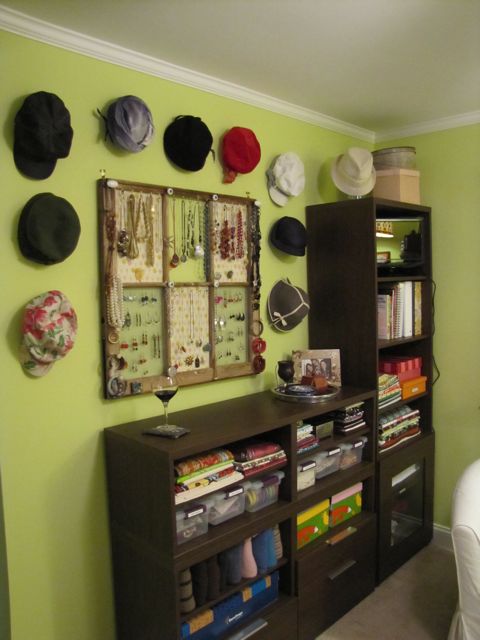 Total cost?  about $5 in Command strips.  I don't think hat displays get any cheaper than that!
And what's a little more trash on the wall?  After all, the window frame I turned into jewelery storage was a curbside trash pile find.  And you can find an updated white with burlap version here.
PS:  For this, like any other project, a glass of wine is optional, but recommended.  Especially if it's a Saturday that happens to be your birthday!