The next step in whippin' my studio into shape was to add some narrow shelves above the desk.  For sewing notions and such.  (Why are they called "notions" anyway?)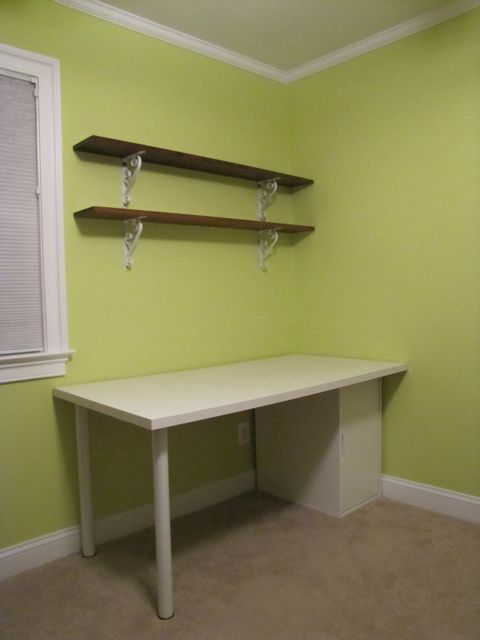 They're from my old apartment's guest room. . . and since the move they'd been sitting in my basement in the pile of "stuff I might need when I decorate rooms."  I just had to give the bronze-y brackets a quick coat of white spray-paint (while enduring Ryan's mockery) because since I was already mixing wood and white furnitures, I didn't want to bring in a weird metal color.  Since I suck at spraypainting, it's not the most dainty of makeovers, but it'll do.  The paint seems to scratch and chip easily.  Maybe I should have used primer.  Maybe I don't care if it's perfect.  Yep, that's it.
Anyway, back to that pile of stuff that I was shopping.  Yeah, I totally shopped my basement for a ton of things in this room.  Check out my flippin' cute thread storage solution: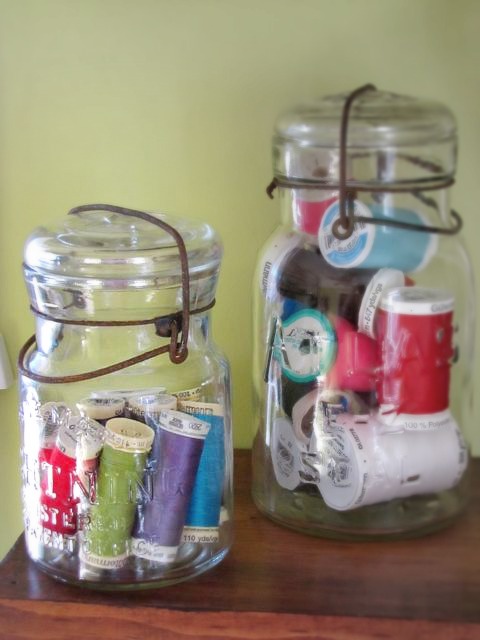 These jars now sit on my shelves over my sewing desk, but I can't show you a big picture yet because I'm still fighting to make it look "nice." Because heaven forbid my storage shelves not look cute. Oh, the horror.
Back to these jars.  When Ryan and I stopped at little roadside antique stands during our fall road trip, I found these old glass jars for only a few bucks each.  I LOVED THEM.  But I couldn't buy them without having a use, otherwise they'd just become clutter.  So there I stood there in the shop, thinking, until I had an inspiration:  thread storage for my sewing room.
Ryan looked at me like I was nuts.  I'm used to it.
But I bought a few of them.  I wish I'd gotten more, because they're perfect for storing all sorts of things.  Like measuring tapes.   (Why do I have three measuring tapes?)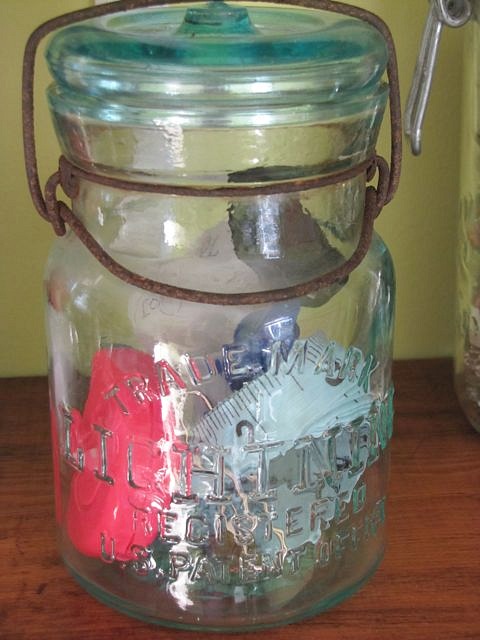 I feel so clever for having thought of this.  It's one idea I must say was not inspired by seeing someone else in blogland doing it.  Totally ab-fab.
So you see, I've been using my stored "stuff I might need" pile a ton for this room.  And to think Ryan thought I was just hoarding.  But do you know what this means?  It means when this room is all finished, then I have to look at that pile and get rid of a lot of what's left.  Because there will be no excuse for it anymore.
Don't forget to stop by tomorrow, because I'll be revealing a jewelry storage solution that is guaranteed to knock your socks off.