I wanted to share an update on my dog Charlie. Thank you all for the positive vibes!!
I've got good news and bad. Let's start with the bad.
The bad news is that I tried so hard to write a funny update "from" Charlie's point of view. But the fact is that I just suck at pretending to be a dog writing a thank you letter to blog readers. So I deleted it.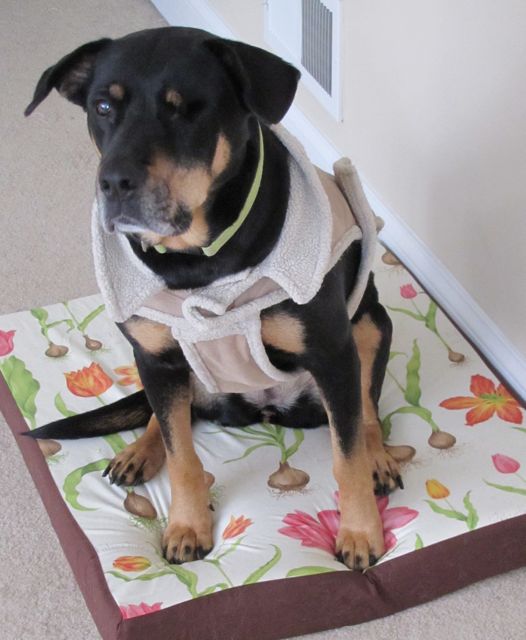 Now the good news: Despite the fact that all is not right with Miss Charlie, the good news is that the xrays and bloodwork did not show any problems or tumors or kidney issues. So the pup got some acupuncture, and I returned home from the 8hr excursion with nothing but a bottle of Prozac. For the dog, not me. Oh, and a big hole in my wallet. But let me tell you this: I'm happy to have spent the money, because I'd rather be safe than sorry.  Of course, we still don't know what's really wrong with her, and she's still acting very tired and withdrawn, but fingers crossed that she's just scared of the rumbling noises the furnace makes.
Let's take a moment to discuss veterinary care and bills. Why?  Because when I was researching local vets and reading all the reviews online, I was shocked by how many bad reviews hospitals got, simply because people were horrified/angered that they were expected to pay for the cost of care.  And expected to do so at the time of service.
I used to work in the veterinary field.  Both as a hospital manager and as a vet assistant (at a regular vet, an emergency center, and a specialty surgery referral center.)  I also worked with rescue groups.  So I've been there, done that, and along the way have seen many people balk at the cost of veterinary care.
I groan when I see reviews saying that the business is just trying to make a profit.  Yes, it's a business.  Not a non-profit.  But the CEO is most likely not trying to get rich.  There's a lot that goes into a successful and quality veterinary facility – salaries for the vet as well as all the staff, expensive medical equipment, the cost of the building.  And yes, people don't like it, but there has to be some profit left over after covering all those costs.  Why?  So that vets can get rich and buy Corvettes?  No, not at all.  You need to have a profit left over so you can invest in the business and continue to buy the latest and greatest equipment, provide training for your staff, etc.
Trust me, you don't want to take your dog/cat/ferret/potbelly pig/bird to the little old facility that has an 80-yr-old vet and has never charged enough for services.  Sure, he may agree to "bill you later," but I bet if your pet needs surgery, it's not being hooked up to a modern anesthesia machine or heart rate monitor.
So I repeat:  Vets do NOT make a lot of money.  And they have huge vet school loans to pay off.  And the lovely assistants? Barely more than minimum wage.
So please, trust me when I tell you that most places are not trying to take your money just to pad their pockets.  Quality veterinary care does cost a bit, which is something that's good to consider before adopting a pet.  Of course, I didn't think about that when I adopted four animals right after college.  If I'd known what it cost to keep them healthy. . .
Also, I know it's tough to have to pay up front when dealing with an emergency.  Your beloved family member is sick, you're worried about him/her, and the last thing you want to do is deal with a $1000 vet bill.  But many hospitals are reluctant to "bill" you later, because they so often have stacks and stacks of bills that have to go to collections.
And one recommendation: if you have a "senior" pet, one of the best things you can do at their annual exam is to get bloodwork done.  A "senior profile" will probably run you around $150 for bloodwork and urinalysis – but it can show the vet any problems that may be developing, so that they can be addressed (such as poor kidney function) early, giving you more healthy time with your pet.  It's much cheaper to do the bloodwork and start them on a special diet or medication than to suddenly deal with a very sick animal down the road.
So that's my 2 cents, sorry for the rant.  Just trying to share an alternate point of view.  Any questions or counter-argurments?  Go ahead, throw them at me. I can take it.