This weekend I spent most of my Sunday working on a huge organizing project.  You see, my basement work/storage room was in need of an intervention.  When we moved in, we started using it as backup storage space for the odds and ends we weren't sure what to do with.  Then over the last 8 months it morphed into a big pile of odds and ends, and because I was planning to organize it, I didn't bother putting things in there neatly.  The end result was a hot mess.
But before I dove in, I decided to thoroughly level with you guys, making a video of the disastrous "before."  That's right, I'm putting all my cards on the table, showing you just how messy I can get.
So that's what the space looked like before. Here's the result of 8 hours of hardcore organization:  (In the video I said 6 hours, but when I got upstairs and saw the clock, I realized it had been a full 8. Wowzers.  But it was time well spent, for sure.)
Yes, I really did put down a Kilim rug in my basement work room.  It was just sitting in a heap, because it needs a good cleaning (and because – for reasons I can't understand – Ryan really doesn't like the rug.) So I might as well enjoy it down here.  I love, love, love it – so it's not getting sold on Craigslist anytime soon.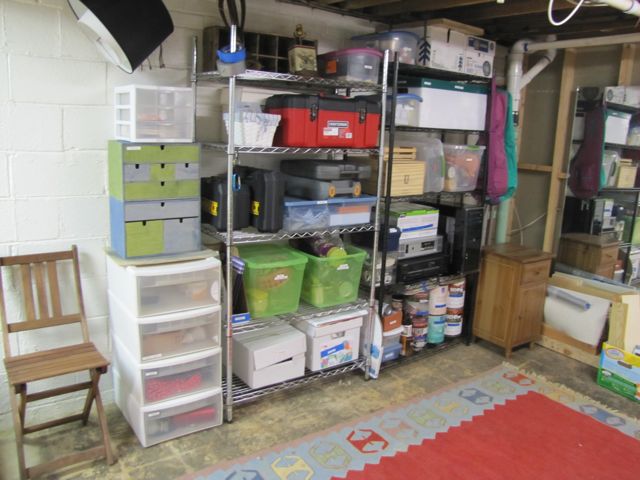 We had a ton of paint, all left behind by the contractor who renovated the house.  I did my best to match the different neutral colors to the walls they were used on, then labeled them all using painter's tape and a sharpie so that touch ups are a bit faster. I also collected all my little painting tools in a plastic bin, and then put all my wood refinishing tools in another bin, and finally corralled the spraypaints in a shoebox.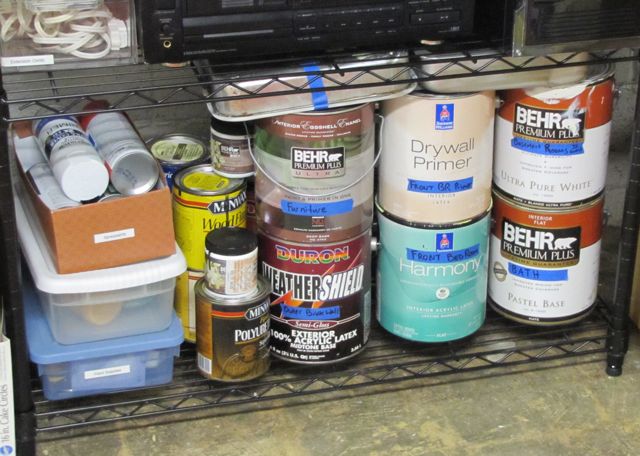 I really needed to make room for a work table, because some of the items I'm making for my Etsy shop require painting and hammering and nailing, and general mess-making.  And because I didn't have a pet-free work space, those projects were delayed. Now I've got that pet-free, paint-splatter-proofed space where the magic can happen.
A bit about that table:  we scored that baby on Craigslist for only 10 bucks this summer.  Originally it was meant as the game/puzzle table for the TV room, but because it expands all the way to 7 feet wide, and is totally beat up and un-refinishable, we decided it would work well as my project table.
Wondering what's with that wax paper?  I tape pieces of it together to create a protective surface on which to ModPodge and paint things.  Because it's wax paper, the paint doesn't stick.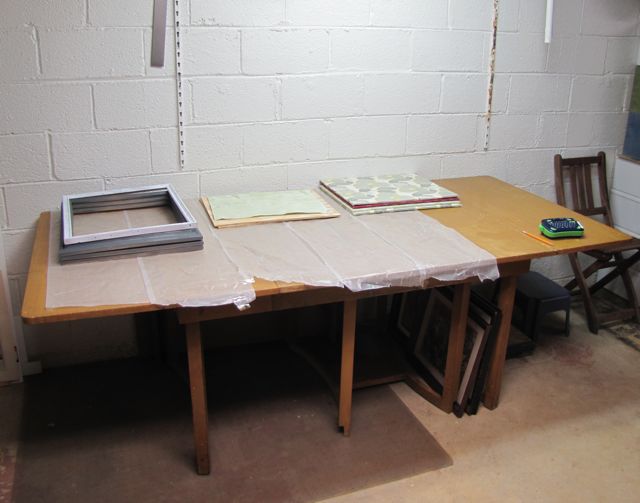 As mentioned in the video, I used this shelf (that I built for my office in my old condo) to create an impromptu "charging station" for our tool batteries, etc.  There's two more plugs, so we can always add more battery chargers to the mix.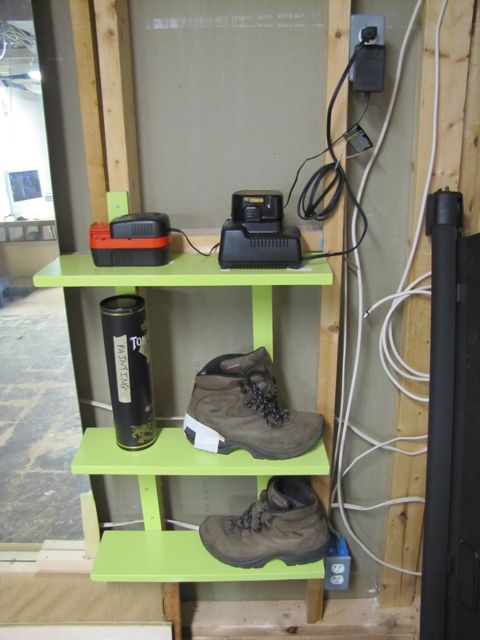 Because this wall was a blank canvas, I figured I might as well hang all my decor items.  Not only do they make the space a bit more friendly, they also show me exactly what I have to work with when decorating.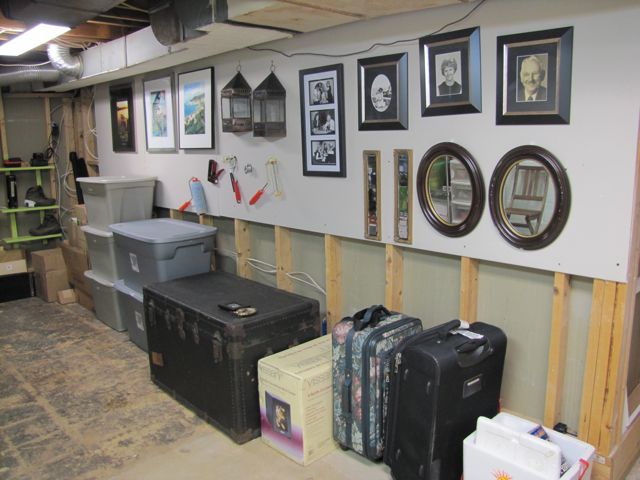 Finally, I'd like to thank the Academy point out that I had some wonderfully useful supervision and assistance from my hardworking canine collective.