Today I'd like to show you two ways that I was board with my office. Two ways my office board me.
Oh dear.  These pathetic attempts at a board/bored pun are just not working. On to the projects!
I made both a fabric-covered cork board and a fabric-covered whiteboard for my studio.  Despite my best attempts at organization, when I'm working on a project I always have little bits of fabric, sketches, magazine tear-outs, paint chips, and/or receipts cluttering my desk.  While I was designing my Christmas stockings and other initial ideas for Flourish, I taped all these things to my walls with painters' tape.  But now it's definitely time for some classier organization.
Enter the recycled fabric-covered cork board: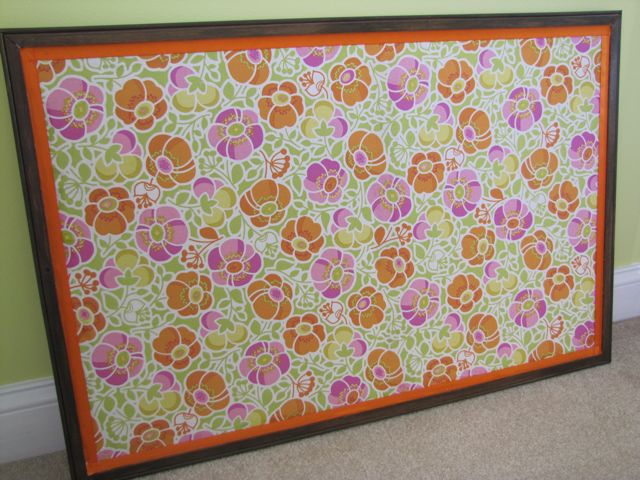 I wish I'd taken a "before" shot of the corkboard, becuase it was pretty cruddy.  Having hung in my room when I was a child, it was torn up, covered in paint and scribble, etc. It may or may not have had "JH+DB" scribbled all over it.  (Who the heck was DB??)   But it was large, and free, and totally usable – it just needed a quick fabric covering. For those of you still new to the concept of revamping an ugly cork board, here's a quick walk-through of how I did it:
I painted the frame with a quick swipe of a brown paint sample.  I only did one streaky coat so that it gave it more a look of stained wood than painted wood.
I cut a piece of the Erin McMorris Wildwood fabric to fit the cork area and adhered it to the edges using ModPodge.  I also did a strip of MP down the center to help it hold.  I didn't want to do the whole thing in MP because I wasn't sure it would let pushpins through easily. ($4)
I trimmed the board in orange ribbon to hide the cut edges of the fabric. (They didn't meet the wood trim perfectly.)  ($3)
If anyone knows a better way to trim it out, please tell.  Because I'm not thrilled with how the corners of the ribbon look.
And voila – a custom cork board for $7!
I hung the cork board on the wall using my newest favorite Command adhesive product:  Velcro picture hanging strips.  Trust me, these little guys really do work!  I love using them because – as I've stated before – because we rent our home I try to avoid putting holes in the wall. Plus, with the velcro strips, it's easy to get your frames level – you just peel them off and try again if they're not quite right the first time!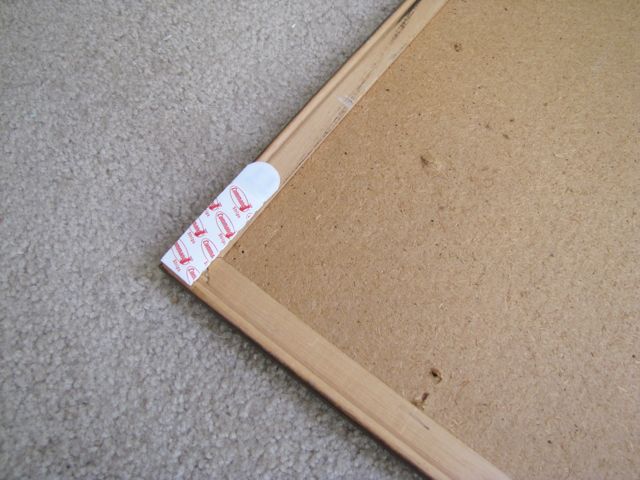 And voila – I finally have a place to tack up my odds and ends.  I ended up using pins rather than tacks because the tacks seemed to leave holes in my fabric.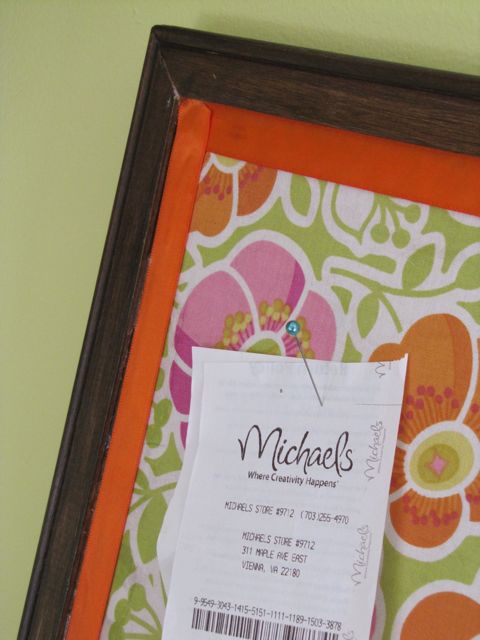 Next up, my pretty and practical whiteboard.  I wanted a dry-erase board because when I'm working out an idea for a pattern in my head, sometimes it helps to sketch it out – and this would be much easier than using paper and a pencil and eraser.  My drawings are horrendous, but they help me think – and that's what matters.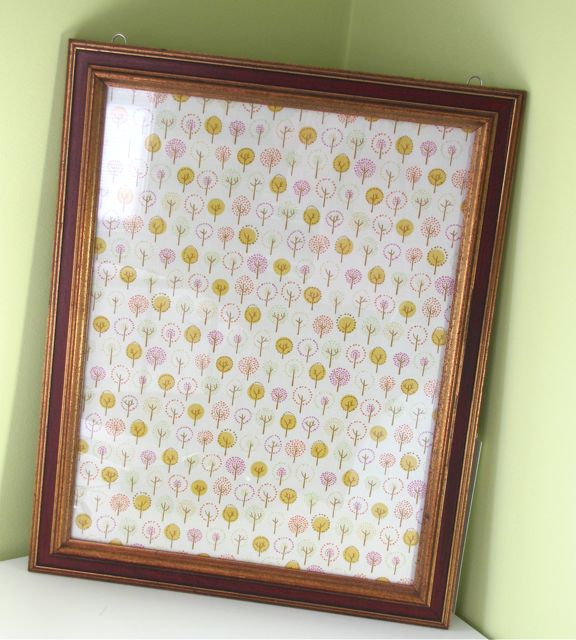 This project was extra easy, because I didn't even paint the frame.  Not yet, at least. I may paint it later if it bugs me.
I found an old 16″x20″ frame, with glass intact, at a thrift store.  ($3)
I cleaned the glass and then put it back in the frame.
I cut a piece of cardboard box to fit the back of the frame.
I wrapped that board in a simpler fabric by Erin McMorris – hoping it wouldn't be too "busy" behind any writing I did. ($3)
I adhered the fabric to the back of the board using duct tape, because my stapler wasn't working.
I used more duct tape to hold it all together.  It was late at night, I was tired, and the duct tape was easy. And free.
I attached two hooks to the back top of the whiteboard so that I could hang it.  (More on that tomorrow.)
Voila, a custom and fancy dry-erase board for only $6 and a little bit of work. I love how it turned out!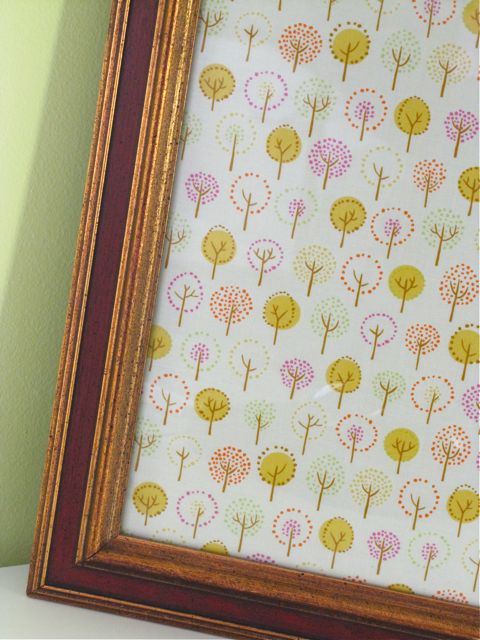 PS:  Like the custom whiteboard idea?  Check out what Jen of IHeart Organizing did for an easy and cute cleaning checklist!
PSS:  Shared with Someday Crafts,  The T-Shirt Diaries.