Finally, after many trials and tribulations, our Christmas tree is up, fully decorated, and lit.  Oh, and drinking water – which I am remember to replenish daily.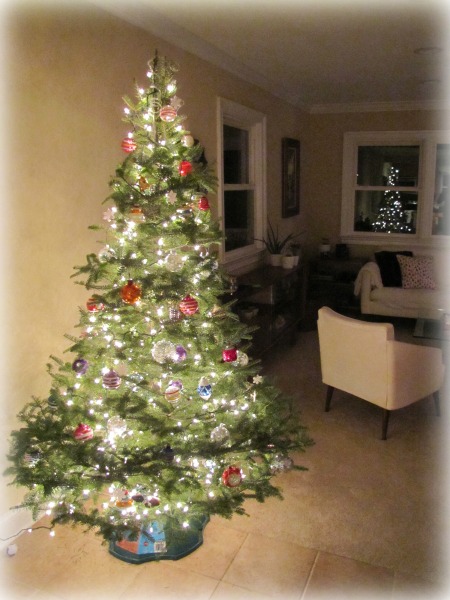 I love my collection of vintage glass ornaments, which I obtained mostly from my parents' collection.  They go more for contemporary and ethnic ones.  My vintage ones aren't the most coordinated on the tree, but as Ryan reminded me – it's not supposed to be about creating a perfectly matchy-matchy showpiece, it's about family and joy.

However, I did try to pull the look together a bit with my glass and sliver balls.  That first one on the far left is handblown iridescent glass.  My most favorite of all time.  I unfortunately only bought two last year. . . and have been looking for more ever since.

Well, that's it for today.  Gonna keep it short and sweet.  I'll see you all back here Monday for a video tour – yes, I said video tour – of our home all decked out for Christmas.  I'm not sure why I'm inspired to do it, but I thought it would be fun.  Even though I hate to hear myself talk.  We've got little seasonal touches tucked everywhere.
But until then, I've got a ton of present-making to do this weekend.  The last weekend before Christmas? Ack!  Hopefully my second attempt at a handmade doll for my niece will be more successful. Happy Friday from a snowy abode!