Ryan is currently composing several "what-the-hell" entries in his head, apparently – and all because of holiday decorating!
One reason – one BIG reason – is the fact that there is now a branch on our living room wall.  A branch from which stockings are hanging.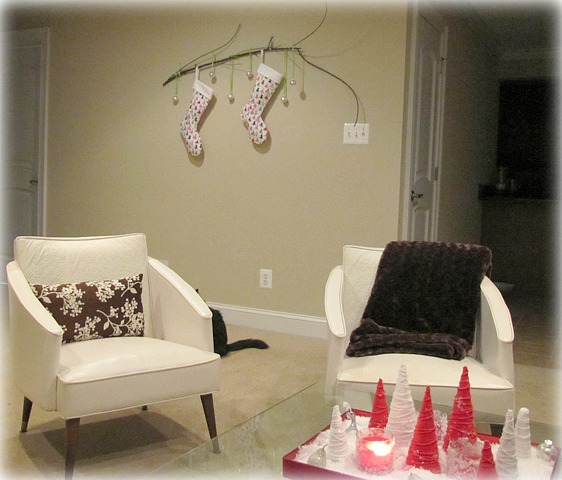 I wanted to hang a pair of my handmade Christmas stockings, but had no mantle from which to do so.  And I wanted to hang them on that back wall of the living room, as it was horribly blank.  (In January I really need to make some artwork for that wall.)
Hanging stockings straight on the wall (using Command Adhesive hooks to keep the walls clean) would have been too easy, right?   I wanted a creative solution – and a branch was the first thing that popped into my mind.  I love the organic and rustic look of branches, and wish I could incorporate them into my home more often.  But Ryan likes them outside, where they "belong."
Sidenote:  We entered into living together with an agreement:  either we both agree on a decorating idea, or it doesn't happen.  I think it's a good approach, even though it means I can't upholster the living room couch in blue velvet, the whole point was to create a home that we both love.  But when it came to the Christmas branch, I begged him to let me  try it – and he agreed, but only because it's temporary, like the rest of the holiday decor.  (Thank you, Ryan!)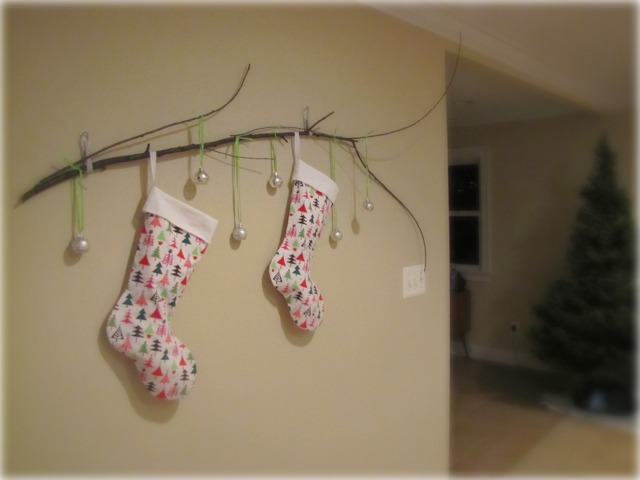 Back to the branch.  I adhered it to the wall using two Command Cord Bundlers –  they're made for cord wrangling, but worked perfectly for branch hanging.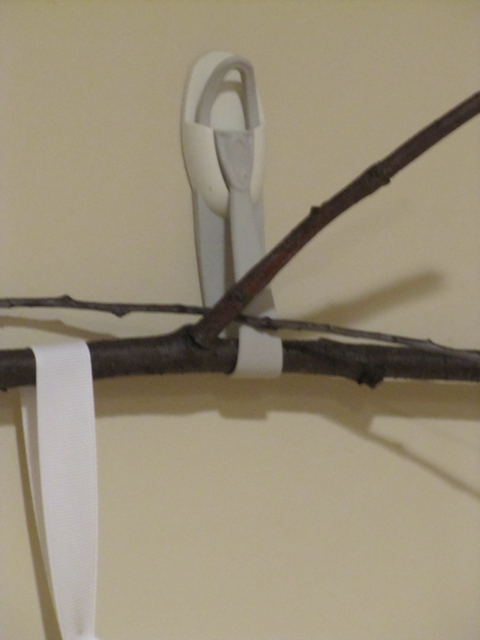 I tried a few different branches, some of which had gorgeous shapes and lots of tinier branches, but I had to settle on the octopus tentatcle one.  The less curvy and more branch-y branches stuck out every which way, threatening to poke our eyes out as we stumbled blindly by in the dark of night.
Once our stockings were hung it still looked a bit bare, so I added a bit of bling in the form of small silver Christmas balls suspended from fresh green ribbon.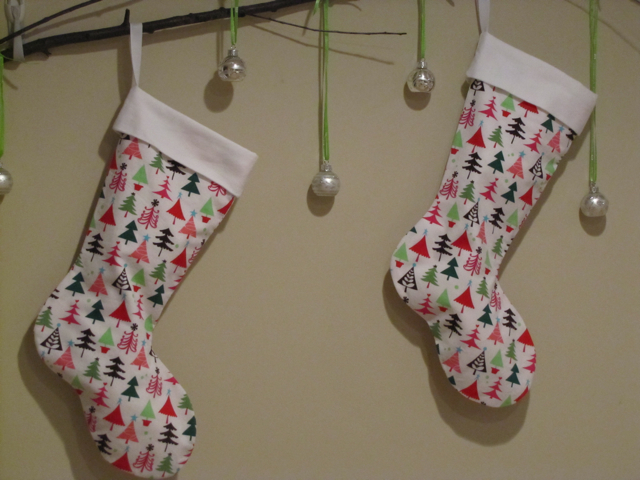 And as we receive our Christmas cards (if we get any!) I think I'll find a way to clip them to the branches to finish off the look.
So there you have it -my rental-friendly solution to hanging stockings without a fireplace.  I suppose a shelf could've accomplished the same thing, but that would have required much more work, not to mention drilling holes in the wall.
Now it's your turn:  tell me what you think! Are you with Ryan, preferring to keep branches outside the home?  Or do you dig the natural look?
Tomorrow we'll continue the fun Christmas decorating-themed-week when I return and tell you why we had to use a hair dryer to set up our Christmas Tree.  Fingers crossed that Ryan will be inspired to chime in with his side of the story.  Anyone want to guess on what this is all about? 🙂
PS:  Iif you'd like some free help with a decorating challenge in your rented home, (with our without the use of branches), drop me a line!