Over the weekend I created a simple, sparkly wintry vignette to bring some holiday cheer to my coffee table.  The vision in my head was this:  a magical, sparkling winter wonderland scene, complete with fake snow, a few flickering candles, and a smattering of simple yarn-wrapped trees.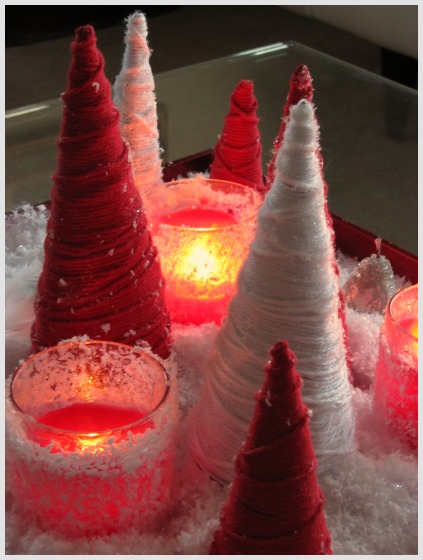 I wanted to create a "scene" on a tray, because no matter how much I try,  I can not seem to create well-balanced grouping on my large square coffee table.  Yet. Therefore, the single winter wonderland scene would be large enough to decorate the table, while still leaving room for guests to place their drinks.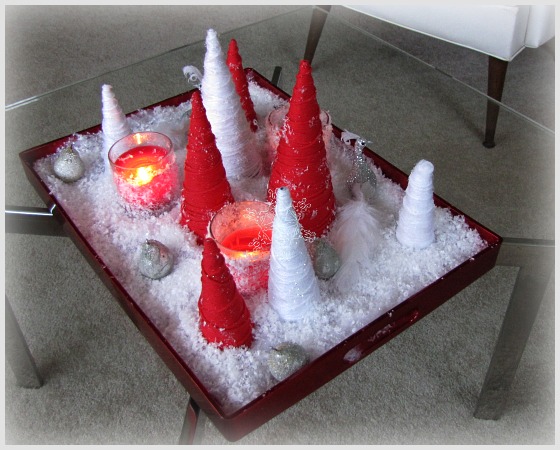 The craft – yarn-wrapped trees – was inspired by this tutorial at One Pearl Button.  Here's a few tips:
Instead of making my cones out of cardboard, I used some old poster board that I had on hand.  I thought it was easier to work with.
It was easier to hold the cone together with packing tape than with hot glue.
I brushed a section of the cone with ModPodge, then wrapped the yarn around it.
I picked some yarn for just a few bucks, and then grabbed a $1 tube of clear glitter, just for kicks.  Once the trees were wrapped, I dabbed a bit of ModPodge on them and sprinkled on glitter in an attempt to add hints of sparkle.  I tried to glitter it lightly, so that it didn't wind up looking like a bad kindergarten craft project. The glitter was just the right touch, even though you can't see how much it sparkles via photograph.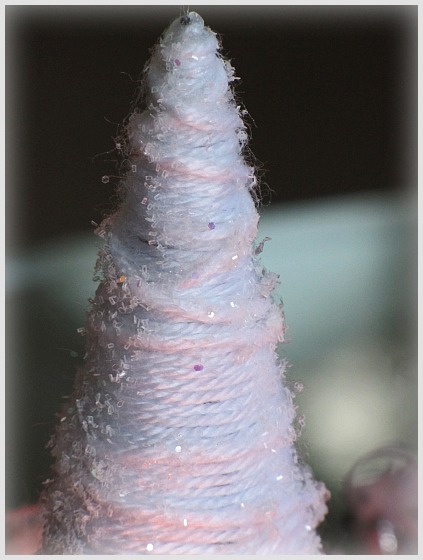 Next, here's how I assembled my winter wonderland:

*I arranged the trees on the tray in a random-and-natural-yet-attractively-and-perfectly-spaced grouping.
*To create the snow-covered ground effect I used some scraps of quilt batting (or old pillow stuffing).  I separated the batting layers until it was pretty thin, so that it doesn't look so much like batting, and then I just tucked and arranged around each cone.
*It looked pretty good at this point, but I wanted to use my over-priced fake snow that I bought at Target.  (Yeah, I bought fake snow.  I'm embarrassed to admit it.  I stood in that aisle for probably 10 minutes, debating on it.)  So I sprinkled it on, lightly.  The whole reason for using the batting was so that I didn't have to use too much snow.)
*I wanted to add a few candles, and I'm too cheap to buy new ones, so I raided my stash.  I had three small half-used red candles in glass holders, but they looked a bit fugly.  I brushed ModPodge on the outside of each candle, and rolled them in the fake snow and sprinkled on just a touch of glitter.  Perfect.  I then set them amongst the trees on the tray.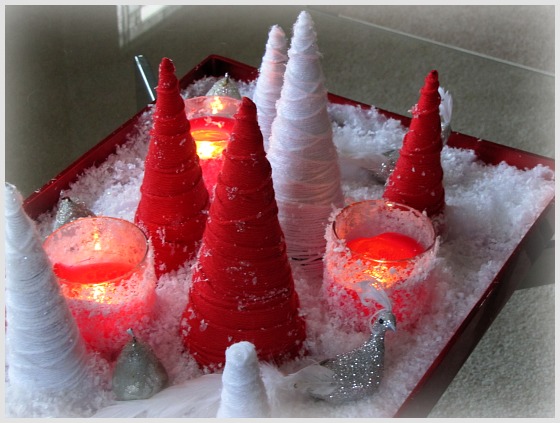 *Finally, since I'm really into the silver-and-sparkly thing this Christmas, I added two random birds and a few silver pears from my holiday stash.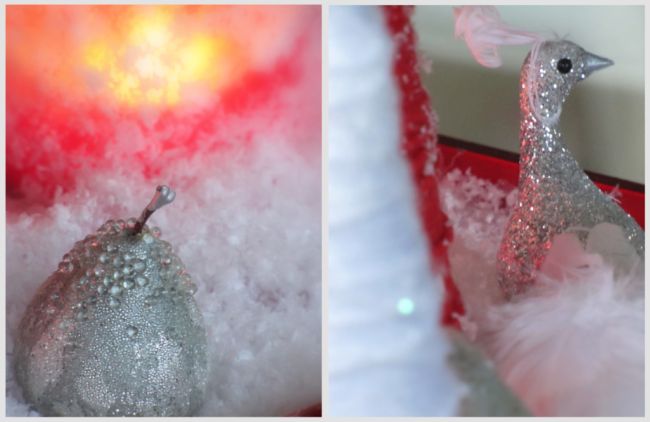 Finally, I sprinkled some clear glitter all over it to add one last bit of sparkle. Done!  I placed the tray on the coffee table, and asked Ryan if he agreed that it was fabulous!
His response?  "I'm a guy."  Fair enough.  Silly of me to think he'd share my enthusiasm over a coffee table vignette. Part of me even rolls my eyes at the idea.  But still, I love it.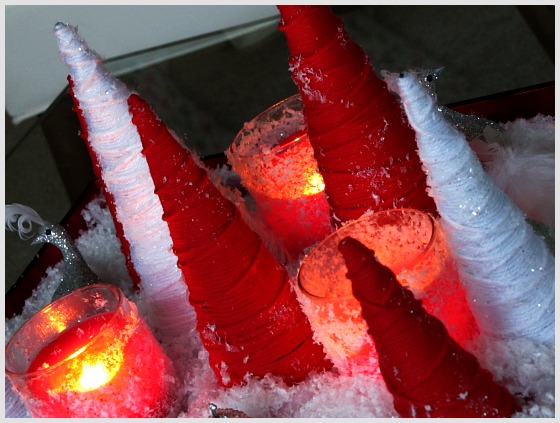 And while we're on the topic of easy Christmas crafts, here's a few more links to projects that I'd love to do: A fabric scrap wreath – from Piccadilly Peddlers, and the Felted Pomander – from Betz White.  We'll see if I have time.  Tonight I've got Christmas Cards to write, and a tree to decorate!
PS: If you'd like some free help with a decorating challenge posed by your rented home, please hop over here!