Has it ever bugged you that reusable grocery bags are all the rage, yet people continue to fill them with produce wrapped in plastic bags? It's sure made me think – and I finally decided to do something about it. As one of the products for my new Etsy shop,  I've sewn up some sets of tough yet lightweight reusable produce bags, and hand-stamped them with fun and colorful fruit patterns: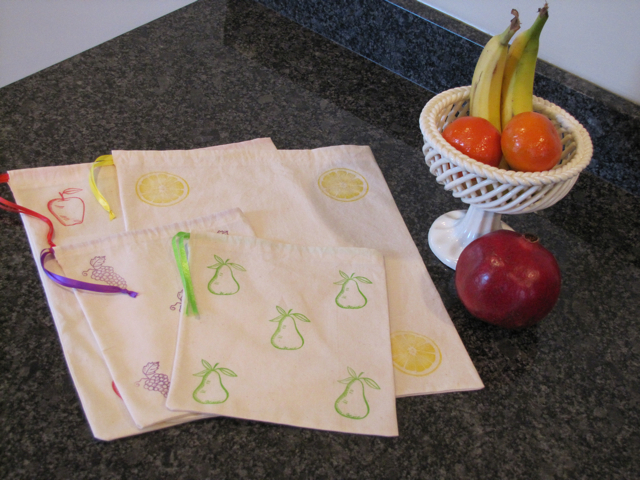 The bags have a coordinating drawstring ribbon, which can easily be cinched closed to contain all your healthy goodies.   The two larger bags can hold a large bunch of celery or greens, or a dozen apples – and the smaller bags can hold a handful of lemons, 6 limes, bananas, etc.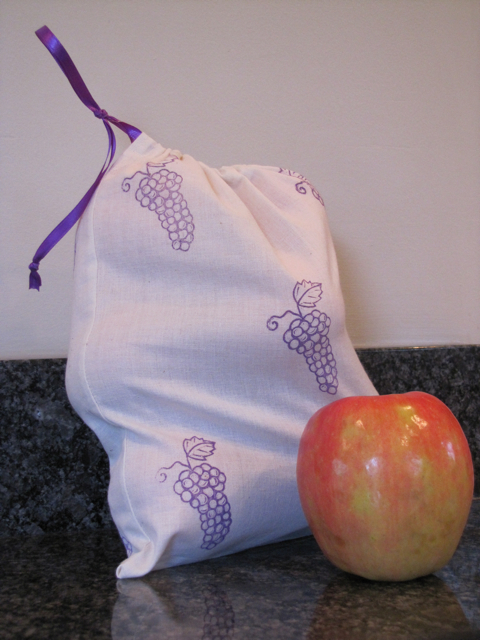 After a ton of thinking and experimenting, I chose to make them out of 100% unbleached cotton muslin so that they were easily washable and strong.  I chose not to use mesh like many others are using because the nylon is not a natural fabric, nor is it as easily biodegradable. I'm pretty pleased with how they turned out.  You can snag a set for yourself (or for an eco-friendly stocking stuffer) over at my Etsy shop, Flourish Pets and Home.